Booklets, mainly used for marketing. Including product introduction, user guide, etc. If the cost budget is limited, it is of course the best choice to use a professional free booklet maker online to create your own booklet. However, the creation of the booklet is a multi-page editorial design. Therefore, its design software should have powerful design functions. For example, layout design, multi-page editing, etc.
As we all know, InDesign and CorelDRAW are excellent software for making booklets. It's just that they are more expensive and the learning curve is steeper. Therefore, buying and learning them will cost a lot of money and time.
For non-designers, Drawtify Designer is the best choice for online manual creators. Because Drawtify is a full-featured graphic design software and is suitable for Windows, Mac, and Web. Including excellent vector drawing, layout, photo editing, , typography tools.
In addition, Drawtify has built-in rich design plug-ins. For example bar codes, QR codes, charts, maps. As well as huge design resources (thanks to Unsplash, Pixabay) and high-quality editable booklet templates. And it's free.
Obviously, Drawtify acts as a free booklet maker. It can not only greatly improve the efficiency of designers making booklets. It can also create booklets for non-designers and provide friendly solutions.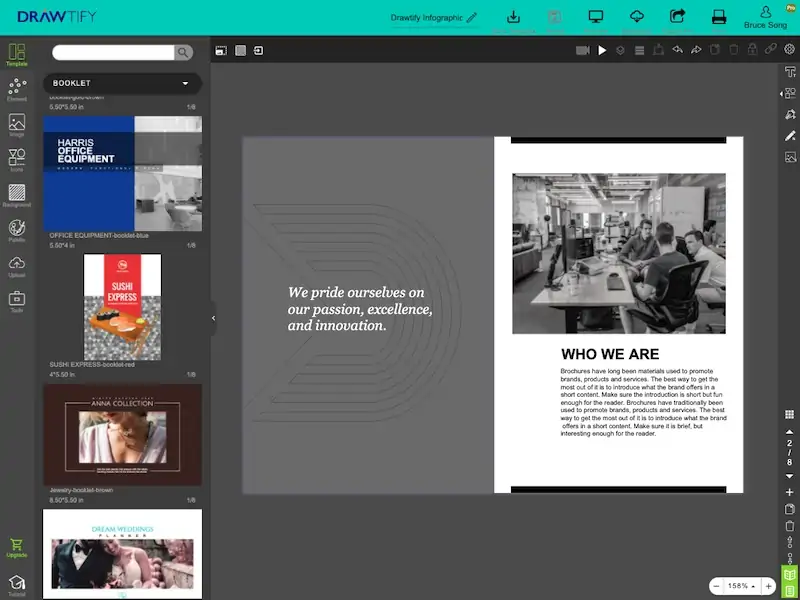 Use the online booklet maker to start creating amazing custom booklets. Because, whether you are a designer or not, Drawtify can help you.
Of course, as more friendly and faster full-featured design software, Drawtify Designer can help you create almost all exquisite graphics. E.g:
Help you create a more dazzling Resume and get an amazing social media image (included Facebook, Twitter, Instagram, Tumblr, YouTube, Pinterest, Twitch, Linkedin.).
Create logos, icons, shapes, artistic fonts, and stunning illustrations. And personalized Business cards, Greeting Cards, ID card with QR code or barcode, Gift Cards, Postcards, Invitation cards, Labels, Certificates, Letter paper, Covers, Invoices, as well as Posters, Flyers, Menus, Banners, Newsletters, Infographics, Reports, Brochures, Catalogs, E-mails, etc.
Even motion graphics, including dynamic logos, icons, lines, shapes, titles, etc., or a fascinating video opening.