Eye-catching flyers are an important means of conducting business activities and marketing. However, whether it is a design company or a freelance designer, designing flyers is very expensive. Therefore, for small and medium-sized enterprises (especially startups), looking for online flyer maker and making customized flyers is the best solution.
Flyers are widely used in exhibitions, investment promotion, recruitment, and promotion. Exquisite flyers can effectively enhance the company's image and better display products and services. However, when you search for "professional and easy-to-use free flyer maker" in Google, you will see tens of millions of messages, but the results may not be satisfactory. Because, if there is no design function, they may be too simple or just a free trial.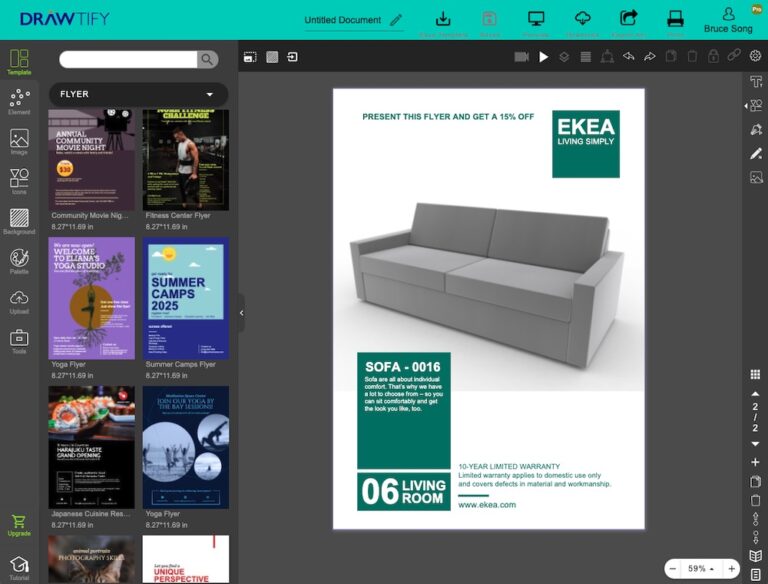 Professional and easy-to-use free flyer maker
Fortunately, you may find Drawtify. 
Because Drawtify is different from most online graphic design software, Drawtify is more professional. Drawtify is a powerful and easy-to-use online graphic design software, with professional vector editor, layout function, photo editor, and typography tools, the function is as powerful as CorelDRAW and InDesign. And it's free. 
In addition, Drawtify also has built-in rich design plug-ins, huge online resources, and a large number of high-quality editable design templates. It can not only become the best assistant for designers to improve work efficiency, but also the best solution for non-designers to create excellent business graphics. 
Use Drawtify as an online flyer maker to create stunning custom flyers online. In just a few minutes, anyone can create charming custom flyers online.
Of course, if you want to use Drawtify, get more visual effects, or create more beautiful business graphics, you can spend some time. But don't worry, because Drawtify has almost no learning curve and it's free. 
Small and medium-sized enterprises (especially start-ups) use Drawtify can start with the creation of logos and establish their own complete brand image, business image, marketing image, and social media image.