Make logos and use them to make your brand stronger. It has always been the common expectation of designers and business owners. Because the logo is an essential part of the brand image, just like "A thousand words less than one picture," the logo design is even more so! However, search for "logo design" on Google, and there will be "about 10,580,000,000 results", or search for "Logo Maker," and there will be "about 859,000,000 results." It shows the importance of the design and the difficulty of creating it. Creating an exclusive design will be a considerable challenge, especially for business owners or graphic design beginners with limited budgets.
So, is there a solution to get an exclusive brand logo quickly? The answer is yes. In other words, this is one of the reasons for writing this article.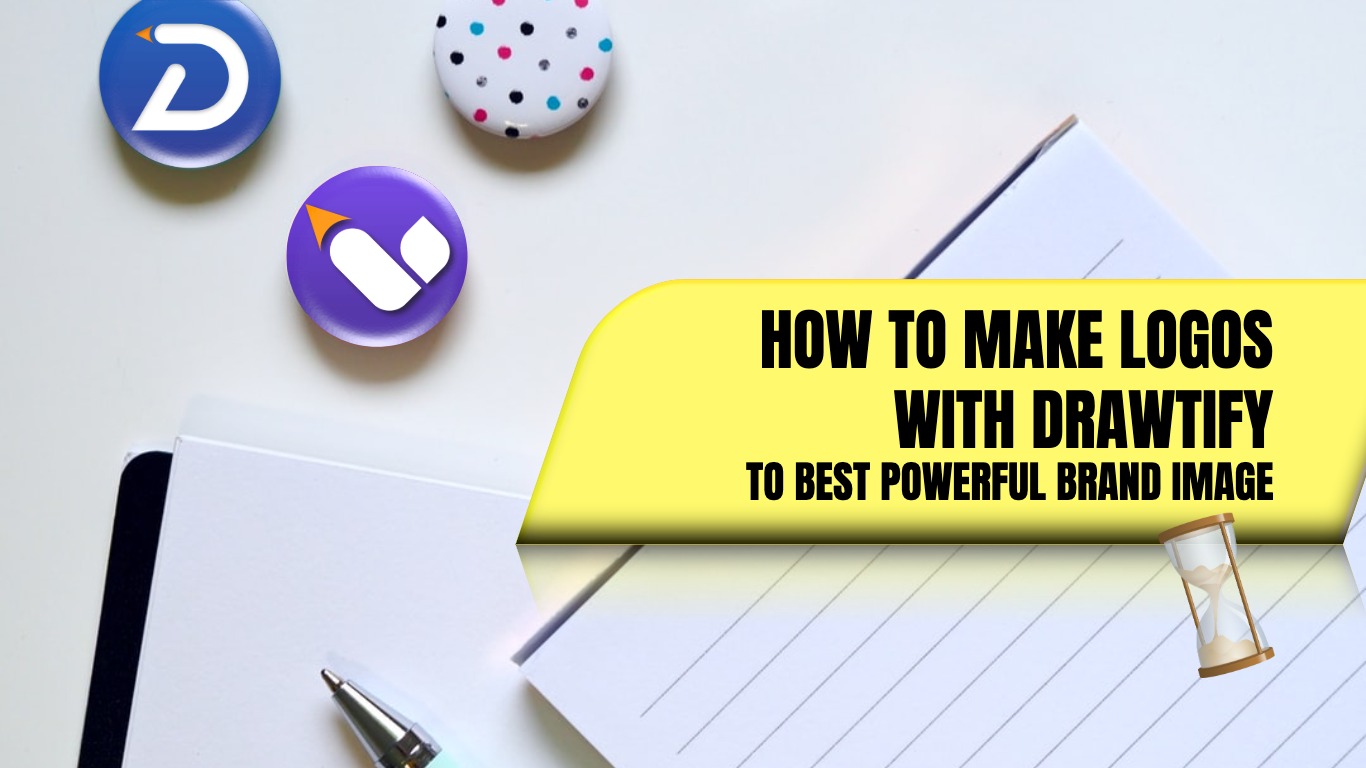 For experienced logo designers, this article may only summarize the experience of "logo design." But for logo design beginners, as well as business owners who are looking for a logo designer or want to do it yourself, it will help. To facilitate reading this article, please check the article index first.
The definition of contemporary logos and design trends.
Why do you need a vector or an animated logo?
How to avoid common mistakes in design?
How to start your design project?
What should beginners have to choose the right logo maker?
How to get satisfactory vector logos and animated logos in a few minutes?

1. The definition of contemporary logos and logo design trends.
The current era of logo design began in the 1870s. An effective logo may contain ideograms and company names, graphically emphasize the word, and adopt a unique design through letters, colors, and other graphic elements. Since a logo is a visual entity representing an organization, it must be directly identifiable by customers.
In addition, new trends have become the focus of attention. The 2021 logo design trend is the continuation and innovation of 2020. We will see many things that date back to different eras: chrome and neon lights were juxtaposed with deep black and white images in the 1980s, similar to the 1930s. The design trend in 2021 will continue on everything that designers have been exploring in the past few years and will also develop in a more dazzling direction. See "8 Inspiring Logo Design Trends In 2021 & Complete Logo Maker" for more information.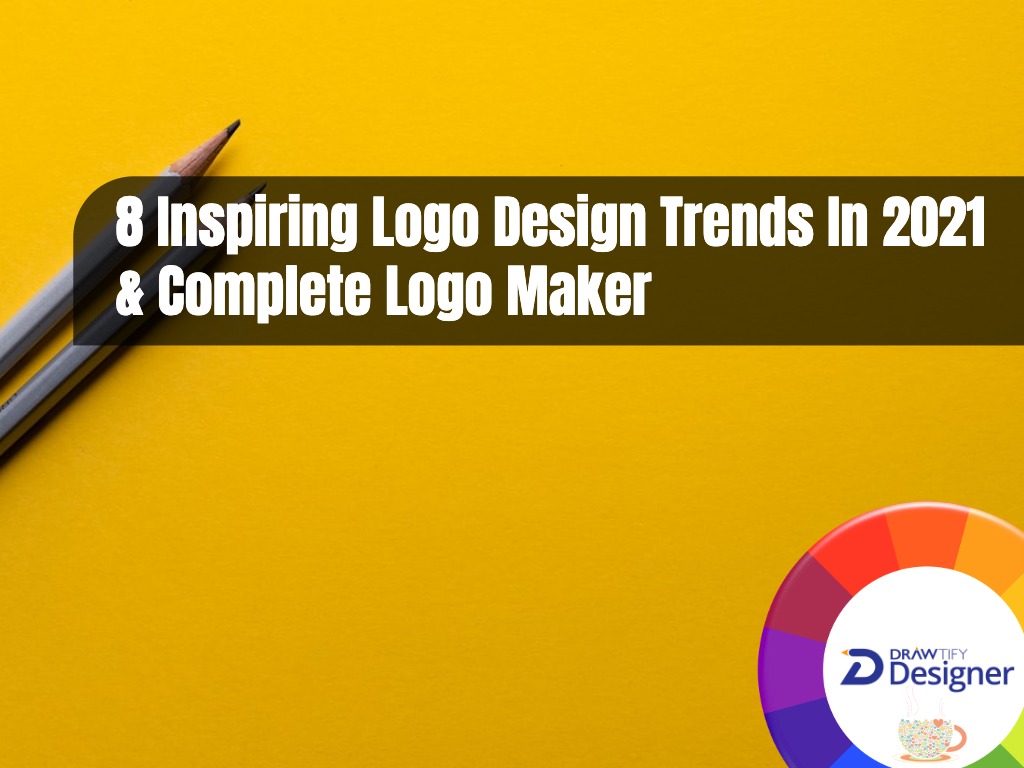 2. Why do you need a vector logo or an animated logo?
2-1. You can split all files into vector files and raster files. Vector files have mathematically precise points so that you can scale them to any size. The best design must be scalable. Even scaled up by 1000 times, it still retains its quality and resolution. The client wants the designer to submit the logo work to the vector file.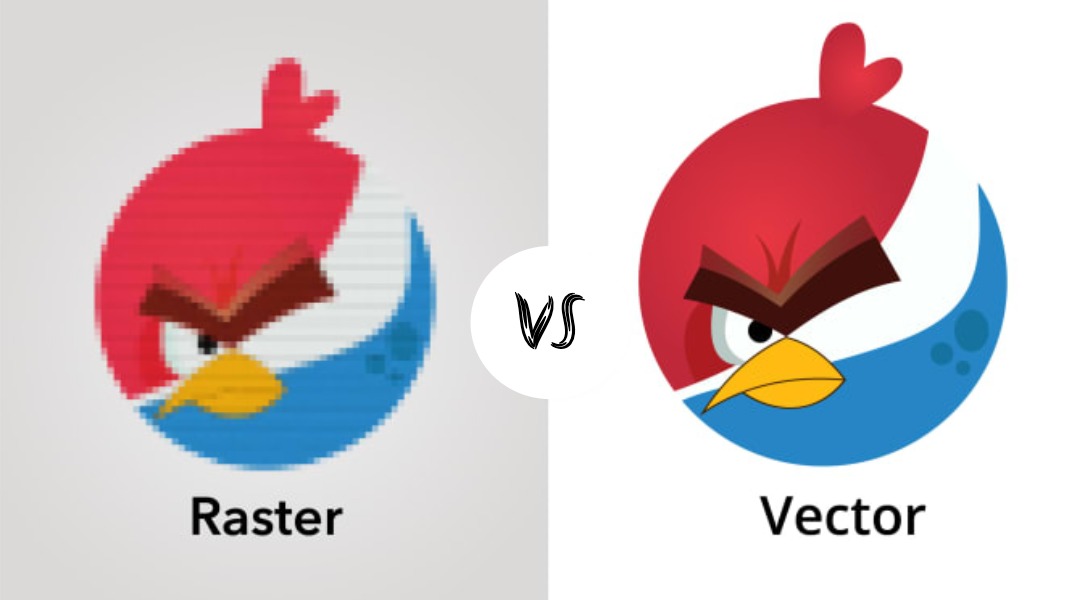 A vector logo may have different formats than other graphics files, with the most common three beings:
EPS. This one is the most common file type of vector graphics as it's considered the standard format. Most vector graphics software supports the EPS file format. If you have other file types, like AI, it's best to have an EPS to cover your bases.
AI. It is the native format of the popular software Adobe Illustrator. It's a modified version of the EPS format, making it ordinary enough yet less universal. You wouldn't need the program to open it, though, as some third-party programs can read this format. CorelDRAW, for example, can open it and many other file types.
SVG. It's the W3C Vector graphic standard that can support any screen resolution. It didn't have much support in the past, so designers usually ignored SVG. However, it's becoming more common today as browsers are increasing their support for this file type.
2-2. In addition, logos usually have a small display space, so most logos are relatively concise to ensure clear visibility. However, with the widespread use of screens, animated logos will perfectly interpret more exciting brand stories through their characteristics that are different from static images. Therefore, animated logos are becoming a trend in logo design.
There are four most common formats for animated logos:
GIF. Lossless, up to 256 colors, solid color graphics, no gradient graphics. Suitable for simple animation.
APNG. It extends the PNG specification to allow animated images to work similarly to animated GIF files while supporting 24-bit images and 8-bit transparency.
SVG. Lossless, unlimited colors, suitable for Web and high dpi screens. It has gradually become the most attractive choice for Web and UI designers.
MP4. MP4 files were created under the ISO/IEC 14496-12:2001 standard by the ISO/IEC and Motion Picture Experts Group (MPEG). Because of this, MP4 is an international standard for audio-visual coding. The high degree of compression used in MP4 videos allows the files to be much smaller in size than other video formats. Reducing the file size doesn't immediately impact the quality of the file, either. Almost all of the image quality will keep. It makes MP4 a portable and web-friendly video format.
3. How to avoid common mistakes in logo design?
What is the best way to create a good logo design? Don't create bad logo designs.
In logo design, specific "do not do" appear more frequently than other logos, and seeing these invalid choices can help you avoid them in your logo design.
3-1. Too detailed.
It's not that a logo is terrible in itself, but that you cannot expand it. The problem with complex symbols is that they look awful on small screens such as smartphones and pens or business cards. If you don't want to give up a detail, they want to express more brand story should be the main reason. A perfectly feasible alternative is an animated logo. Of course, you still need a relatively complete and concise static frame to take care of the printing.
3-2. Maybe you would say that retro is not the trend?
It's too dated. Please note that retro is not copying outdated technology. It is only an element that can be present. If your brand needs to express through retro style, please do so purposefully and only use retro design elements with retro style.
3-3. Irrelevant images.
Any beautiful pictures are worthy of appreciation. But "the design is good, but the matching is very poor." Then, these "exquisite" logo designs are not suitable for their specific brand. The right choice is to insist on using images directly related to your company to reflect its name or purpose. You can still use familiar and iconic images. The trick is to be creative.
3-4. The meaning is unclear.
Suppose your design looks good but doesn't say anything to your brand. One of the goals of a logo is to describe who you are and what you do, even if this is the first time someone sees your designs. It's not easy, but some particularly bad logo designs provide no information at all, in which the company name is vague and seemingly random images. In this case, add a description! You can easily add a few words to explain the service you can provide to your customers, or at least your name.
3-5. Universal design.
The idea behind a universal logo seems logical, copying a logo that people already like. But after a few months or years, the market is flooded with logos that do the same thing, and the once unique logos have only become zero dollars. Logos are most effective when they are memorable and do what everyone else is doing. Someone may confuse your brand with another.
Of course, success always has similarities, but mistakes are strange. Please see "Bad logo design: how to recognize it and avoid it for more information."
4. How to start your logo design project?
Even if you are a beginner or entrepreneur with no design experience, logo design does not have to be intimidating. Finding a design company or working with a freelance designer is a good choice, but it is by no means the only solution because no one knows your needs and brand story better than you.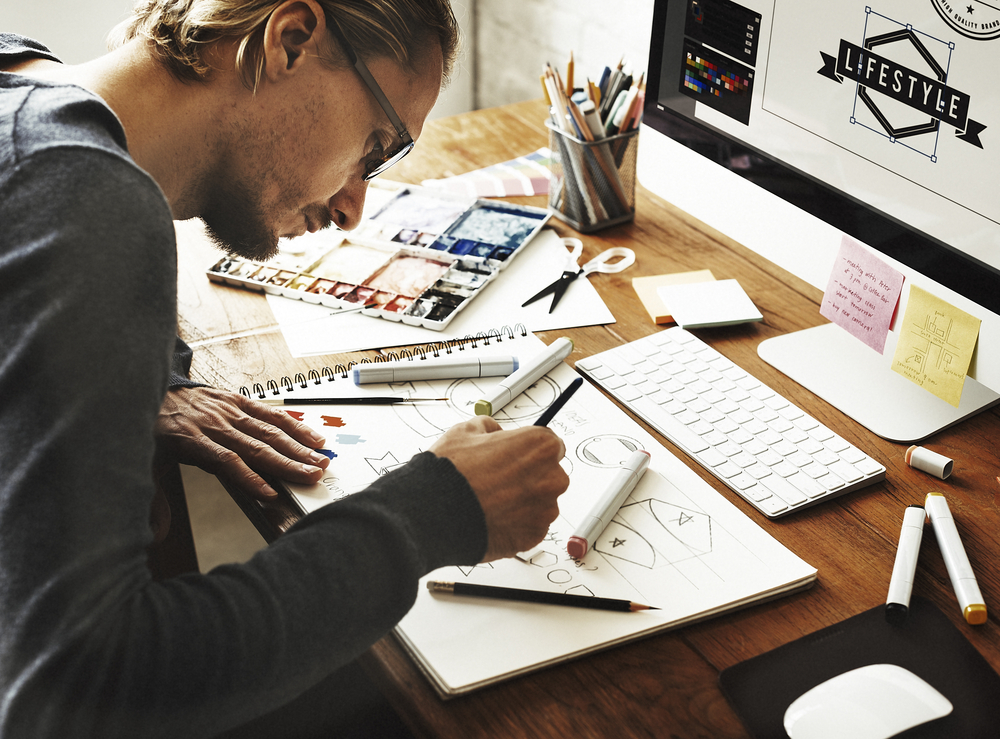 Please wait. Why can't it start right away? Because, for your design to be successful and lasting, you need to lay a solid foundation. Therefore, before starting the logo design, whether you choose to sign a contract (better publishing tasks) or prepare to challenge your creativity (more fully stimulate creativity and clear direction), please take some time to consider the following questions carefully:
4-1. What is my company name?
If you haven't already, now is the time to determine the company name and decide whether you want a slogan, which can be a description of your business or a striking phrase.
Once you find some excellent company name and tagline options, ask yourself the following three questions:
Is it original? Because this will determine whether it is available.
Is it easy to spell or short enough? Because the logo is not a poster.
Do I like it? Because this will determine whether you will fully demonstrate your creativity.
If the answer to every question is "Yes!" then you are one step closer to your logo design journey!
4-2. Who is my ideal customer?
Identifying your ideal customer and target market will help you better understand the logo vision. If you already have a few customers (or friends who are suitable for your role), don't be afraid to pick up the phone and talk to them about their lifestyle, buying decisions, favorite brands, and insights related to your products or services.
4-3. What are my competitors doing?
A great way to get logo design ideas for your business is to divide some competitors' logos and websites into styles you like and styles you don't like. It will help you understand the direction to take when designing your logo. It can also help you distinguish your logo from your competitors, essential!
4-4. What is the adjective of my brand?
The next step is to create a list of brand attributes. This list can also contain specific features, values, and advantages for which you want your business to be known. Write these things down and use them to help your brand come to life.
4-5. Where will I use the logo?
The location where you plan to display the logo will directly affect your design. Maybe you only plan to use the logo on T-shirts, truck decals, and signs. Perhaps you will mainly use the logo online, on your website, on your login page, and social media channels. Consider the application scenario and what type of logo will stand out.
In almost all cases, keeping the design simple and neatly laid out will help ensure that the logo looks good everywhere. But sometimes, you may need multiple logo variations or animated logos to adapt to different media.
Is it done? If yes, congratulations! Please start your logo design project now.

If you choose to find a logo design company or work with a freelance logo designer, you can choose to return to the main menu, because these have built the foundation for a "happy cooperation".

If you choose to challenge your creativity "Do it yourself", please continue reading. Because the following content can still help you.
5. How should beginners choose the right logo maker?
How to choose a logo maker? Almost everyone would recommend Adobe Illustrator and CorelDRAW. But for beginners or even entrepreneurs with no graphic design experience? It may directly kill your creative passion, whether it is a high price or a steep learning curve. Of course, a free tool that simply and infinitely pieces together graphics or shapes and names cannot be your solution. Therefore, for beginners, You should select the most suitable logo maker based on the following points.
First, it must be easy to use.
Second, it must have professional design functions. For example, vector editors, shape drawing tools, color fill tools, text editing, and text paths, as well as guidelines and unlimited layers, and even animation tools.
Finally, it must be affordable and have free usage time.
6. How to make logos and animated logos in a few minutes?
Fortunately, you have completed the fourth item of this article. Now, please log in to Drawtify's official website. Whether you directly join its online graphic design platform or download Drawtify Logo Maker & Animator on its product page, you can quickly start your logo design journey.
First of all, they can be tried for free. Even if it is an upgrade or a lifetime license, it is only the cost of a few cups of coffee.
Secondly, they all have vector editors, smart shape drawing tools, color filling tools, text editing and text paths, as well as guidelines and unlimited layers, and even special effects and animation tools. In addition, they all have built-in rich design resources, including hundreds of editable logo design templates, and thousands of icon shapes. The important thing is that beautiful templates can stimulate your creativity, and design resources can improve your work efficiency.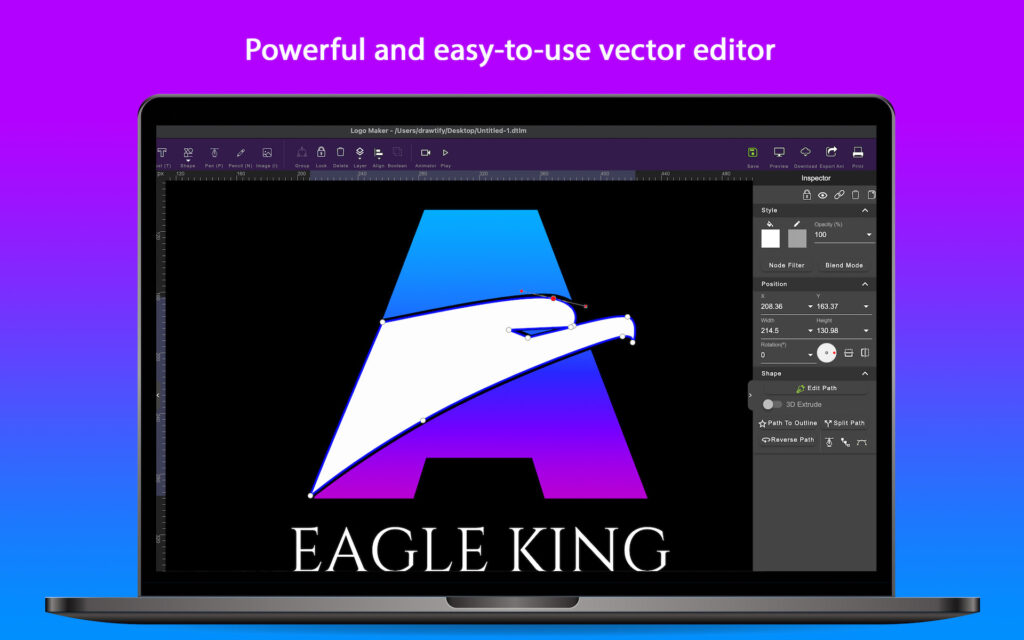 Therefore, you can use it with confidence without any burden.
Please follow the steps below, do it yourself, and get a good vector logo and animated logo in a few minutes.
Step 1: Refer to your preparation checklist to find a suitable editable logo design template. Of course, you can also start with a new blank file.
Step 2: Double-click any element in the template, use its rich toolbox and easy-to-use professional design functions to creatively modify or add text, fonts, shapes, layouts, colors, and special effects. Include:
Turn text to the path to create unique fonts, typography, and layout.
Path editing to create more suitable and satisfactory shapes.
Color filling to create more suitable industry attributes.
Special effects to create more dazzling visual effects.
Of course, your creativity is by no means limited to this. For example, create a more eye-catching animated logo.
Step 3: More passion and experimentation will speed up your success. But please don't refuse to open the reference line, and choose a suitable format to download, output, or even print.
I wish you success in your design!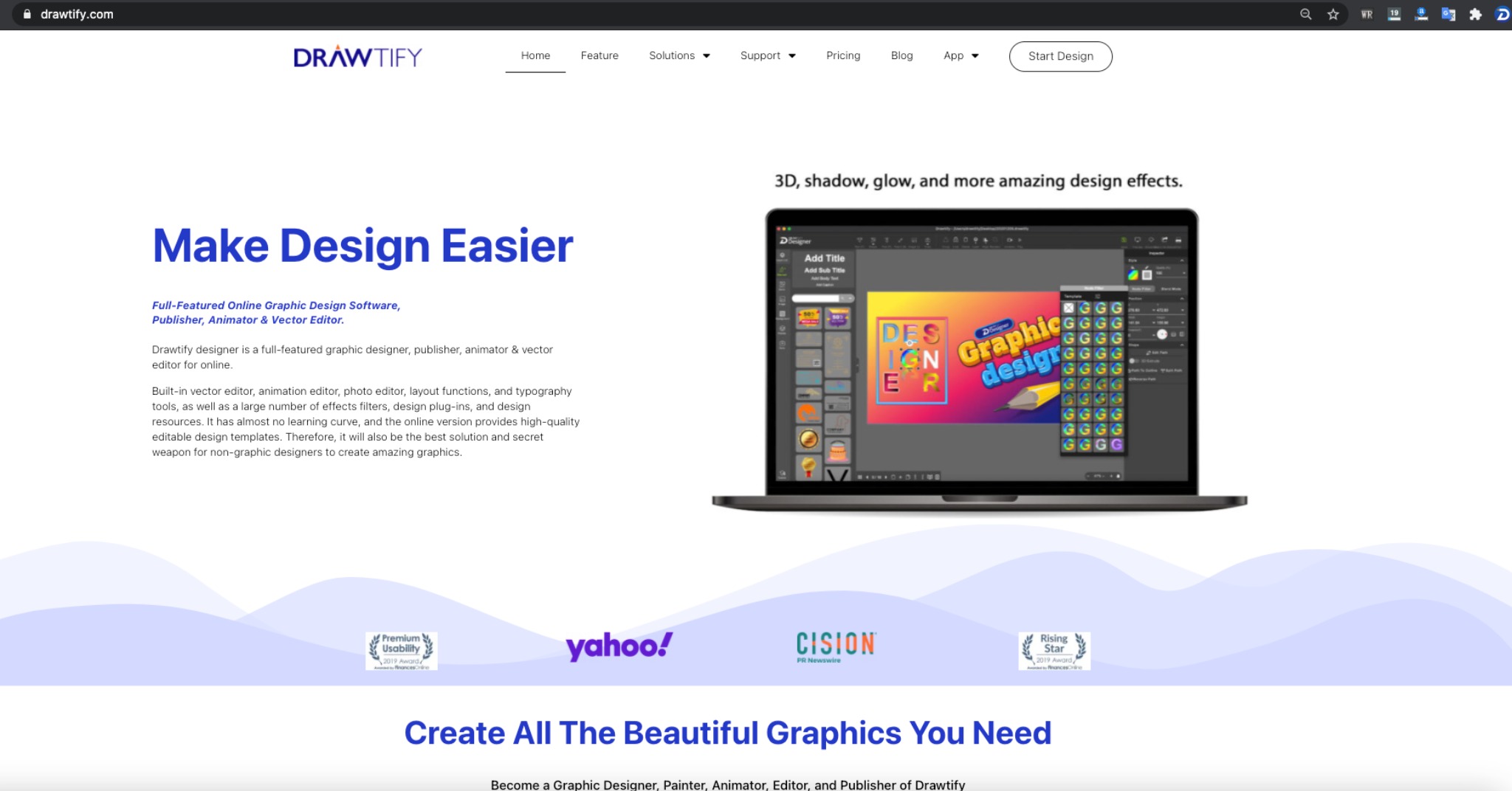 Drawtify can also help you create more exquisite graphics to meet almost all your needs. It is an online graphic design software with vector drawing, layout, photo editing, and typography. It is the App for all platforms. And it's free to learn and use. For more information, please log on to the Drawtify official website.
Make Logo Design Easier.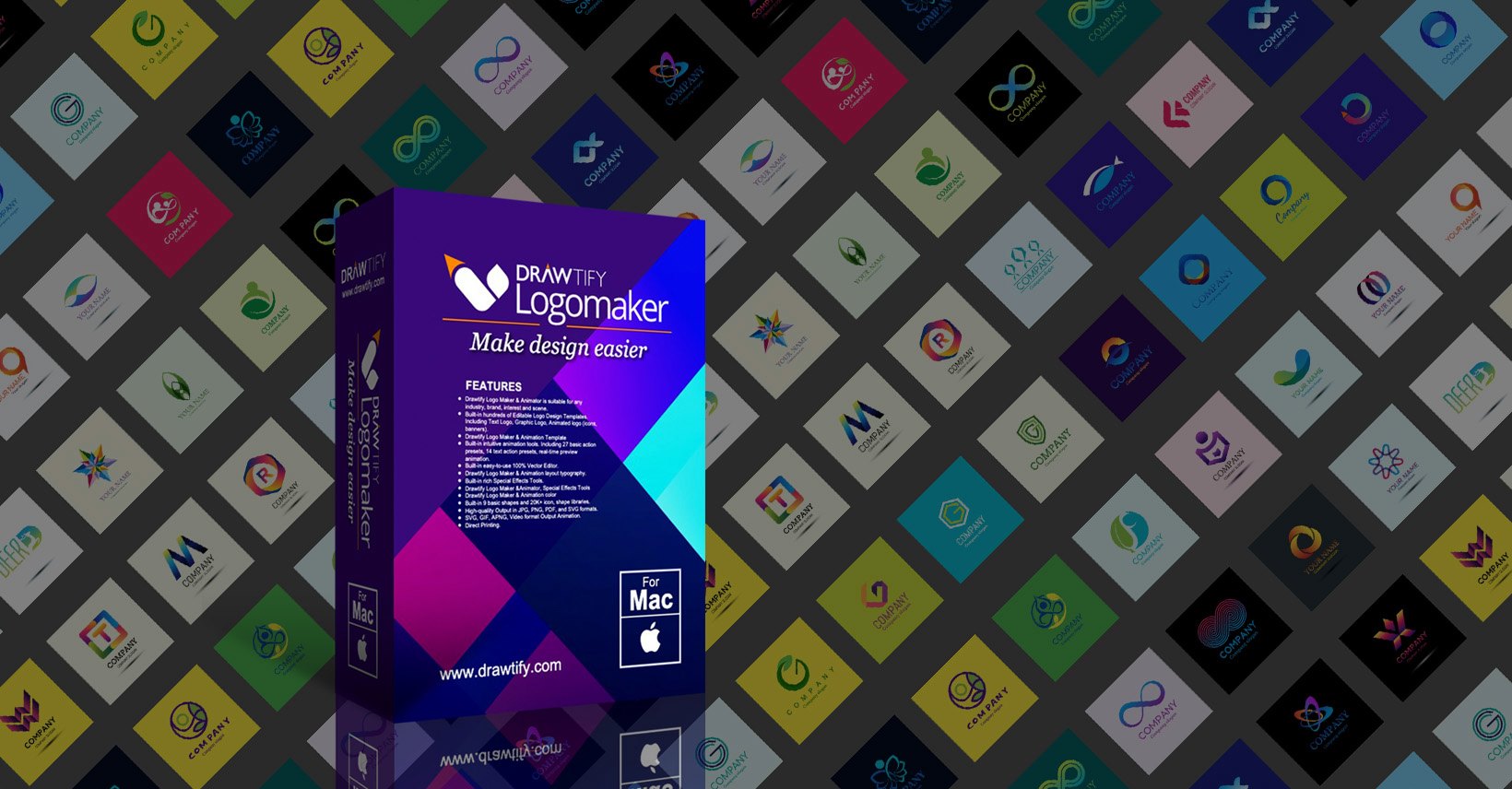 Please release your creativity.
Use the easy-to-use and fully functional logo design application and animation tool-Drawtify Logo Maker & Animator to help you quickly create the most valuable brand story.