How to make invoices for powerful marketing to improve the brand image? Drawtify can help you get eye-catching invoices! Even if you are not a designer.
Drawtify is a free online invoice maker. It not only provides a large number of invoice templates but also has rich built-in design functions. Therefore, Drawtify will be the best choice for making invoices online.
Join Drawtify. Create amazing invoices in minutes.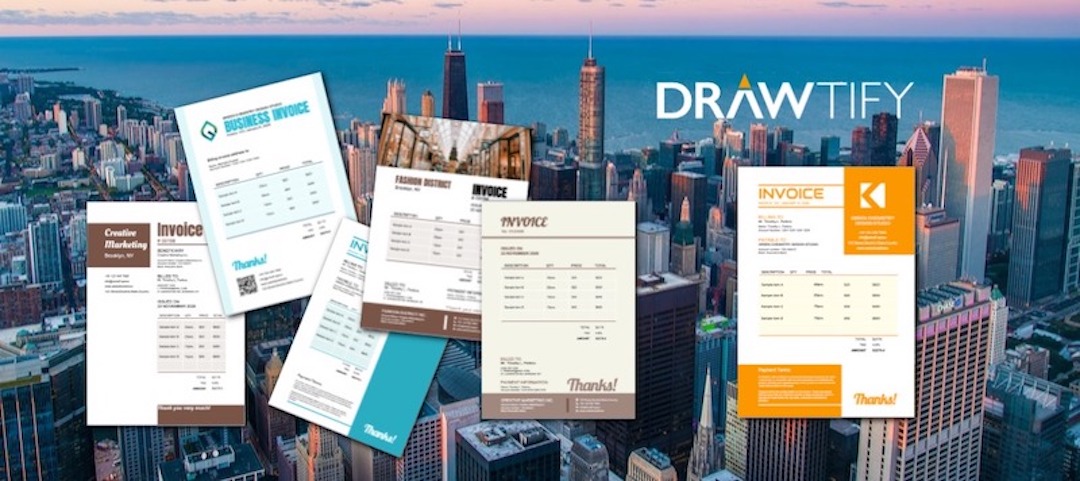 8 tips to make invoices
Why invoice design is important
The design goals of all tickets are the same to help you get paid. However, the ticket also reflects your professionalism, brand image, clearly shows your terms and conditions and leaves a lasting positive impression on customers. The best invoice can even help you attract more business.
Reflect your brand
You have spent a lot of time creating your own brand, color theme, logo, font, and layout. All this makes your company your business. Your marketing materials can reflect your business personality. There is no reason why your invoice cannot be proudly branded!
Easy payment
This means keeping your invoice design clear and beautiful. Try to use the brand color in the title or subtitle, while keeping the body part neutral black and white. Your logo should be neatly placed and unobtrusive. Make sure that your font also stays the same size.
Express appreciation
Your ticket is not just for payment. This is an opportunity to thank customers. You want to thank you because they have chosen you among many meaningful segments. Their money supports your business and dreams.
Pay attention to your language
Money is often a sensitive topic. We like to get it, we hate to be separated from it. Therefore, your tickets should be properly worded in the appropriate language. When choosing words, be clear, polite, valued, and concise. This also applies to any corresponding letters or terms and conditions.
Define rules
"Please pay in time" "It's a good idea, but it often fails."
Therefore, I strongly recommend that you set the actual due date and display it clearly on the invoice. If you have a fee policy that refuses to pay, please make sure that these terms are also clearly listed.
List invoices item by item
If you know the correct purpose, no one likes to get a large invoice! Your bill should include an accurate and easy-to-understand description of the goods and services being paid.
Say my name
By calling your customers by their full names instead of just "you", you may get a quick response. The same thing happened on paper, it immediately caught our eye.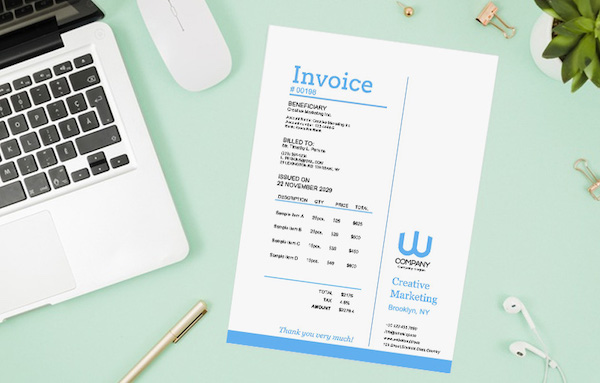 THE BEST SOLUTION "HOW TO MAKE INVOICES"
Your invoice is not only your sales certificate but also can enhance your brand image.
How to make invoices? No design experience? No problem.
Because, Drawtify is an online graphic design software, with a vector editor, layout function, photo editor, and typography tools, and is easy to use and suitable for everyone.
With the Drawtify free invoice maker, anyone can easily make invoices.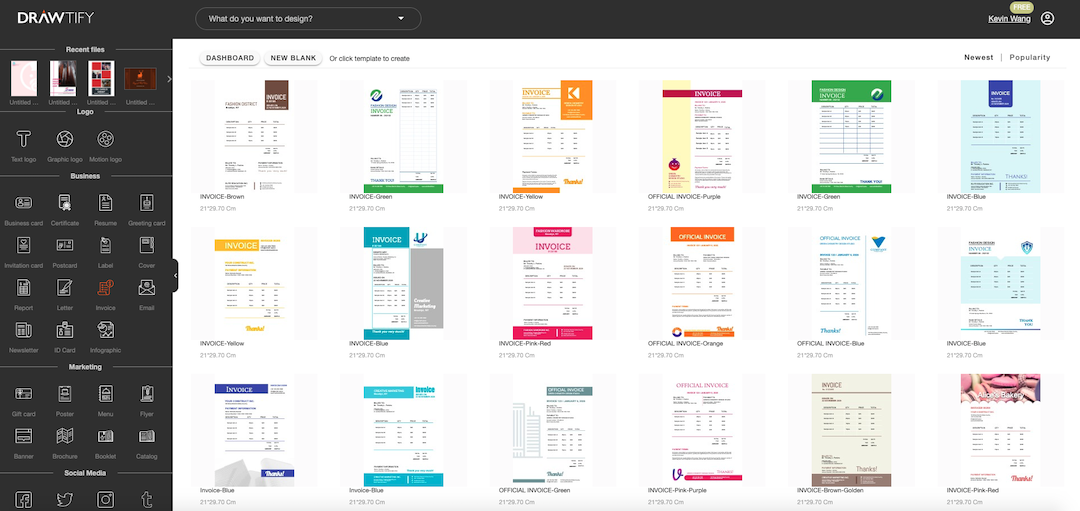 The fastest way to use Drawtify to make invoices:
First, enter the Drawtify Design Center, and then click "Invoice" on the left.
Then, select the required invoice template in the template library. And click the template to enter the design editing page.
Then, double-click the text in the template to modify the name, tagline, information, data, etc. Here, if you need to use your own logo, you can upload and replace it. If there is no logo, you can use Drawtify to make one immediately.
Of course, you can redefine icons and colors.
Finally, after a few minutes, you will make invoices.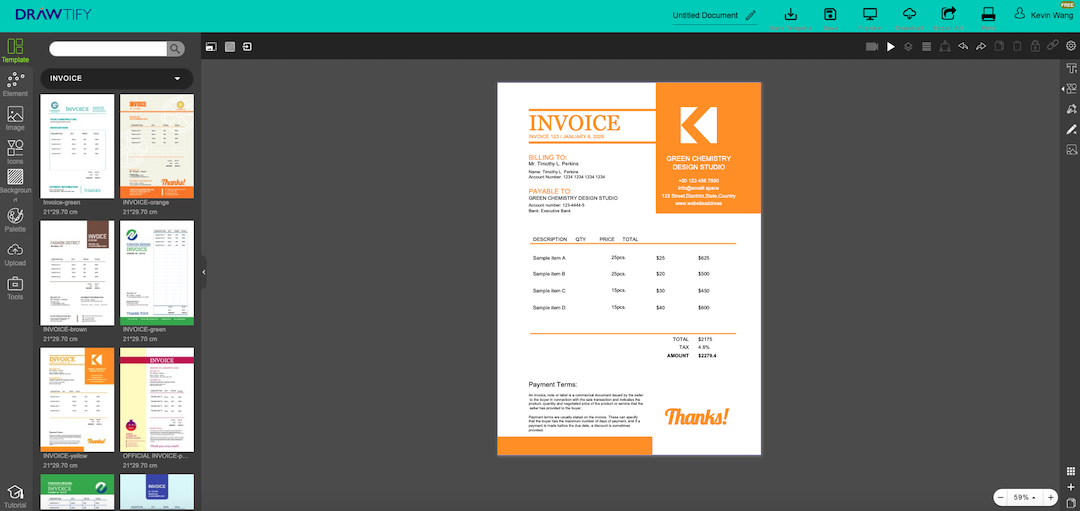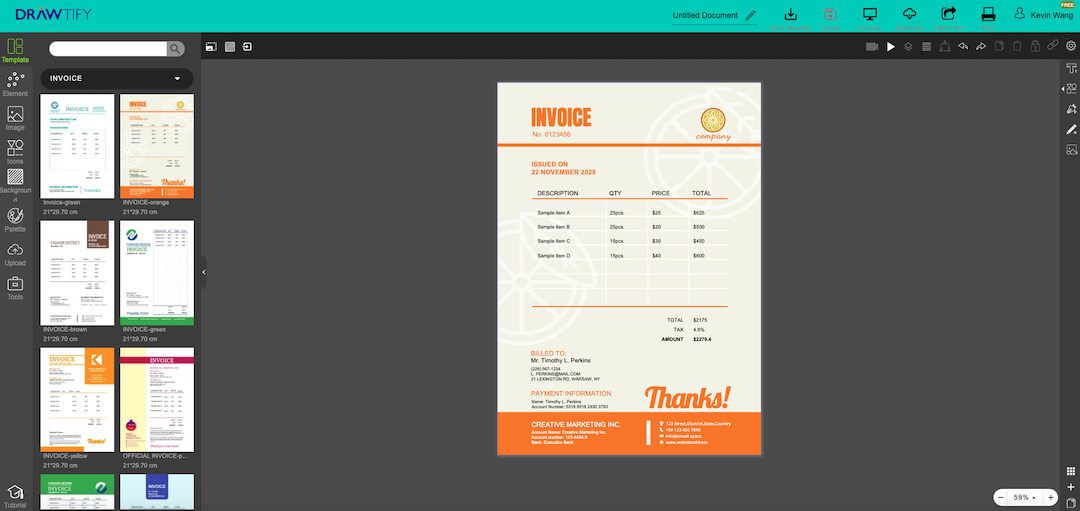 The recommended steps for using Drawtify to make invoices are as follows:
First, browse more invoice templates to inspire your creativity.
Then, click the invoice template closest to your business case to enter the design editing page. Or create a blank file first.
Then, use Drawtify's rich toolbox and easy-to-use professional design features. To creatively modify or add special effects, please customize shapes, colors, etc.
For example: Use vector drawing to create unique fonts or icon shapes. Use the color editor for richer color fills. Adding the "3D" function can make the invoice more visually influential. Even adding a QR code to make your invoice carry more content is unique.
Finally, get an exclusive invoice that is more suitable for your business case.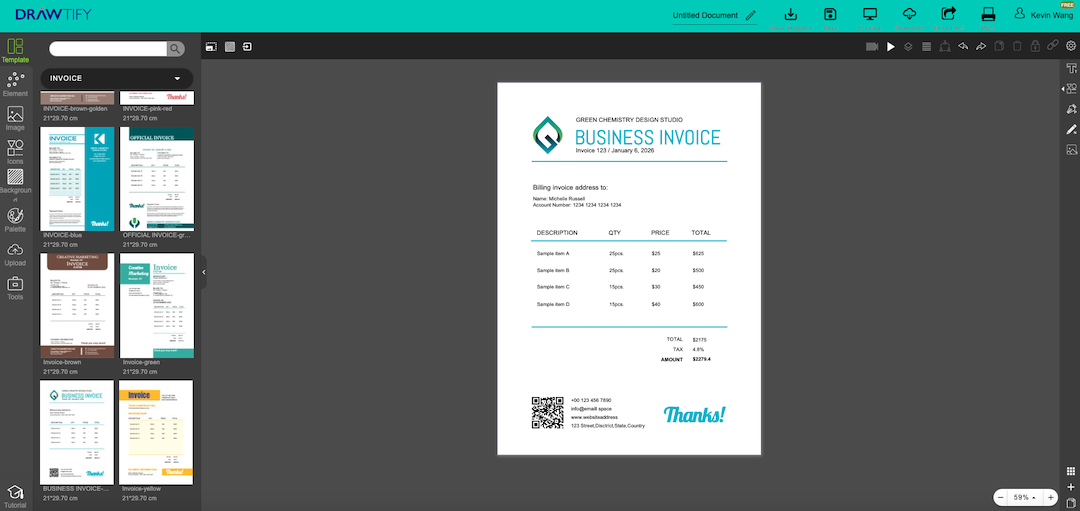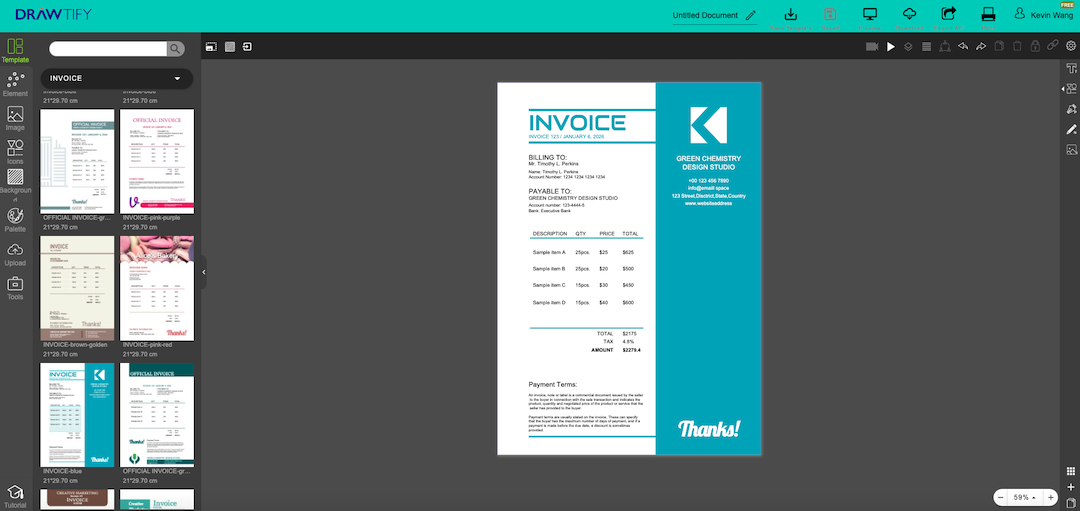 START! MAKE INVOICES! AND IT'S FREE!
All you need is a Drawtify account.
No download, expensive design fees, learning difficulties. No need to find design materials across platforms and worry about any copyright issues.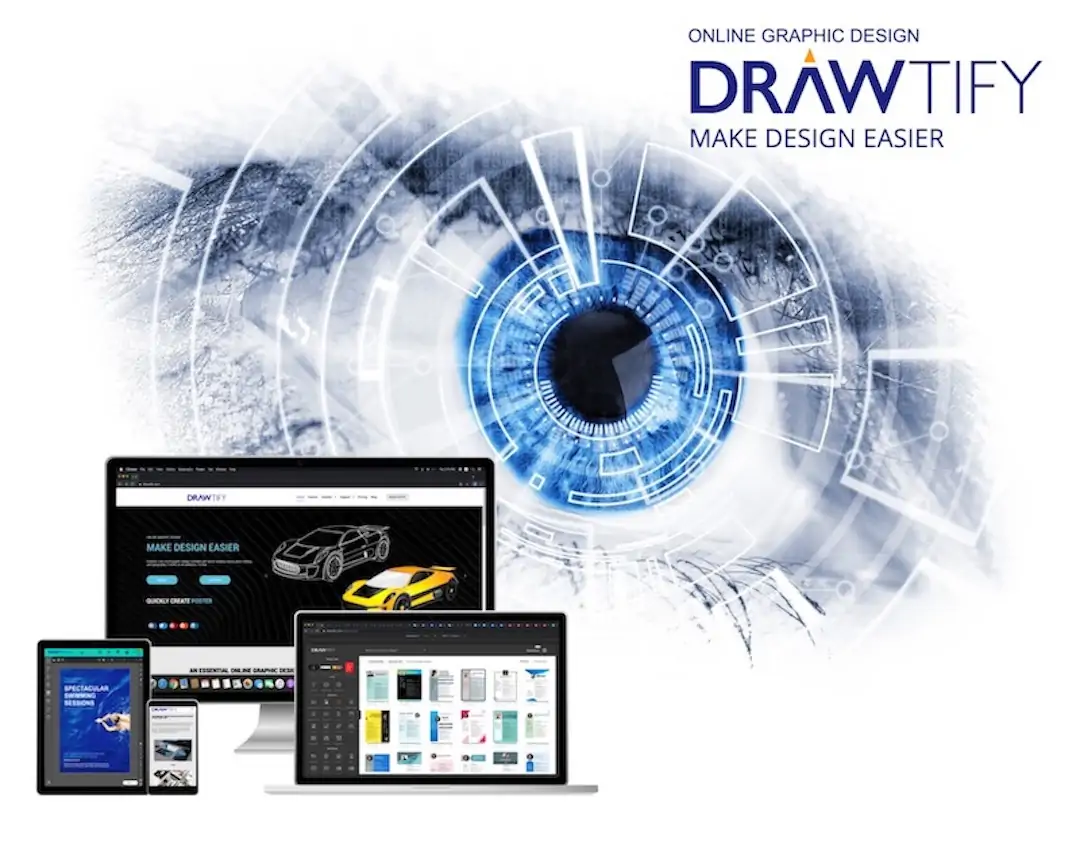 Drawtify, make design easier. Drawtify is an online graphic design software with vector drawing, layout, photo editing, and typography. It works on all platforms. And it's free.