How to make business cards with Drawtify to be the best and show yourself? Drawtify can help you get amazing business cards. Even if you are not a designer. Business cards usually contain not only relevant and necessary information but also important means to improve the image.
Drawtify is a free online business card maker. It not only provides a large number of business card templates but also has rich built-in design functions. Therefore, Drawtify will become the best choice for making business cards online.
Join Drawtify. Make business cards in minutes.

How to best make business cards
Nowadays, the business world is usually highly focused on all things digital, especially the field of business marketing is fascinated by the Internet. We will quickly adopt the latest methods to attract any online audience, and we forget that offline promotion is equally important. A physical business card is a powerful tool in the arsenal.
Business cards are still an important part of the brand strategy and constitute a portable form of professional advertising that you can distribute to anyone at any time. Experts may disagree on the role of business cards in enterprises today. However, unless done well, such cards will certainly not disrupt your marketing efforts and may promote your promotional activities.
Let us consider what type of business card is suitable for your business and how to best solve the process of making your own business card.
1. Determine the information on the business card
The first step is to determine what information to print on the business card. There are some basic items, such as:
Your full name, title, company name, logo. Actual or virtual address (ie your website) and your phone number, email address.
Consider other possibilities to add to your business card:
Your fax number, your picture, your social media account.
But remember, a typical business card is 2 inches by 3.5 inches, so don't try to squeeze too much information on a business card. Determine which elements are critical to your business, and if you need to include a lot of information, consider using double-sided cards.
2. Choose the layout of the business card
Online graphic design software can make business cards quickly and easily. You can use existing templates to upload your own images or combine the two.
Whichever method you choose, the following key factors should be considered when designing business card layouts:
Logo
Your business card should reflect the brand image you want to create. If you already have a logo, make sure to include it on the card. If you haven't created a logo yet, you can hire a freelance designer or use Drawtify's free logo maker to create a custom logo.
Color
Be consistent with your color scheme in all marketing materials. If you have designed items such as brochures or stationery, please keep the same color tone and general mood as used in business cards. A bright background may help make your card unique. Regardless of the color, make sure the text on the card is clear and easy to read.
Font
The most important aspect of business cards is readability, so choose your font wisely. We recommend that you use no more than two fonts, and these fonts can be complementary. If different fonts are used, the main consideration is whether the company name is worthy of attention.
Size
You may consider using a unique size or shape to make the business card stand out from the package. But remember, this will make your card more expensive to manufacture.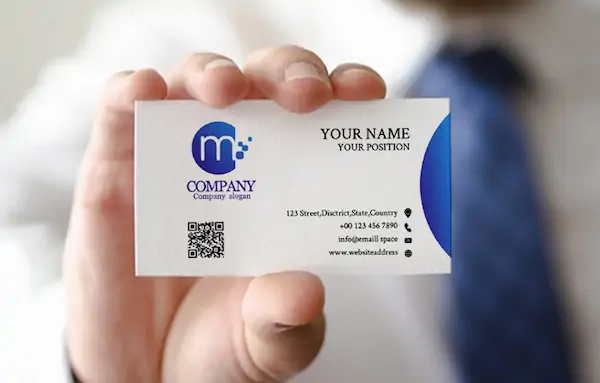 THE BEST SOLUTION "HOW TO MAKE BUSINESS CARDS"
Your business card is your image and an indispensable tool for your business activities.
How to make business cards? No design experience? No problem.
Because, Drawtify is an online graphic design software with vector editor, layout function, photo editor, and typography tools, and it is easy to use and suitable for everyone.
With the free business card maker of Drawtify, anyone can easily make business cards.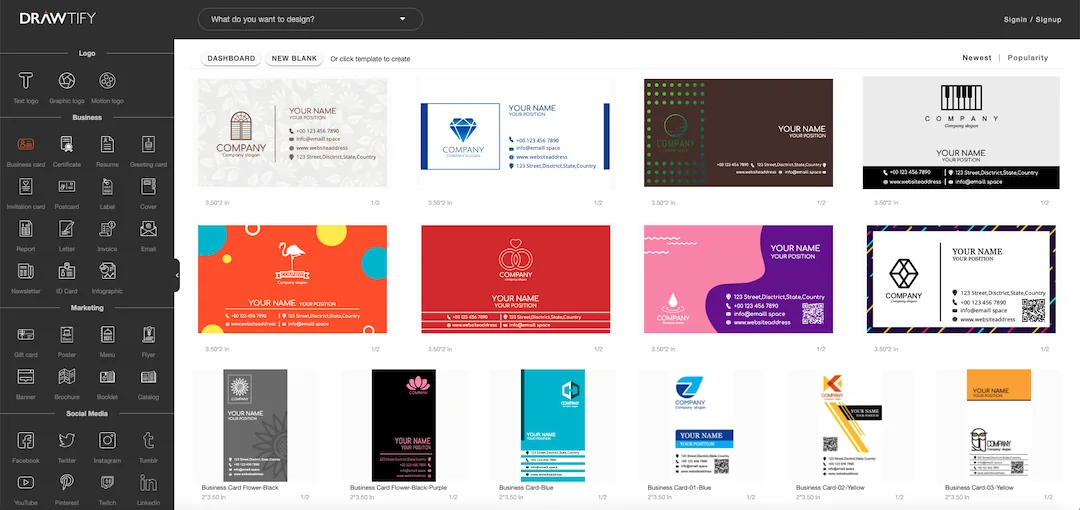 The fastest way to make business cards with Drawtify:
First, enter the Drawtify Design Center, and then click "Business Card" on the left.
Then, select the desired business card template in the template library, and then click the template to enter the design editing page.
Then, double-click the text in the template to modify the name and tagline. Here, you need to upload your logo, or design a logo immediately and replace it.
Of course, you can redefine icons, colors.
Finally, after a few minutes, you will create a custom business card.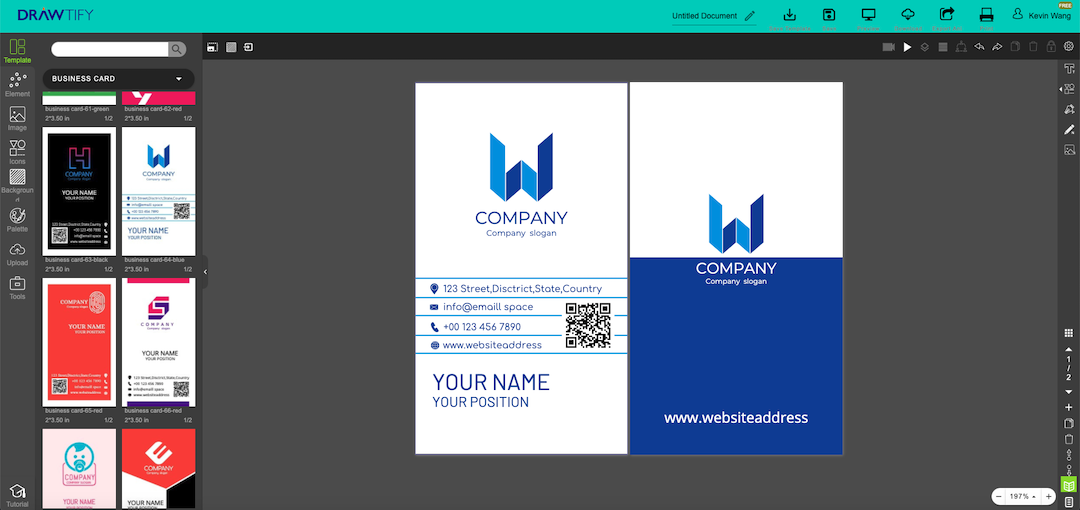 The recommended steps to make business cards with Drawtify are:
First, browse more business card templates to inspire your creativity.
Then, click the business card template closest to your brand story to enter the design editing page. Or create a blank file first.
Then, use Drawtify's rich toolbox and easy-to-use professional design features to creatively modify or add special effects, custom shapes, colors, etc.
For example: Use vector editing to create unique fonts or icon shapes. Use the color editor for richer color fills. Adding the "3D" function makes the business card more visually influential. Even add a QR code to make your business card carry more content and be unique.
Finally, get an exclusive brand name card that is more suitable for your brand story.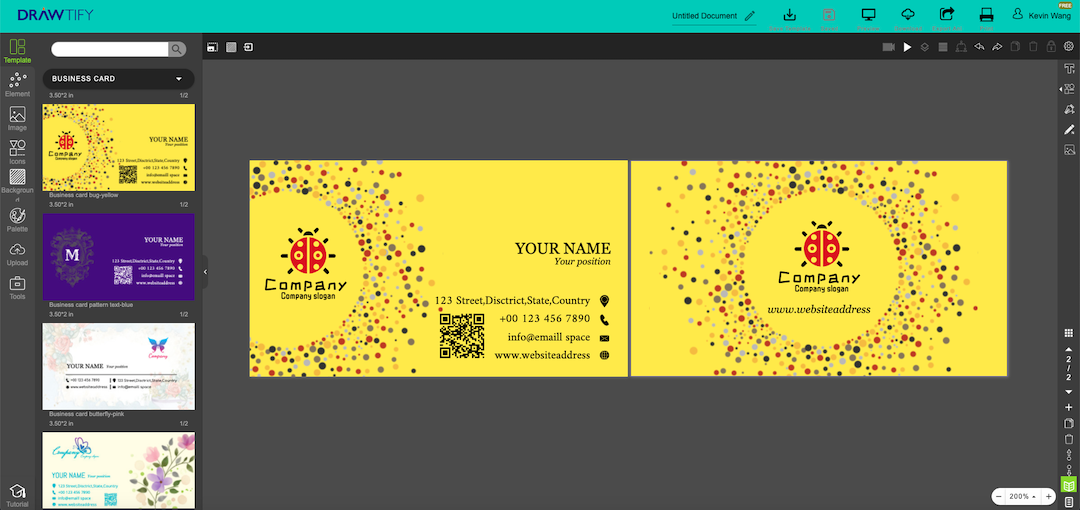 START! MAKE BUSINESS CARDS! AND IT'S FREE!
All you need is a Drawtify account.
No download, expensive design fees, learning difficulties. No need to find design materials across platforms and worry about any copyright issues.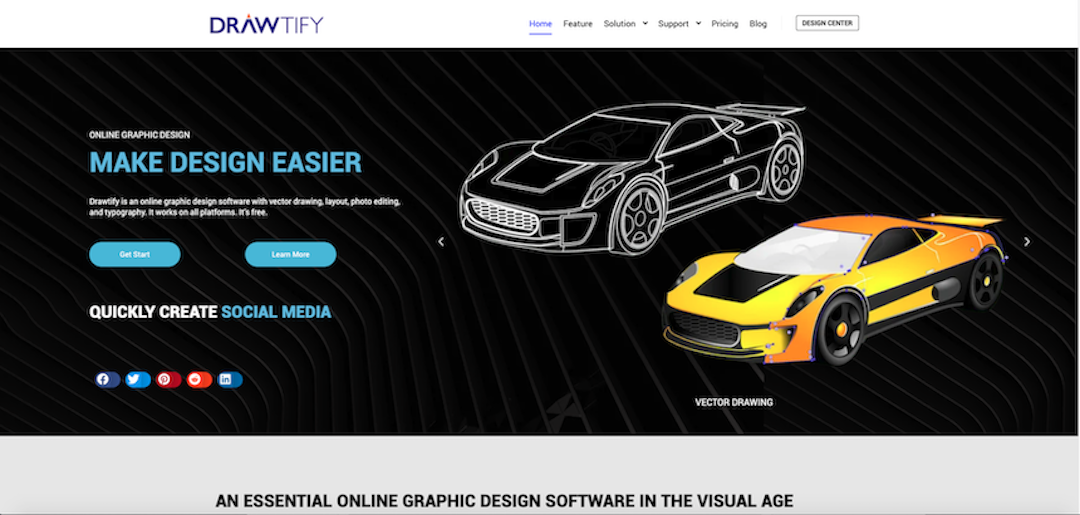 Drawtify, make design easier. Drawtify is an online graphic design software with vector drawing, layout, photo editing, and typography. It works on all platforms. And it's free.