How to make a certificate with Drawtifyfor powerful marketing to the highest honor? Drawtify can help you get eye-catching certificates! Even if you are not a designer.
Drawtify is a free online certificate maker. It not only provides a large number of certificate templates but also has rich built-in design functions. Therefore, Drawtify will be the best choice for making certificates online.
Join Drawtify. Create compelling honor certificates in minutes.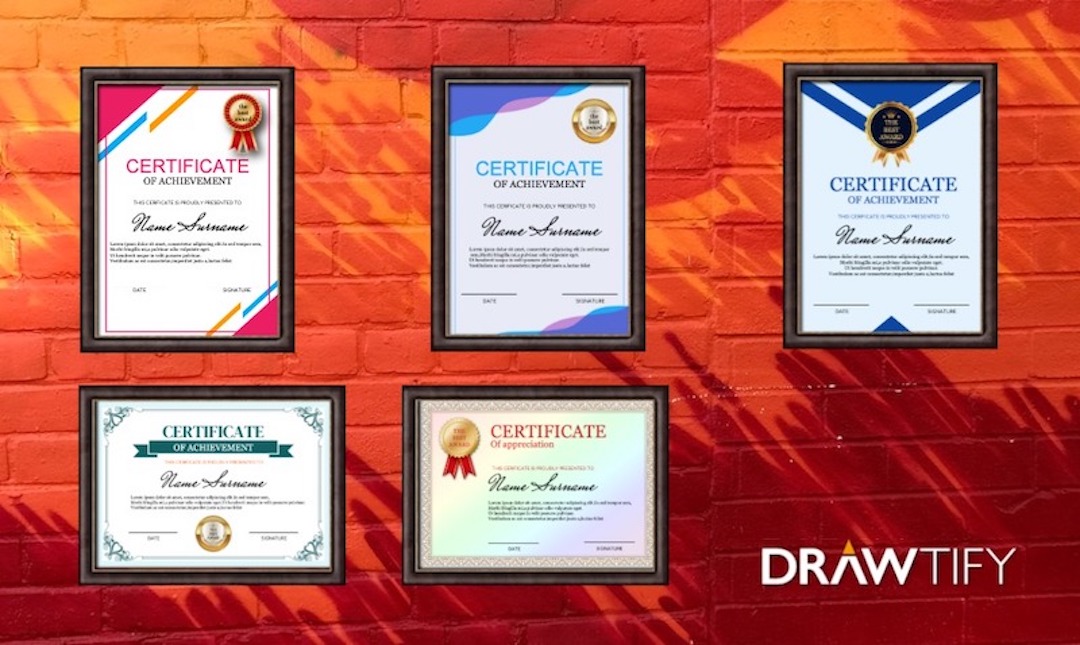 Tips on make a certificate
Using a certificate in a workplace awards ceremony is a great way to let your employees know that you appreciate them without having to spend a lot of money on expensive awards. Here are some tips to help you create certificates that people can proudly display.
Choose the right paper
It depends to a large extent on the type of paper you used when creating the professional certificate. The lightweight paper feels fragile, so it can be thought of as not very valuable to your recipients. On the other hand, heavier paper stocks feel stronger and can have a more positive psychological impact.
Choose the right color scheme
There is no one-size-fits-all certificate, but one thing you should definitely pay attention to is the use of color. Some colors (such as neon lights and pastels) look great, but if you want to create a formal workplace certificate, stay away from bright colors and use more conservative blacks, grays, and blues on white papers.
Don't mess up the layout
When making your own corporate certificate, don't waste too much information, but make sure to leave enough space between words. Otherwise, you risk creating something that looks unprofessional.
Don't use too many fonts
It is commonplace to use different types of fonts and sizes in certificates, but one thing you absolutely should avoid is overusing them. Crazy use of fonts can make the certificate look unprofessional, confusing, and unreadable.
Spell the recipient's name correctly
There are very few things in life that are as disappointing as getting a wrongly spelled name certificate, it looks as if it belongs to someone else. When presenting official certificates to employees or close business partners, please be extra careful to ensure that their names are spelled correctly. no doubt. If you have any questions, please write down your name.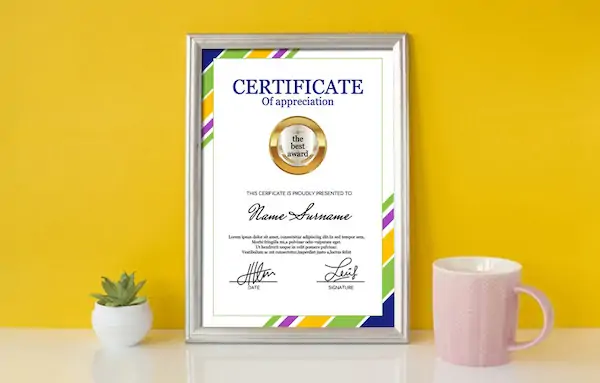 THE BEST SOLUTION "HOW TO MAKE A CERTIFICATE"
The certificate of honor is an indispensable tool for your business activities.
How to make a certificate? No design experience? No problem.
Because, Drawtify is an online graphic design software, with a vector editor, layout function, photo editor, and typography tools, and is easy to use and suitable for everyone.
With the Drawtify free certificate maker, anyone can easily make a certificate.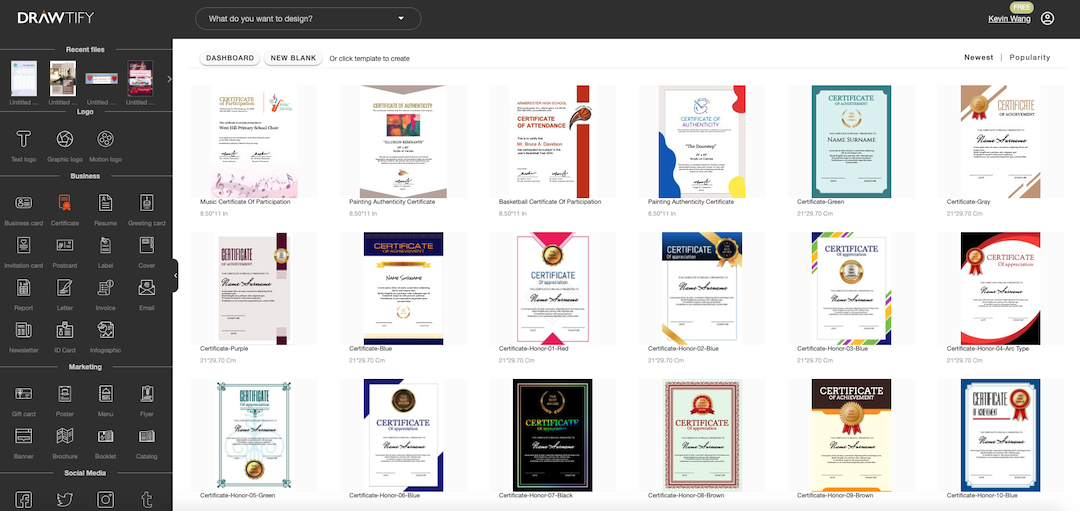 The fastest way to use Drawtify to make a certificate:
First, enter the Drawtify Design Center, and then click "Certificate" on the left.
Then, select the desired certificate template in the template library, and then click the template to enter the design editing page.
Then, double-click the text in the template to modify the name and tagline. Here, you need to upload the logo, or design the logo immediately and replace it.
Of course, you can redefine icons, colors.
Finally, after a few minutes, you will create a custom honor certificate.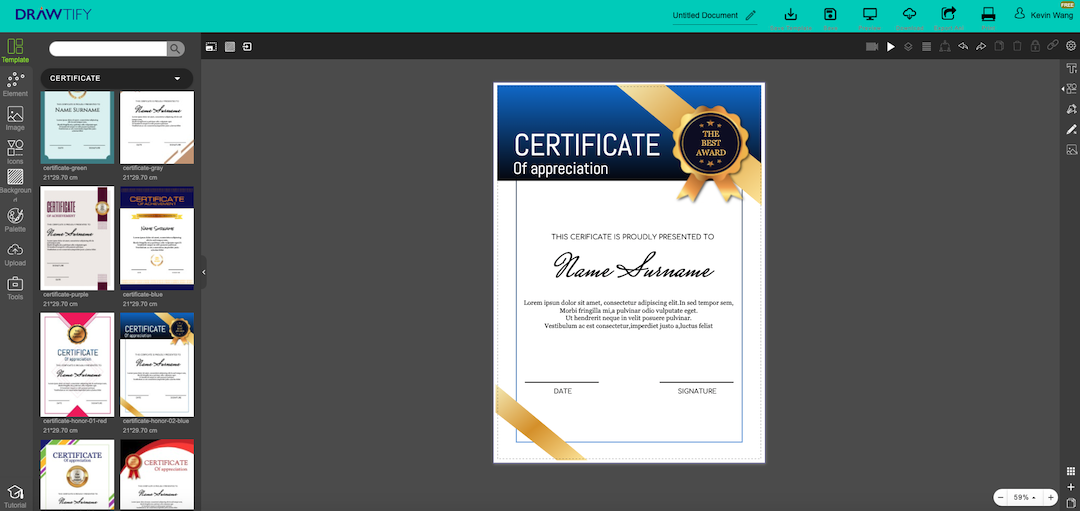 The recommended steps for using Drawtify to make a certificate are as follows:
First, browse more certificate templates to inspire your creativity.
Then, click the certificate template closest to your brand story to enter the design editing page. Or create a blank file first.
Then, use Drawtify's rich toolbox and easy-to-use professional design features to creatively modify or add special effects, custom shapes, colors, etc.
For example: Use vector editing to create unique fonts or icon shapes. Use the color editor for richer color fills. Adding the "3D" function makes the certificate more visually influential. Even add a QR code to make your certificate carry more content and it is unique.
Finally, get an exclusive honor certificate that is more suitable for your brand story.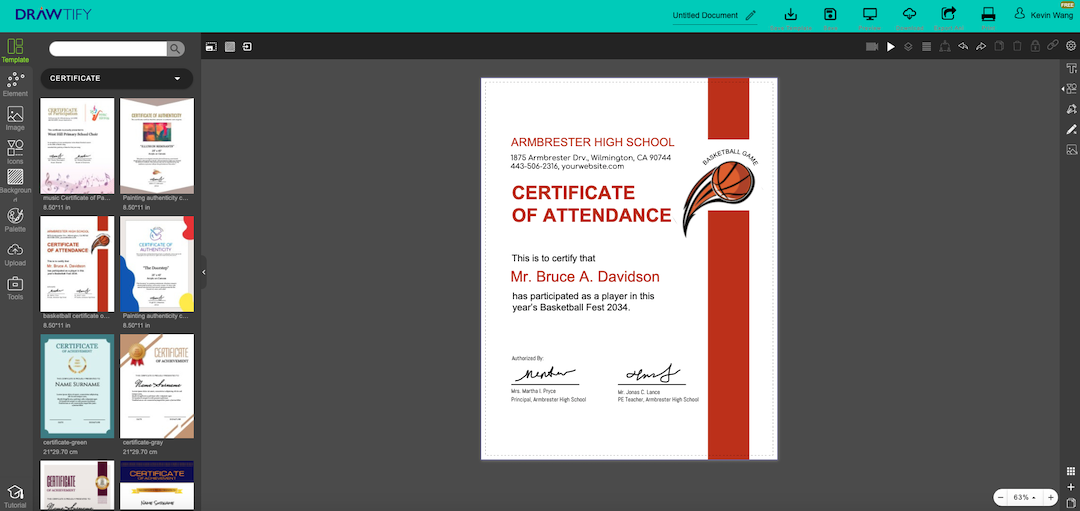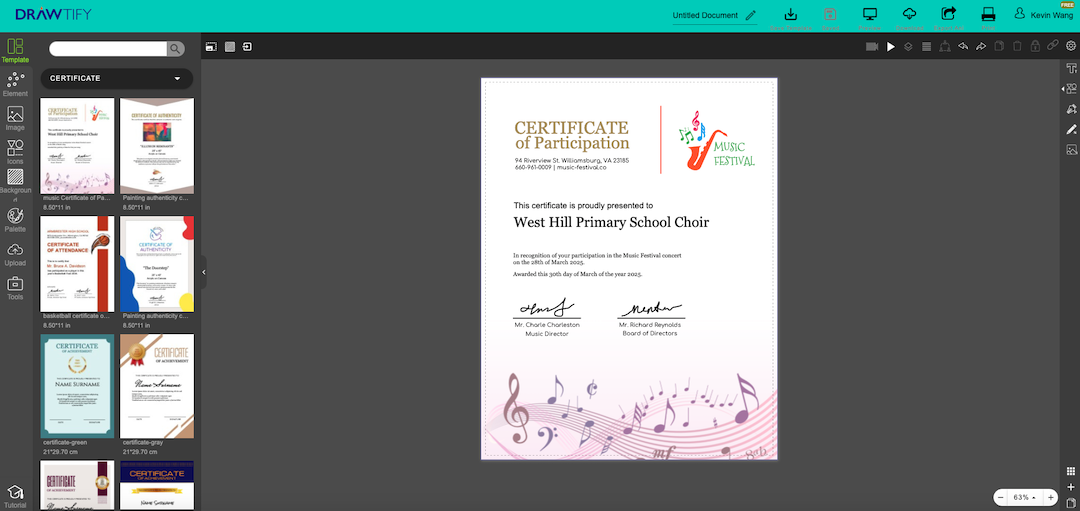 START! MAKE A CERTIFICATE! AND IT'S FREE!
All you need is a Drawtify account.
No download, expensive design fees, learning difficulties. No need to find design materials across platforms and worry about any copyright issues.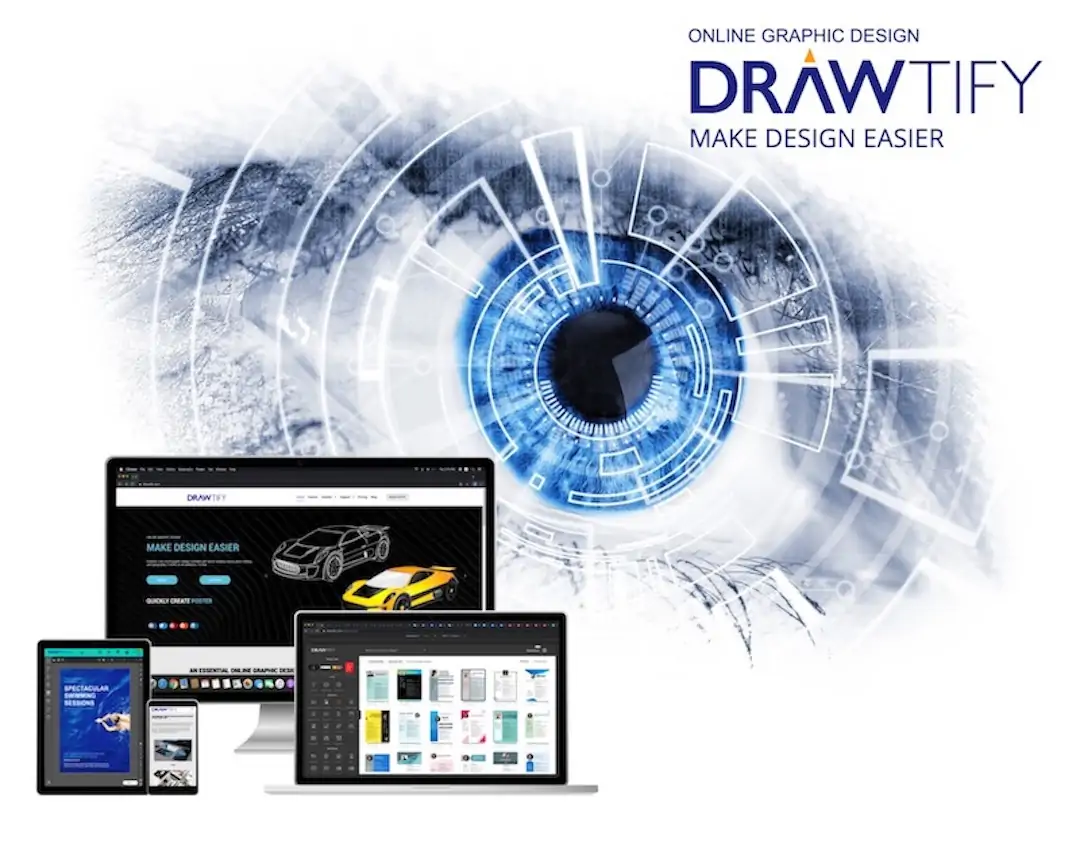 Drawtify, make design easier. Drawtify is an online graphic design software with vector drawing, layout, photo editing, and typography. It works on all platforms. And it's free.