How to make animated logos with Drawtify to the best brand image? Drawtify can help you easily get amazing animated logos. Even if you are not a designer.
Drawtify is free animation software. Drawtify provides a large number of animation templates. And has a rich built-in animation design function. Therefore, Drawtify will become the ideal software for making animation online.
Join Drawtify. Make animated logos and digital publications in minutes.
3D logos and animated logos will become new logo design trends
The logo design trend will continue to be based on everything the designer has been exploring in the past few years, and will also develop in a new direction. The new logo trend has become the focus of attention, including 3D gradients and dazzling animation.
1. 3D gradient
You will see that the popular gradient trend is constantly evolving and blending with the 3D trend, which is very suitable for our smartphones.
The gradient is a good way to convert any set of colors into a dynamic color sensation, feeling it has life and vitality. Today, designers will bring the latest developments in gradients, creating depth and 3D effects in the logo. In particular, the tapered gradient, tapered gradient, center point, and the contrast between the colors are emphasized, which will definitely impact the logo design trend.
The 3D gradient logo may be more difficult in printing, but it is very suitable for screen use. This is why they are very popular among brands that do not need too much (or even no) to worry about logo printing.
Next, designers will continue to explore the full potential of gradients and use them to create fascinating 3D effects, shadows, and depth.
2. Animated logo
Animated logos are nothing new, but designers today are making them richer, more interesting, more comprehensive, and more useful for brands that rely on them.
Some of the ways we see logo design trends happening this way are to mix 2D and 3D animations in the logo and complex logos with multiple moving parts.
With the application of new technologies, designers are constantly advancing to explore details and make animated logos more refined and artistic. These dazzling logo animations are designed to bring the audience a journey and tell a story.
The logo animation trend has arrived. The integration of 2D and 3D can easily become the mainstream of logo design. When designing for screens, you can do a lot more than when designing for printing.
Next, you will see a large number of animated logos, which will form a trend in more places, and this trend will not stop soon. In fact, it is becoming more and more popular.
The best solution "How to make animated logos"
The animated logo is a symbol of your business. It is also a secret weapon that attracts attention.
How to make animated logos? No design experience? No problem.
Because, Drawtify is an online graphic design software with vector editor, layout function, photo editor, and typography tools, and it is easy to use and suitable for everyone.
With the free animation maker of Drawtify, anyone can easily make animated logos.
Drawtify's fastest way to make animated logos:
First, enter the Drawtify Design Center, and then click "Animated LOGO" on the left.
Then, select the desired animation template in the template library, and then click the template to enter the design editing page.
Then, double-click the text in the template to modify the name and tagline.
Of course, you can redefine actions, colors, or icons.
Finally, in a few minutes, you will create a custom animated logo.
Drawtify recommends the steps to make animated logos:
First, browse more logo templates to inspire your creativity.
Then, click on the animation template closest to your brand story to enter the design editing page. Or create a blank file first.
Then, use Drawtify's rich toolbox and easy-to-use professional design features to creatively add content and modify motion settings.
Of course, you can also make the image first.
For example: Use vector editing to create unique fonts or icon shapes. Use the color editor for richer color fills. Adding the "3D" function makes the logo more visually influential.
Then, use the "animation" function to "activate" the logo.
Finally, get an exclusive brand logo that better suits your brand story.
START! MAKE ANIMATED LOGOS! AND IT'S FREE!
All you need is a Drawtify account.
No download, expensive design fees, learning difficulties. No need to find design materials across platforms and worry about any copyright issues.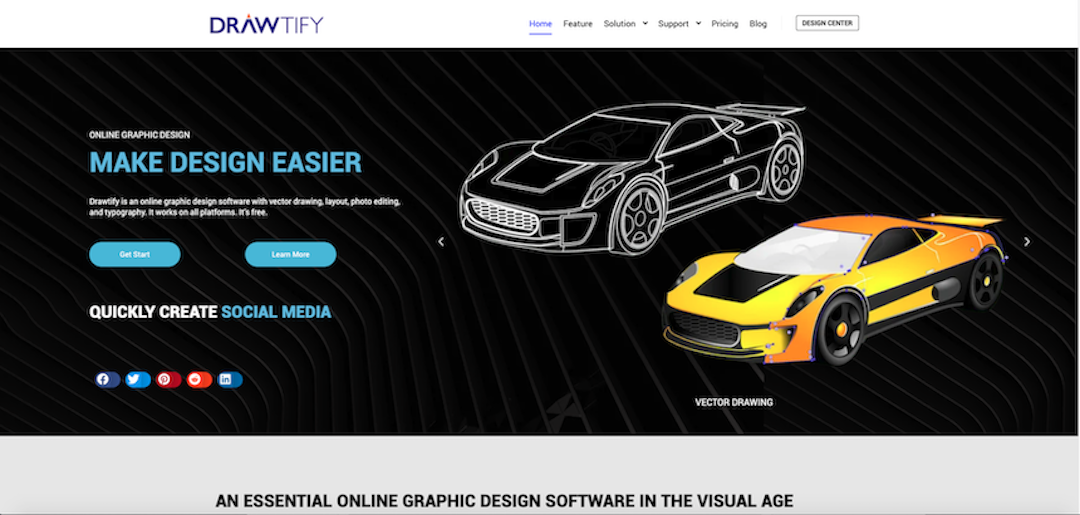 Drawtify, make design easier. Drawtify is an online graphic design software with vector drawing, layout, photo editing, and typography. It works on all platforms. And it's free.