How to make a report for powerful marketing to improve the business image? Drawtify can help you get eye-catching reports! Even if you are not a designer.
Drawtify is a free online report maker. It not only provides a large number of report templates but also has rich built-in design functions. Therefore, Drawtify will be the best choice for making reports online.
Join Drawtify. Make a report in minutes.
5 design tips to make a report
If your report contains a dense wall of text, and you don't see charts or visuals, this is obviously very bad. Then it's time to switch it.
The report does not seem to be the most interesting topic. However, with professional and easy-to-use graphic design software and high-quality editable report templates, you can create compelling reports. Even if you are not a designer. Of course, some simple design techniques can help you make reports faster.
Balance text and visual effects
In the visual age, we prefer information presented in visual form. Therefore, if the same information can be displayed visually, do not use text. There is at least a 50/50 balance between text and pictures. For example, icons and suitable images.
Even if your report requires a lot of text, try to spread related icons or images between long text paragraphs, this will help to continue to attract readers.
Use visual data
Data visualization does not have to be fancy. In fact, the simpler the better! Using simpler charts (such as line charts, bar charts, bubble charts, and maps) means that you will not confuse the reader. If these basic drawings are cleverly integrated into your overall design, they will even be very attractive.
Integrate your brand
It's a good idea to report on the company's brand. Using brand elements will help you always stick to the visual theme and it feels like a cohesive report.
Consistent application of company brand colors can have a huge impact. But don't be afraid to increase your personality! You can use the company's core brand elements to create interesting designs and still meet cohesion.
Same visual theme
Consistency is essential for good report design. Because text, charts, icons, and images are constantly changing from page to page, in order for the page of the report to be displayed as a whole, they must have similar design elements and must be consistent between pages. These consistent design elements (or themes) can be images, illustrations, icons, and even shapes!
Add a beautiful cover
For longer reports, please consider using the cover. Beautiful photos, illustrations, or other designs, please make sure it is an image that expresses the sound or theme of the brand-related to the report. You also need to match the overall tone of the report. If this is optimistic and thought-provoking, choose images that help convey these feelings.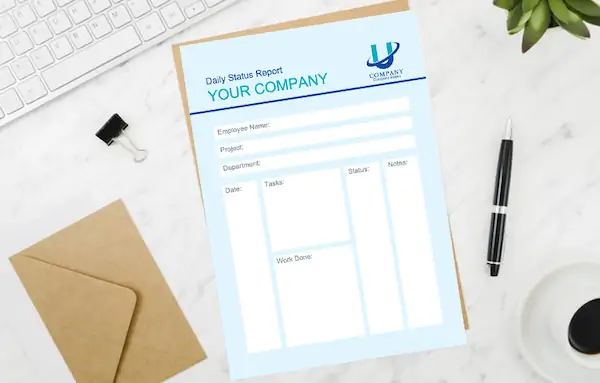 THE BEST SOLUTION "HOW TO MAKE A REPORT"
Reports are daily business. In particular, exquisite visual reports can greatly improve work efficiency.
How to make a report? No design experience? No problem.
Because, Drawtify is an online graphic design software, with a vector editor, layout function, photo editor, and typography tools, and is easy to use and suitable for everyone.
With the Drawtify free report maker, anyone can easily make a report.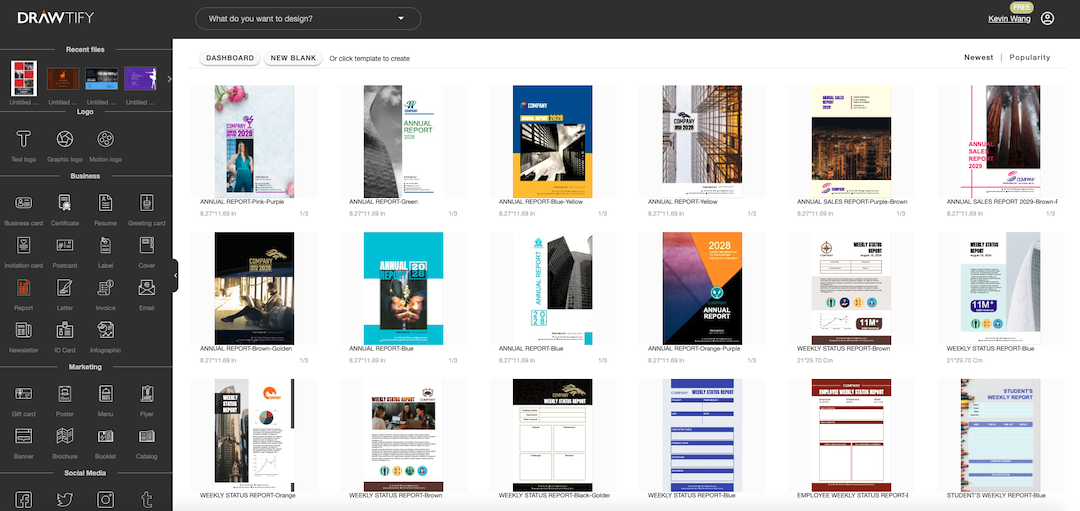 The fastest way to use Drawtify to make a report:
First, enter the Drawtify Design Center, and then click "Report" on the left.
Then, select the required report template in the template gallery. And click the template to enter the design editing page.
Then, double-click the text in the template to modify the name, slogan, information, data, etc. Here, if you need to use your own photo or logo, you can upload and replace it. If there is no logo, you can use Drawtify to make one immediately.
Of course, you can redefine icons and colors.
Finally, after a few minutes, you will create a custom report.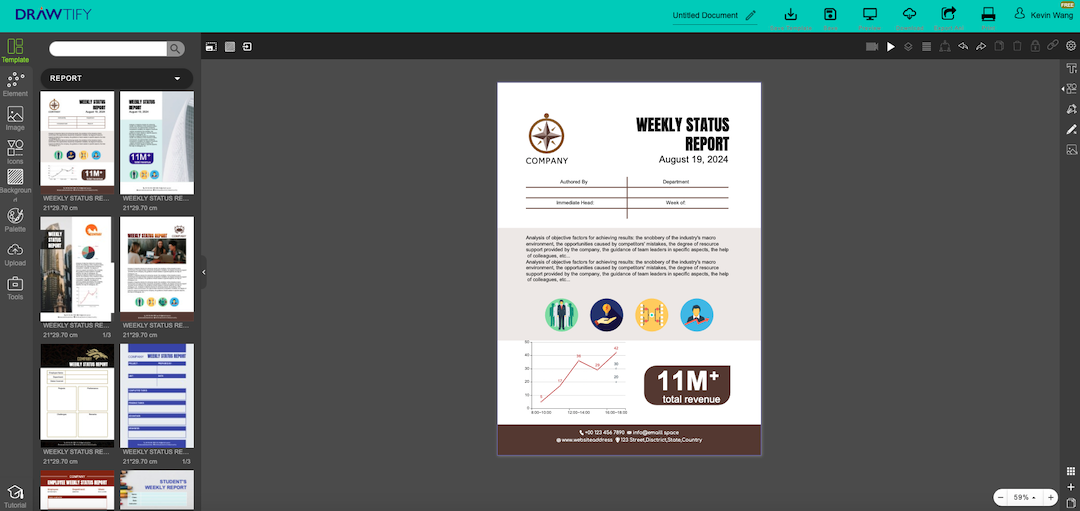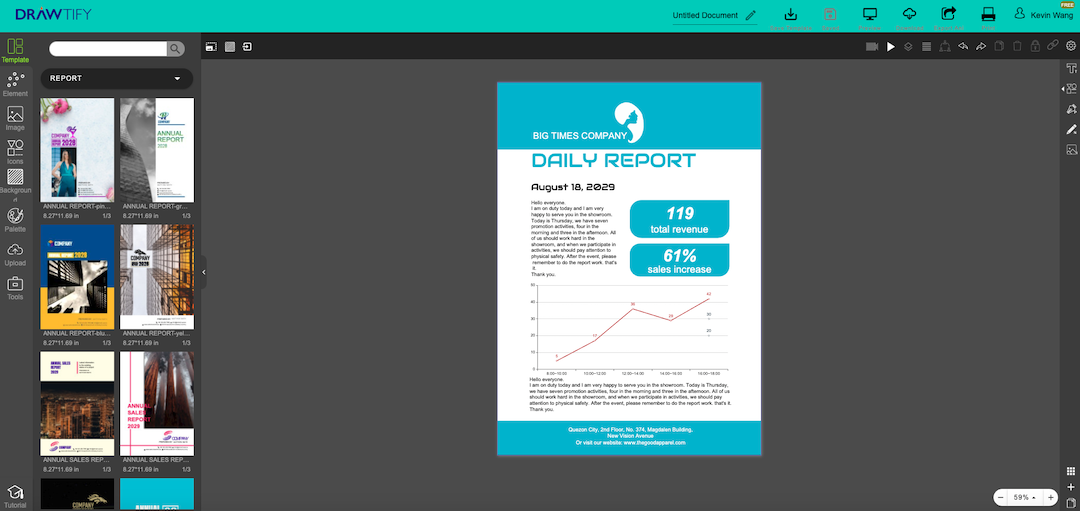 The recommended steps for using Drawtify to make a report are as follows:
First, browse more report templates to inspire your creativity.
Then, click the report template closest to your business case to enter the design editing page. Or create a blank file first.
Then, use Drawtify's rich toolbox and easy-to-use professional design features. To creatively modify or add special effects, customize shapes, colors, etc.
For example: Use vector editing to create unique fonts or icon shapes. Use the color editor for richer color fills. Adding the "3D" function can make the report more visually influential. Even adding a QR code to make your report carry more content is unique.
Finally, get an exclusive report that better suits your business story.
Of course, if you need an electronic report, you can even add an animation function.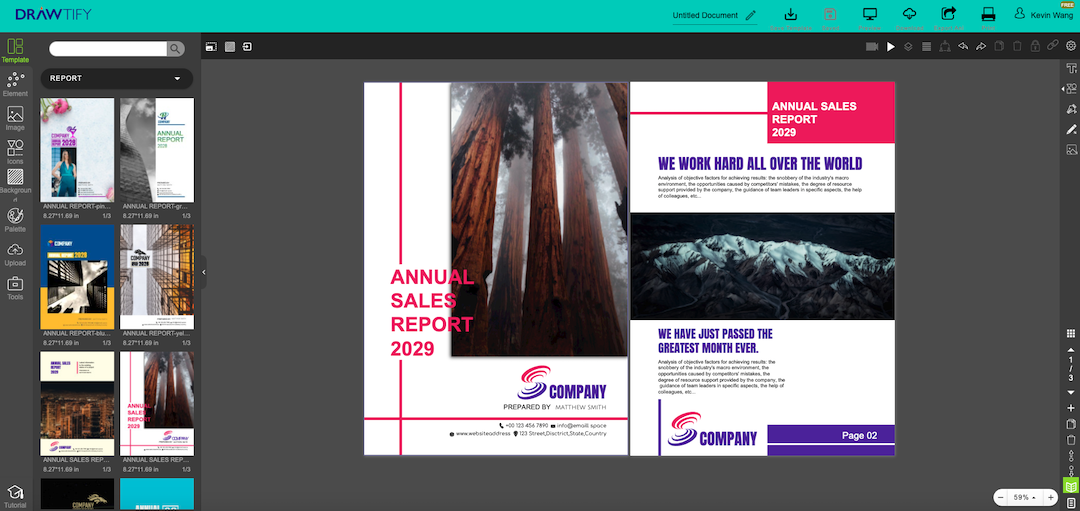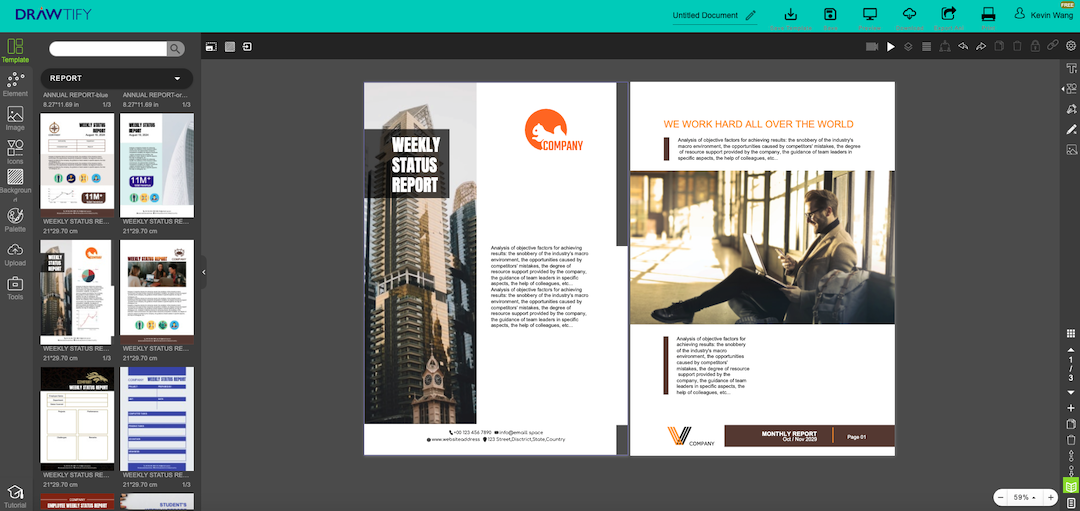 START! MAKE A REPORT! AND IT'S FREE!
All you need is a Drawtify account.
No download, expensive design fees, learning difficulties. No need to find design materials across platforms and worry about any copyright issues.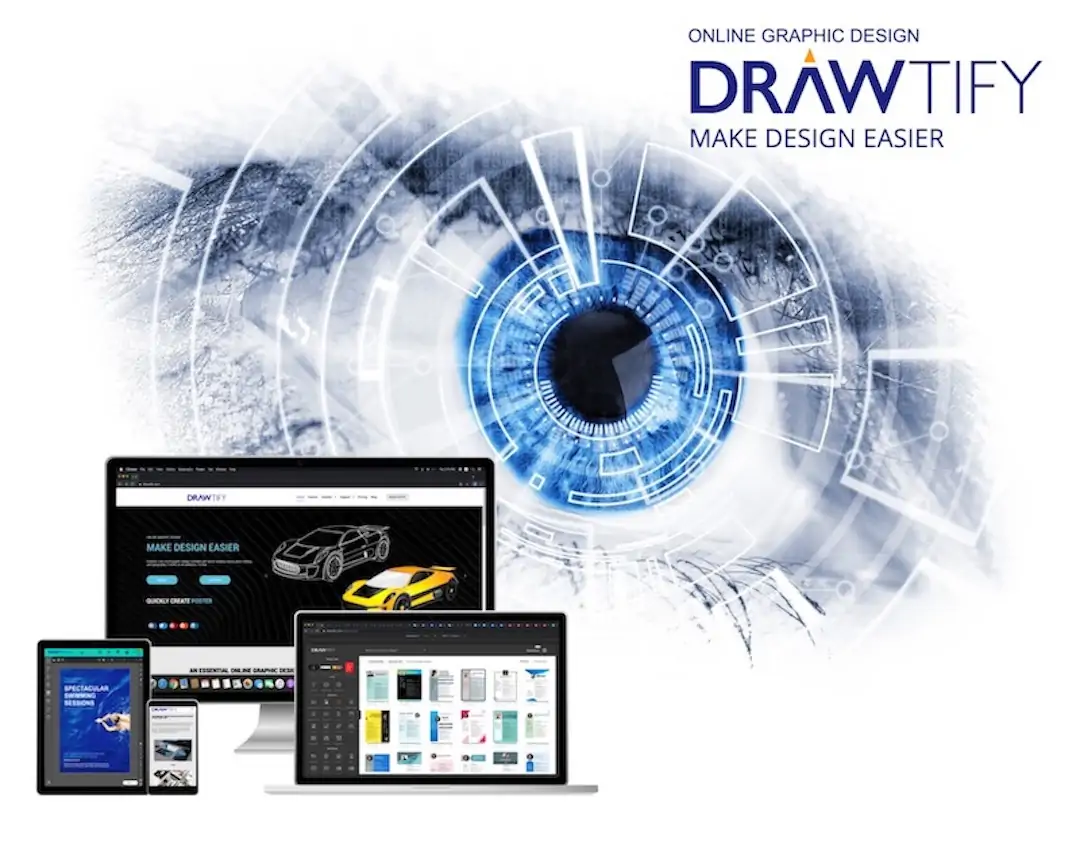 Drawtify, make design easier. Drawtify is an online graphic design software with vector drawing, layout, photo editing, and typography. It works on all platforms. And it's free.