How to make gift cards for powerful marketing to improve the brand image? Drawtify can help you get eye-catching gift cards! Even if you are not a designer.
Drawtify is a free online gift card maker. It not only provides a large number of gift card templates but also has a wealth of built-in design features. Therefore, Drawtify will be the best choice for making gift cards online.
Join Drawtify. Create eye-catching gift cards in minutes.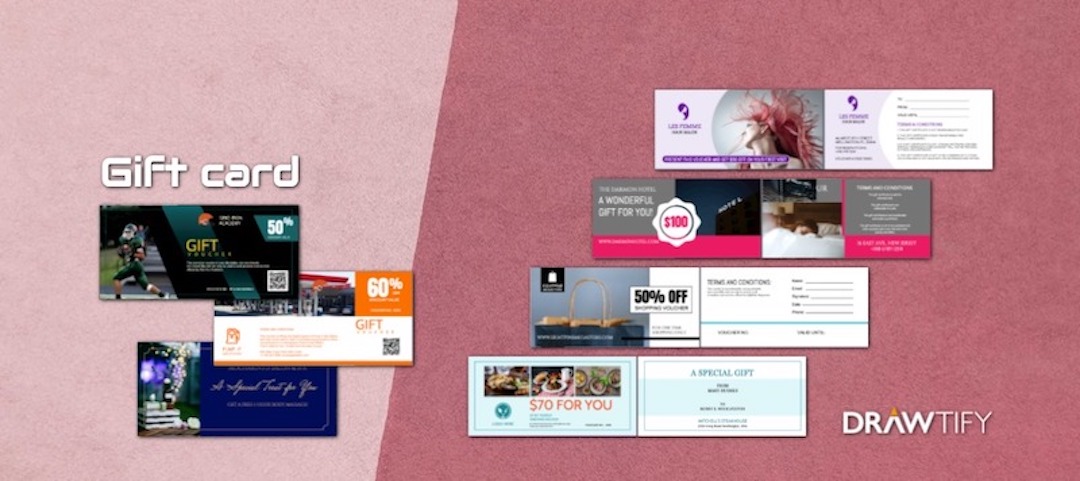 Design tips to make gift cards
When the holiday is approaching, gift cards are one of the common gifts that companies often provide to customers. Even individuals can make these cards as gifts for their friends or family members on birthdays or other occasions.
Keep in mind that people keep gift cards for longer periods of time and may not make transactions until the last day. Prior to this, brand elements with your brand logo, slogans, colors, etc. were all with them. This helps increase brand awareness.
Therefore, to create your own gift card, follow these important tips.
Know your audience
First, you must clearly understand the target customers targeted by gift cards. What educational, cultural, economic, and demographic backgrounds do your customers come from? Don't forget that gift cards are also your brand promotion tool.
Looking for inspiring ideas
Before you start creating gift certificates, master some unique and inspiring design, and layout ideas. If you access Drawtify's gift voucher template online, this will help inspire your creativity.
Decide on your theme
If you want to create a gift card for a specific day or holiday, choose the correct theme. Then, you should include color elements that reflect the spirit of the occasion.
Slogan
How to include your brand or company slogan or mission statement in the gift card? The slogan will let people know the role of your brand and help customers.
Correct color
Color can evoke our emotions. Use this feature to your advantage by choosing colors that can emotionally link your target audience to your brand.
Use custom fonts
Fonts are elements that give any design personality. There is also some text in your gift card. Therefore, use fonts that are directly related to your business.
Choose the right image and icon
Include some pictures in the gift card to immediately identify your brand. There may be some images or icons specific to your business, industry, and brand. Therefore, don't forget to include such visual effects on the gift card.
Keep the layout simple
Make sure to create a simple gift card. Based on experience, leaving a lot of blank space between two elements in the layout will make your gift card more dazzling.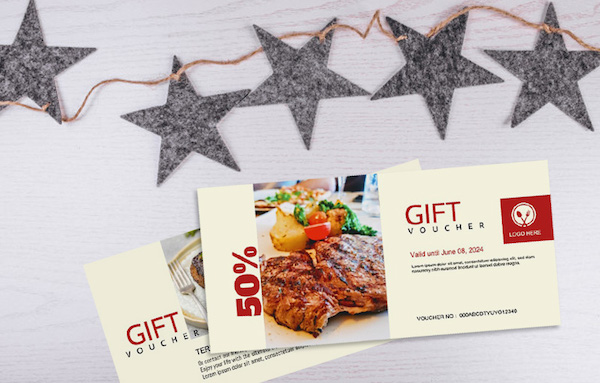 Gift cards are not only your service but also your corporate image.
How to make a gift card? No design experience? No problem.
Because, Drawtify is an online graphic design software, with a vector editor, layout function, photo editor, and typography tools, and is easy to use and suitable for everyone.
With the Drawtify free gift card maker, anyone can easily make a gift card.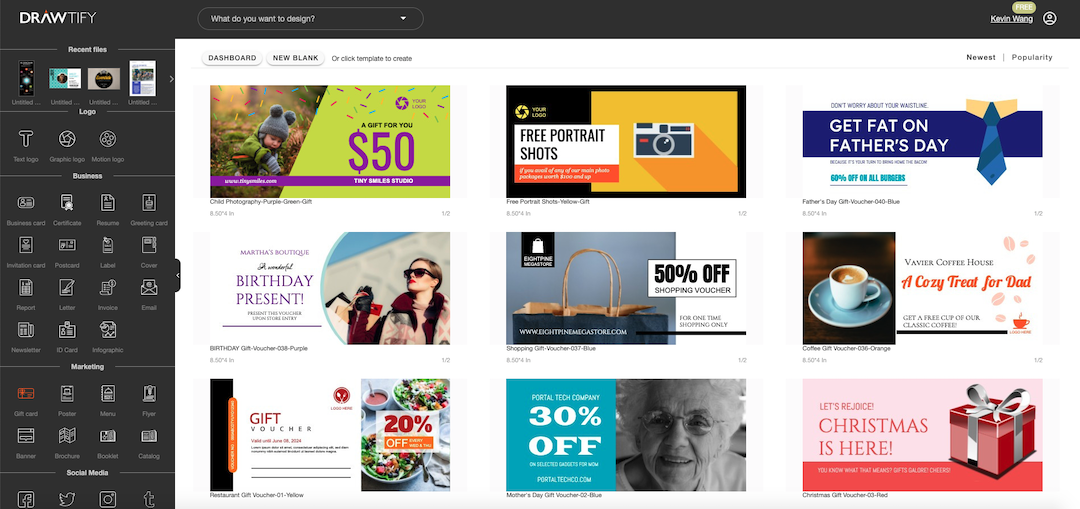 The fastest way to use Drawtify to make gift cards:
First, enter the Drawtify Design Center, and then click "Gift Card" on the left.
Then, select the desired gift card table template in the template gallery. And click the template to enter the design editing page.
Then, double-click the text in the template to modify the name, tagline, information, etc. Here, if you need to use your own logo, you can upload and replace it. If there is no logo, you can use Drawtify to make one immediately.
Of course, you can redefine icons and colors.
Finally, after a few minutes, you will make a gift card.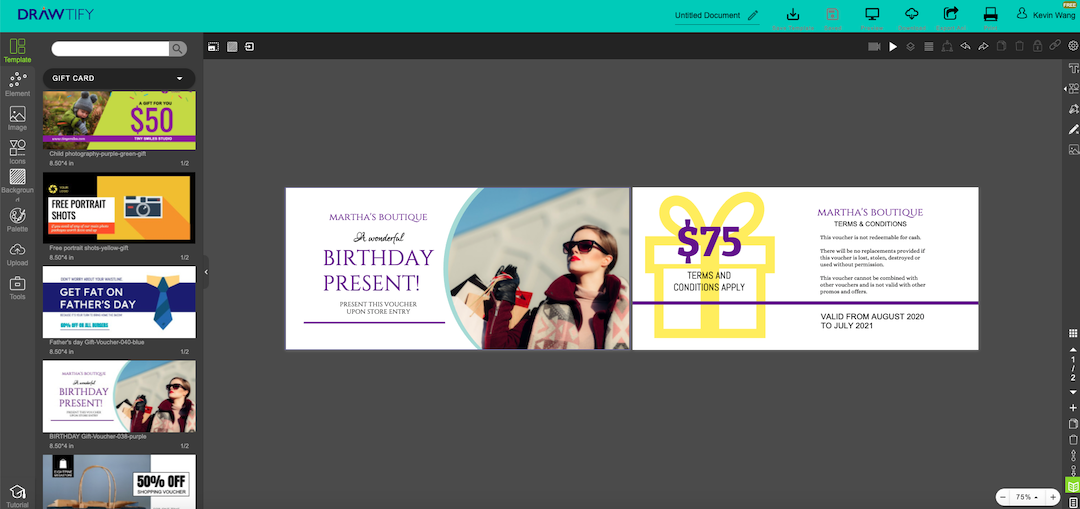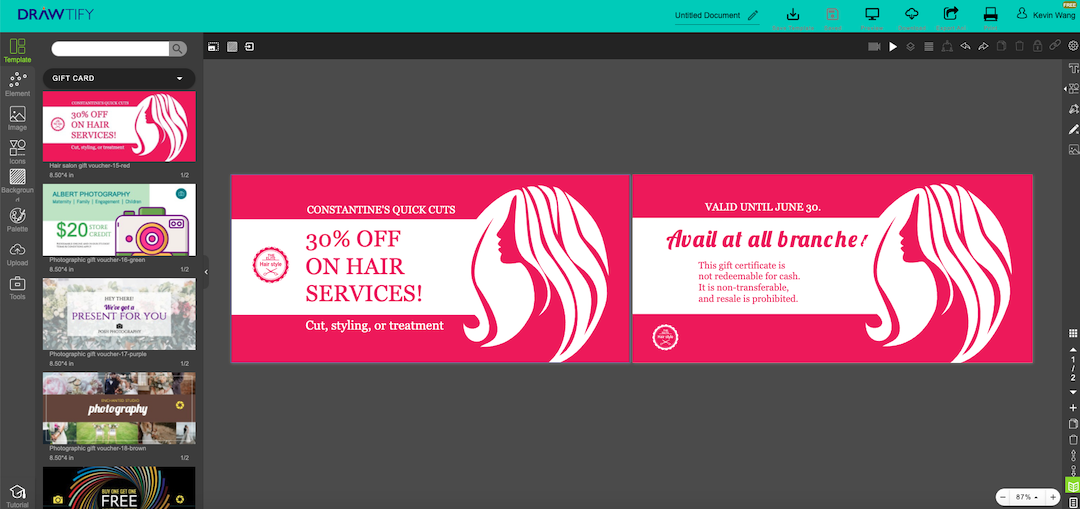 The recommended steps for using Drawtify to make a gift card are as follows:
First, browse more gift card templates to inspire your creativity.
Then, click on the gift card closest to your business brand, story, event to enter the design editing page. Or create a blank file first.
Then, use Drawtify's rich toolbox and easy-to-use professional design features. To creatively modify or add special effects, please customize shapes, colors, etc.
For example: Use vector editing to create unique fonts or icon shapes. Use the color editor for richer color fills. Adding the "3D" function can make gift cards more visually influential. You can even add barcodes and QR codes to make gift cards more unique.
Finally, get an eye-catching gift card that is more suitable for your business.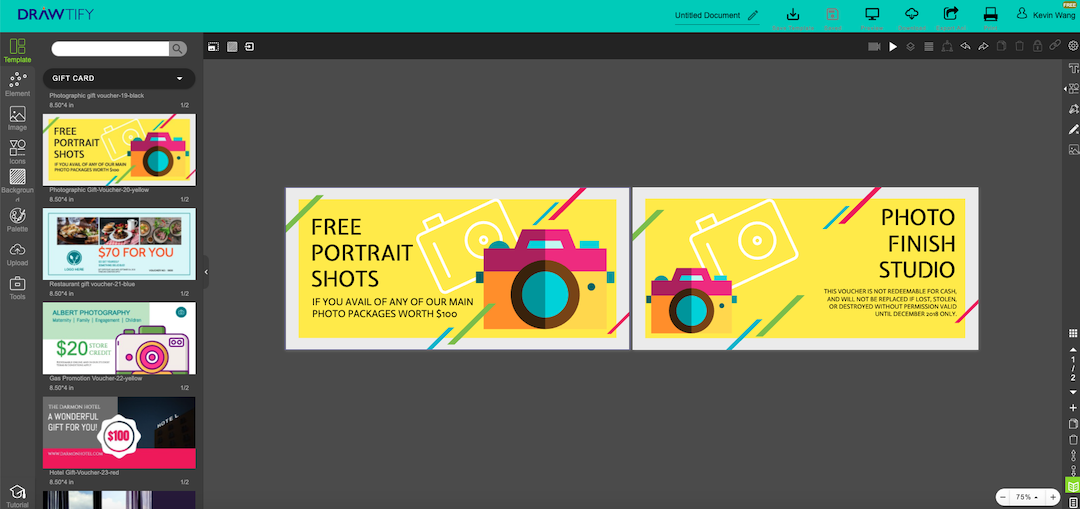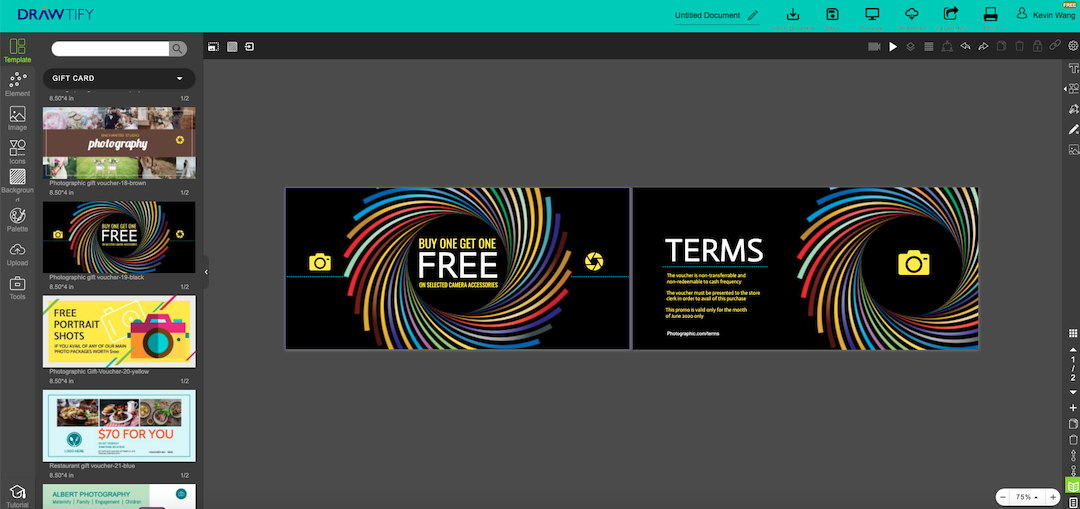 START! MAKE A GIFT CARD! AND IT'S FREE!
All you need is a Drawtify account.
No download, expensive design fees, learning difficulties. No need to find design materials across platforms and worry about any copyright issues.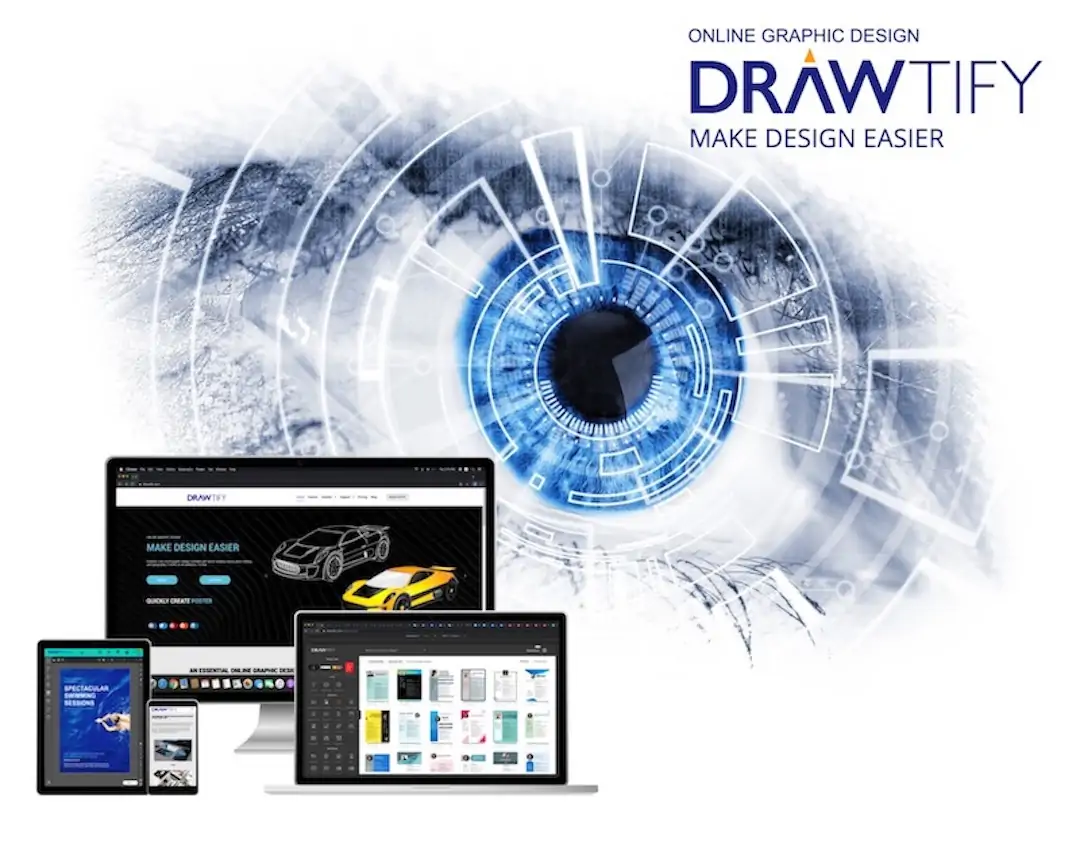 Drawtify, make design easier. Drawtify is an online graphic design software with vector drawing, layout, photo editing, and typography. It works on all platforms. And it's free.