How to create booklets to strengthen products improve the brand marketing image? Even if you are a non-designer, Drawtify can help you get amazing booklets!
Drawtify is a free online booklet maker. It not only provides a large number of booklet templates but also has rich built-in design functions. Therefore, Drawtify will be the best choice for creating booklets online.
Join Drawtify. Create beautiful booklets in minutes.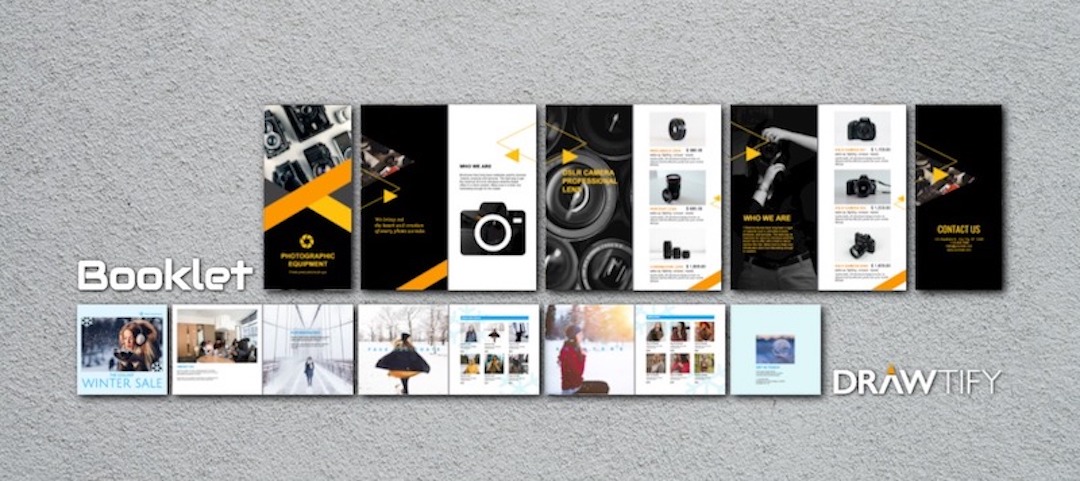 Design tips to create booklets
Booklet design covers almost all aspects of graphic design. Good typography, layout, and illustrations, as well as photo editing, will be displayed when creating effective booklets.
The design of the booklet should, of course, pay attention to the cover. But more important work almost always starts with a copy. Usually in huge Word documents and a bunch of photos, there are even lengthy data for you to decrypt. Of course, mastering the following rules will help you when creating booklets.
Adhere to the use of clean and easy-to-read fonts The fonts used throughout this booklet must not exceed 2-3. Stick to clean, easy-to-read fonts, and avoid decorative fonts whenever possible. Bold sans-serif fonts made headlines. Subheadings are usually thinner or italic. They can be serif or sans serif. The text usually looks best in a serif font. Serifs make each letter unique and easy to read quickly.
Make sure your illustration is suitable
There are no strict rules for booklet illustrations. Just make sure your illustrations support and work with your content. You can try to divide the copy into two columns and use graphics to embed it to control the reading rhythm.

Using high-definition pictures
Whether it is a booklet or other printed matter, high-definition pictures are a must. For booklets, high-definition pictures can not only better express your purpose but also serve as an important means of layout adjustment.
Use more professional graphic design software
The booklet belongs to multi-page content, and the multi-page editing function will be more helpful for making the booklet. For example, use Adobe InDesign to create your booklet. Or, you should try Drawtify. Because Drawtify has all design functions for creating booklets, such as vector editor, layout function, photo editor, and layout tools. Of course, there are multi-page editing functions, print bleeding settings, etc.

Correct page number setting
Whether it is to consider the production cost or to facilitate the design. The total number of pages in the booklet must be divisible by 4, with a minimum of 8 pages. This includes front and back covers.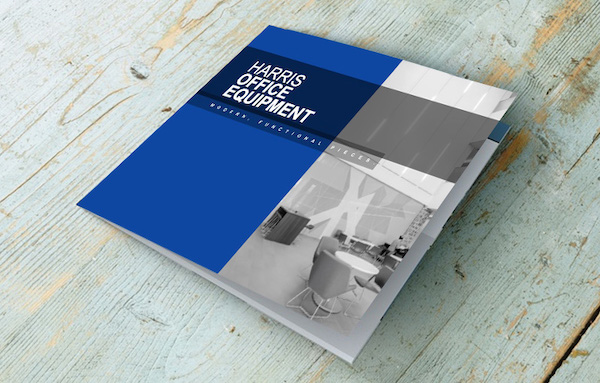 Your booklet can not only enhance your brand image but also serve as an important marketing tool.
How to create booklets? No design experience? No problem.
Because, Drawtify is an online graphic design software, with a vector editor, layout function, photo editor, and typography tools, and is easy to use and suitable for everyone.
With the Drawtify free booklet maker, anyone can easily create booklets.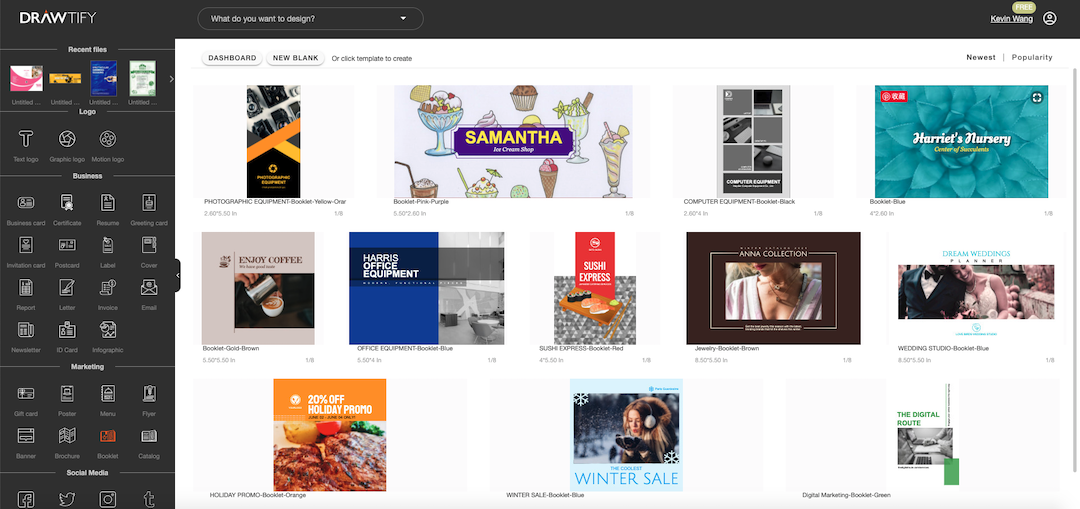 The fastest way to use Drawtify to create booklets:
First, enter the Drawtify Design Center, and then click "Booklet" on the left.
Then, select the desired booklet template in the template library. And click the template to enter the design editing page.
Then, double-click the text in the template to modify the name, tagline, information, data, etc. Here, if you need to use your own logo or photo, you can upload and replace it. If there is no logo, you can use Drawtify to make one immediately.
Of course, you can redefine icons and colors.
Finally, after a few minutes, you will create booklets free.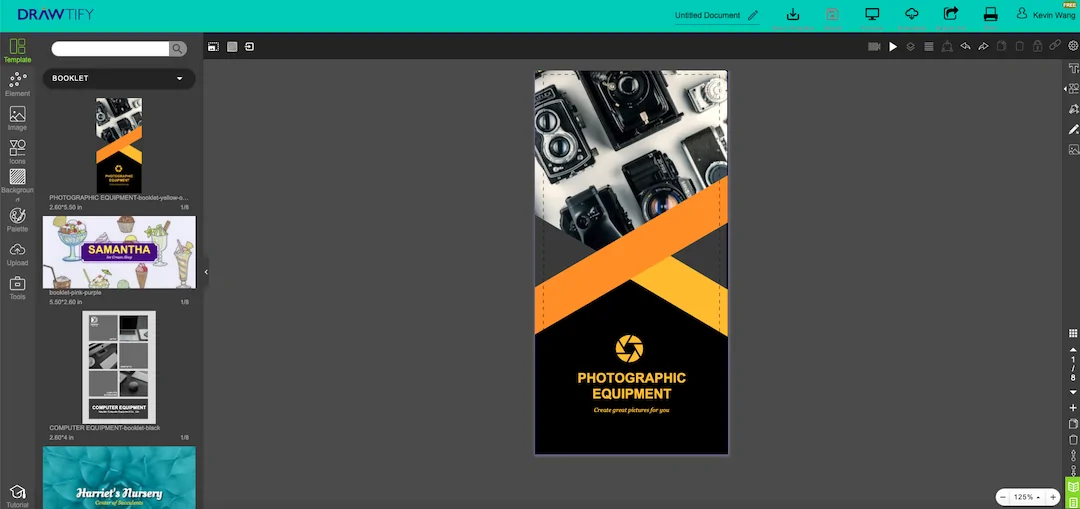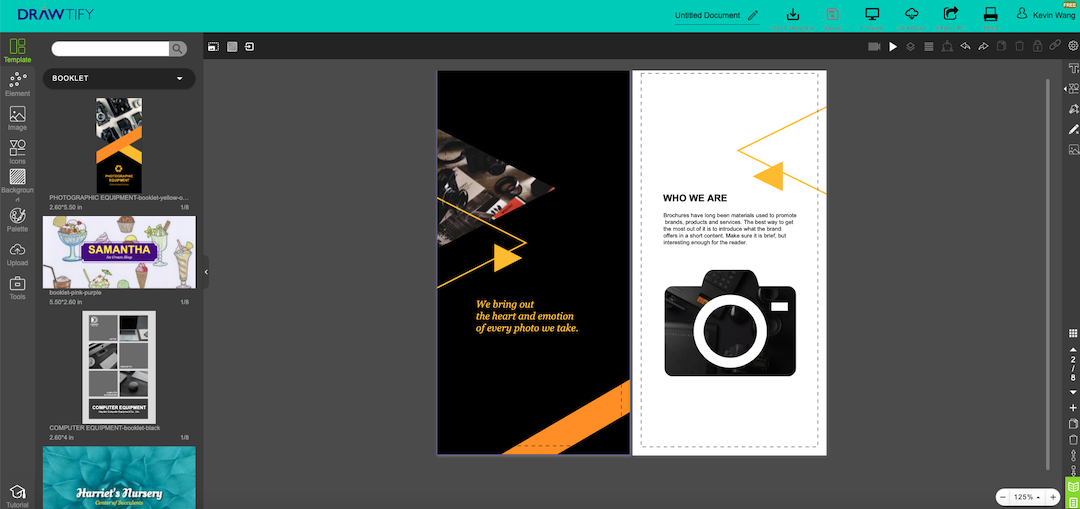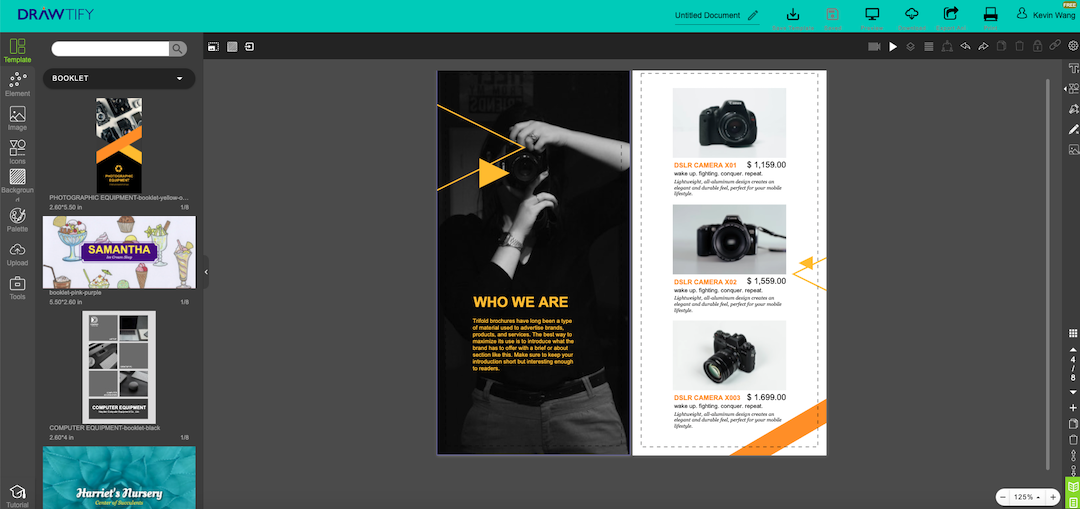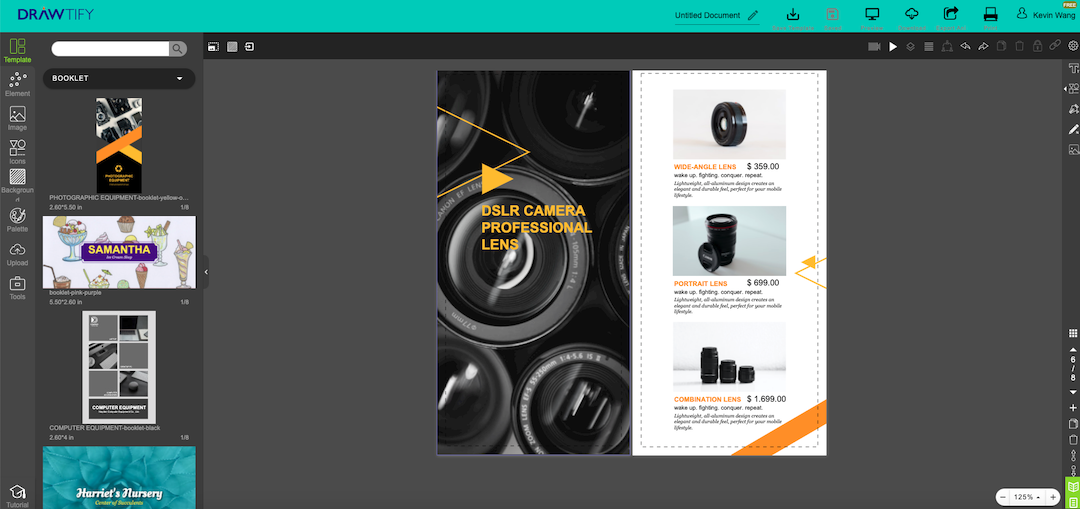 The recommended steps for using Drawtify to create booklets are as follows:
First, browse more booklet templates to inspire your creativity.
Then, click on the template closest to your commercial brand, product, or event to enter the design editing page. Or create a blank file first.
Then, use Drawtify's rich toolbox and easy-to-use professional design features. To creatively modify or add special effects, please customize shapes, colors, etc.
For example: Use vector drawing to create unique fonts or icon shapes. Use the color editor for richer color fills. Adding the "3D" function can make the booklet more visually influential. You can even add barcodes and QR codes to make the booklet more unique.
Finally, get an eye-catching booklet that is more suitable for your business.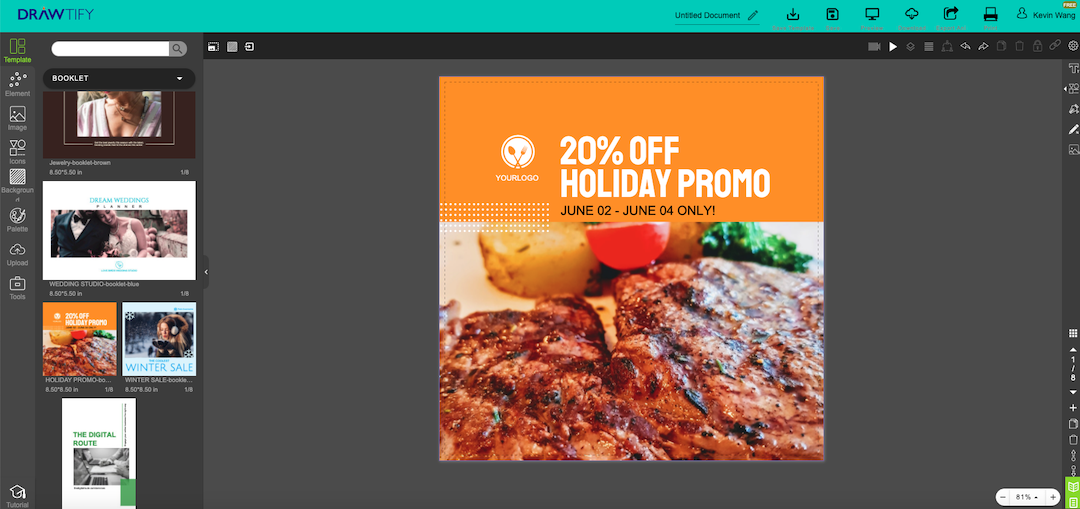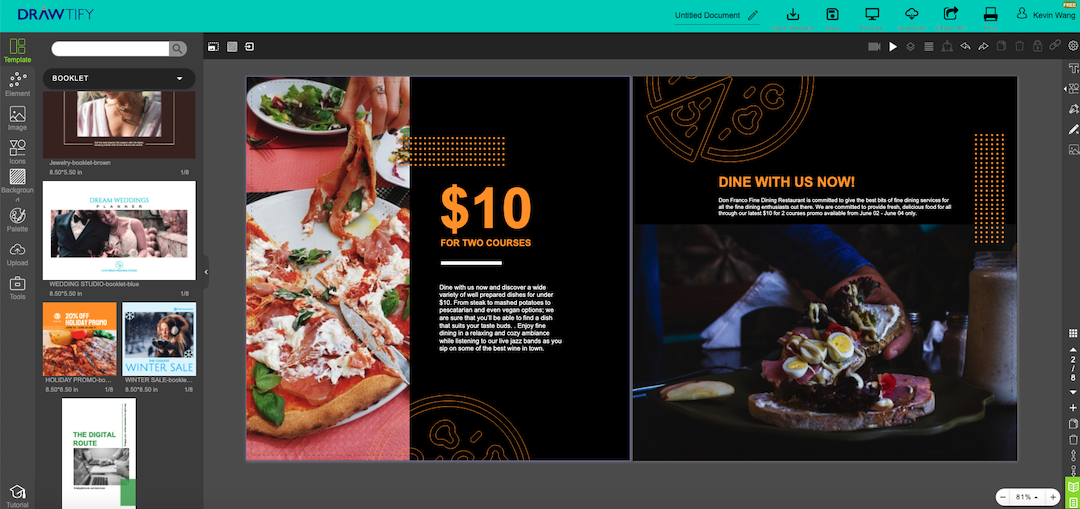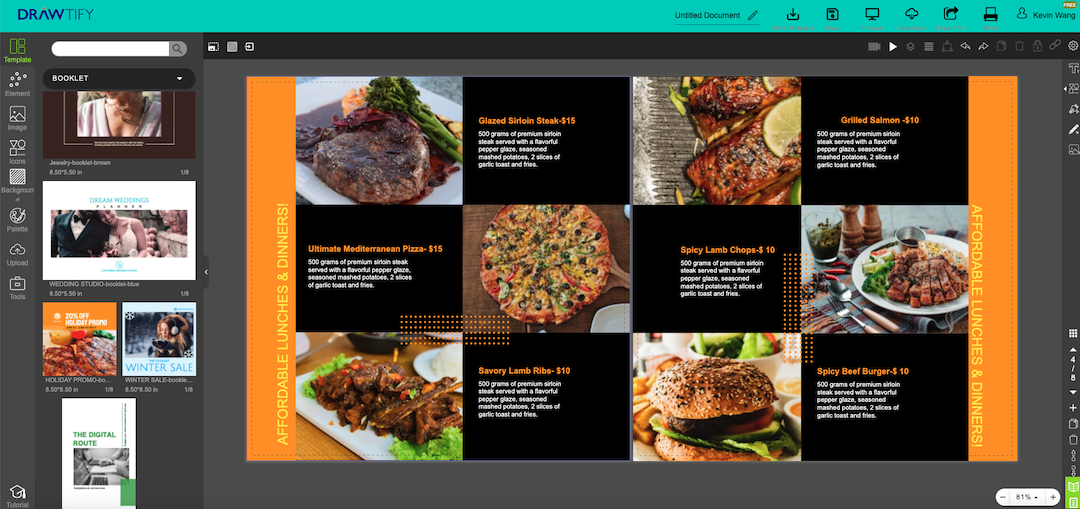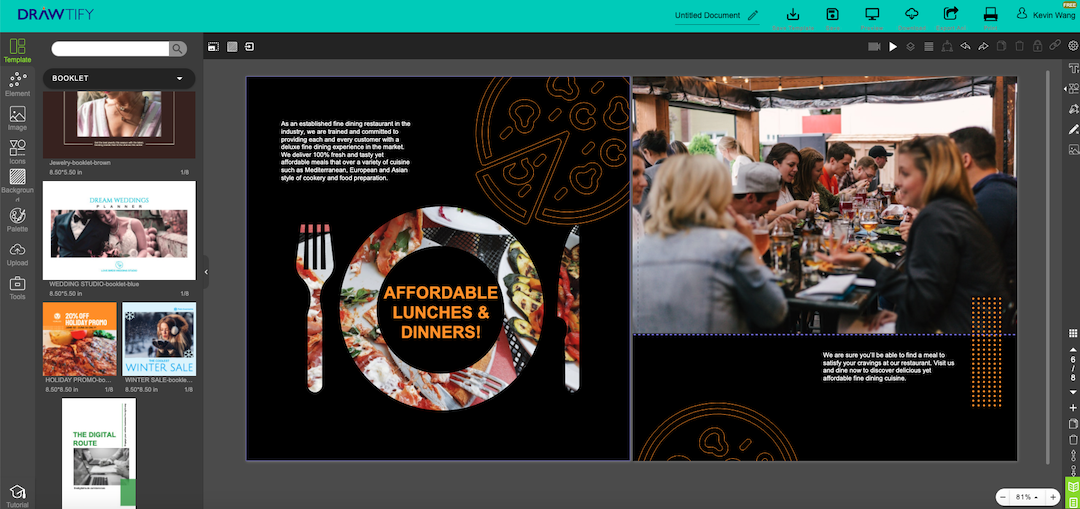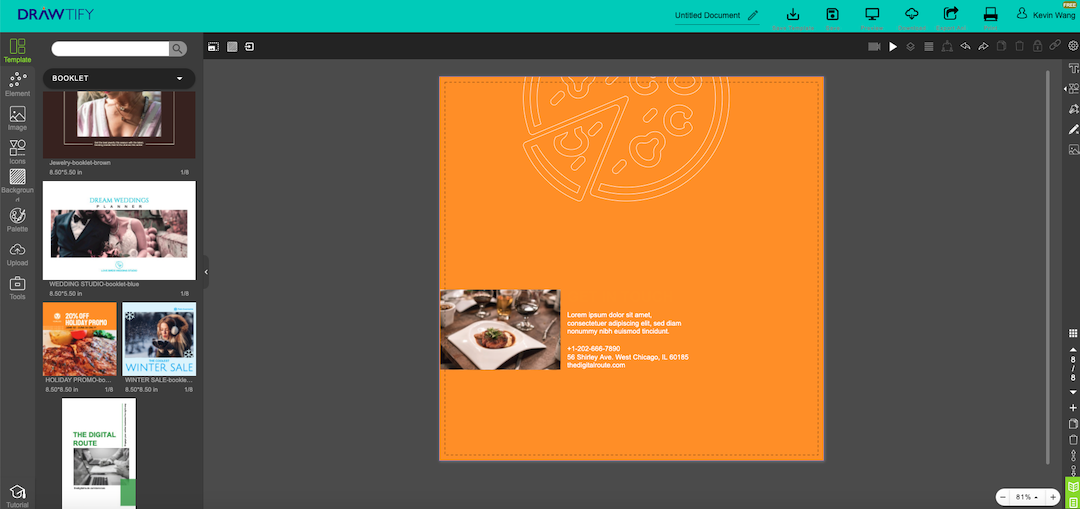 START! CREATE BOOKLETS! AND IT'S FREE!
All you need is a Drawtify account.
No download, expensive design fees, learning difficulties. No need to find design materials across platforms and worry about any copyright issues.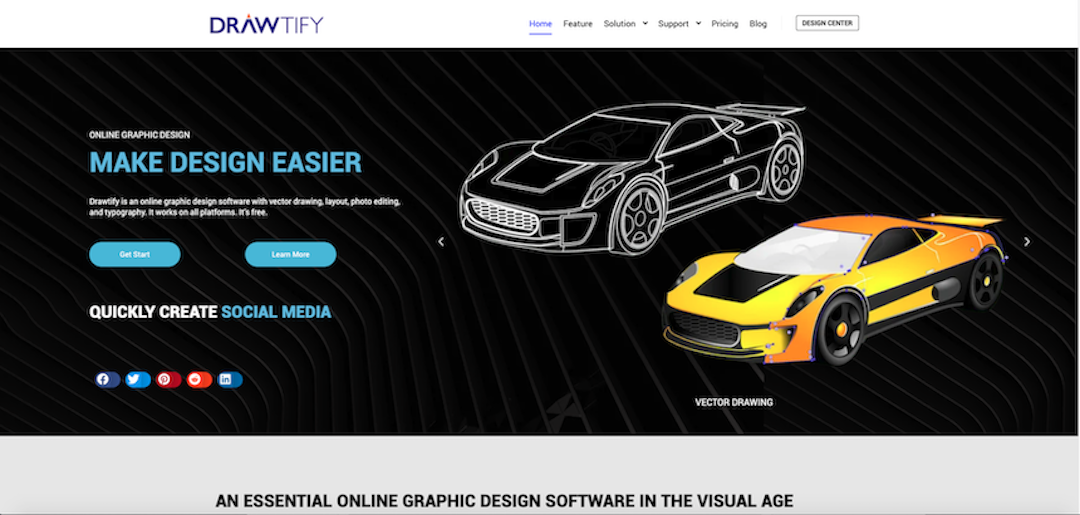 Drawtify, make design easier. Drawtify is an online graphic design software with vector drawing, layout, photo editing, and typography. It works on all platforms. And it's free.