Creating motion graphics or adding fantastic animation effects to logos, themes, slogans, etc., is a new trend in graphic design. The motion graphics and amazing animation effects are a shortcut to increasing concentration. Whether it is brand marketing advertisements or social media pictures, dynamic graphics and animation effects are attracting more and more attention. For example, dynamic logos, themes, slogans, etc., and the emotional video transition, subtitles, and tags sweeping YouTube.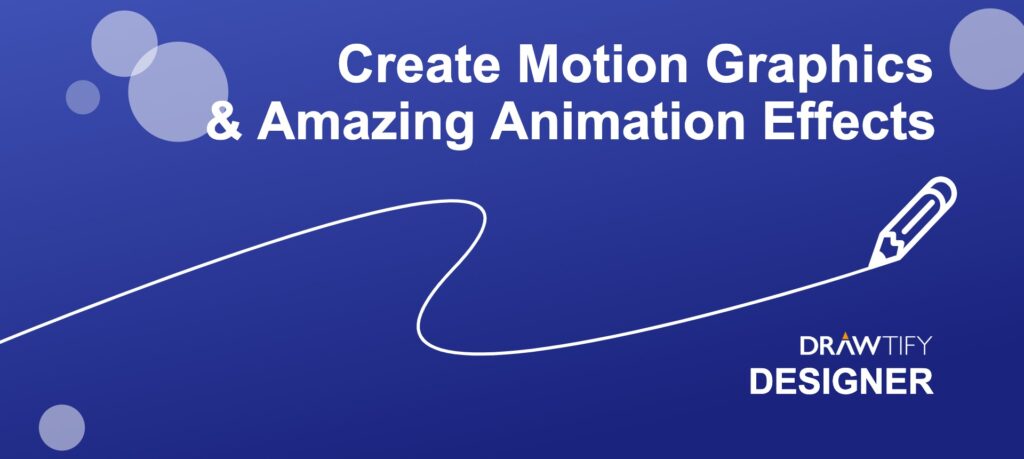 Of course, this is not an easy task.

Before that. For designers, you must find and purchase suitable animation editing software and overcome its learning difficulties. For non-designers, you will have to face expensive bills.

right now. To make design easier, Drawtify Designer will be your better choice. Because it is a complete graphic design software, it has an intuitive and easy-to-use animation editor. In addition, it has almost no learning curve and is suitable for everyone. And provide 3 versions applicable to Windows, Mac, and Web (Drawtify Designer Online).

Therefore, you can now start creating more eye-catching dynamic graphics and animation effects right away.
Start creating motion graphics and amazing animation effects
Before starting, please select the appropriate version according to your equipment and practical skills. For example, the designer may choose a more favorable version suitable for Windows and Mac to download and install. The advice for non-designers is to recommend online graphic design software (Drawtify Designer Online) for the Web because it has high-quality editable templates and does not require downloading or installation. Of course, if the designer chooses this version, it will help to start your design anytime, anywhere, and improve work efficiency.
Step 1: Open or log in to Drawtify Designer
Drawtify Designer is very friendly, and the local version provides 7 days of free usage.
The online version can be tried for free forever and only requires registration.
Step 2: Create dynamic graphics design tasks
You can directly create a blank file, or open your completed static graphics for editing.
The online version can choose to start from the exquisite dynamic graphics template.
Step 3: Add motion instructions to obtain eye-catching motion graphics or animation effects
Select the element that needs to add motion instructions. For example, lines, shapes, text, and pictures.
Click "Animation" in the upper right corner to call up the animation editor. Including 27 movement instructions, and 14 text movement instructions.
Select any 1 item and multiple animated instructions, combine Begin, Duration, Repeat, Space, Easing, and you can get eye-catching dynamic graphics.
Click "Paly" to preview the animation effect.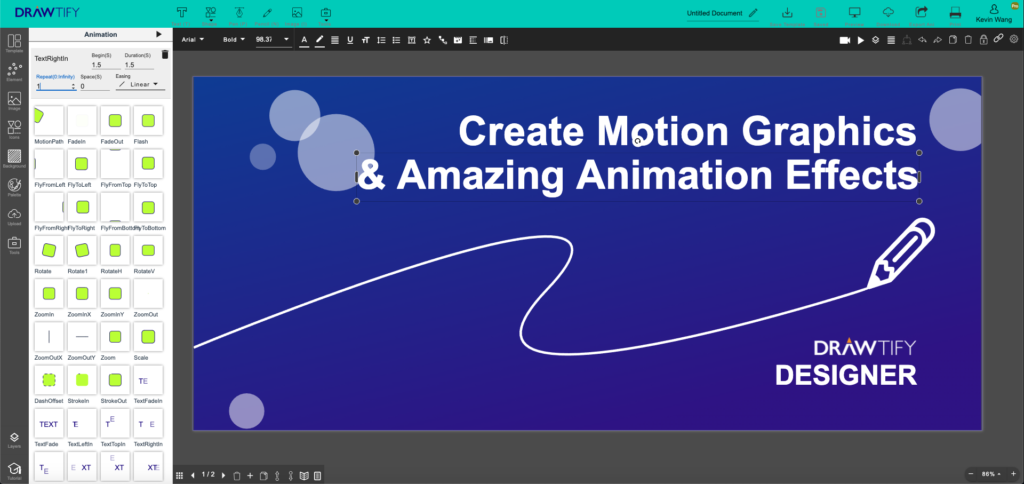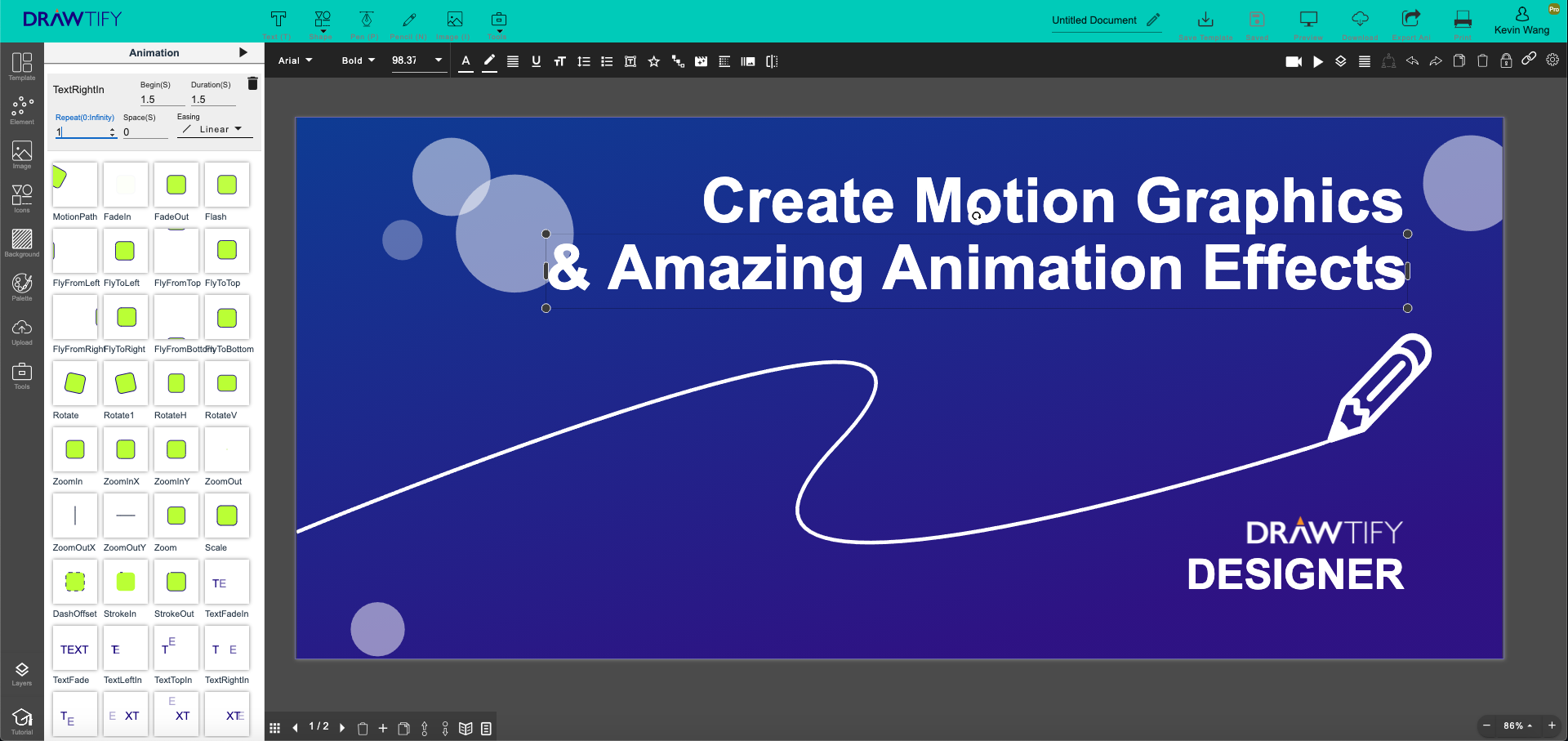 Step 4: Output in various formats
Drawtify Designer supports output in SVG, GIF, APNG, VIDEO (mp4, WebM) formats.
When to use motion graphics or add animation effects
It's no secret that the Internet likes video. Video can generally increase engagement, traffic, and conversion rates. However, it would help if you had videos that matched your brand and business goals. Therefore, choosing motion graphics will be the best choice.
Motion graphics are usually associated with setting abstract objects, text, and other graphic design elements to motion.
Transforming graphics, information graphics, or Web design into reality through motion instructions is "animation" in a broad sense, but more specifically, it is a kind of animation, called dynamic graphics.
Dynamic graphics can make statistics come alive.
Dynamic graphics are best for summarizing or emphasizing facts and explaining the main points.
Motion graphics are the visual aids at the core of video, so they are good at conveying difficult-to-understand ideas visually.
Dynamic graphics are usually easier to generate, which is a less complex form of animation.
Drawtify designer is a more friendly graphic design software, animation editing tool, and publisher APP. Built-in vector editor, animation editor, photo editor, layout functions, and typography tools, as well as a large number of effects filters, design plug-ins and, design resources. It is available in 3 versions for Windows & Mac (Drawtify Designer 2020), and the Web (Drawtify Designer Online). As such, it is the perfect design tool for creating all kinds of graphical content, including dynamic graphics, anytime, anywhere.

Importantly, it has almost no learning curve, and the online version provides high-quality editable design templates. Therefore, it will also be the best solution and secret weapon for non-designers to create amazing graphics.