How to make a banner for powerful marketing to improve the brand image? Drawtify can help you get eye-catching banners! Even if you are not a designer.
Drawtify is a free online banner maker. It not only provides a large number of templates but also has rich built-in design functions. Therefore, Drawtify will be the best choice for creating banners online.
Join Drawtify. After a few minutes, you will create it.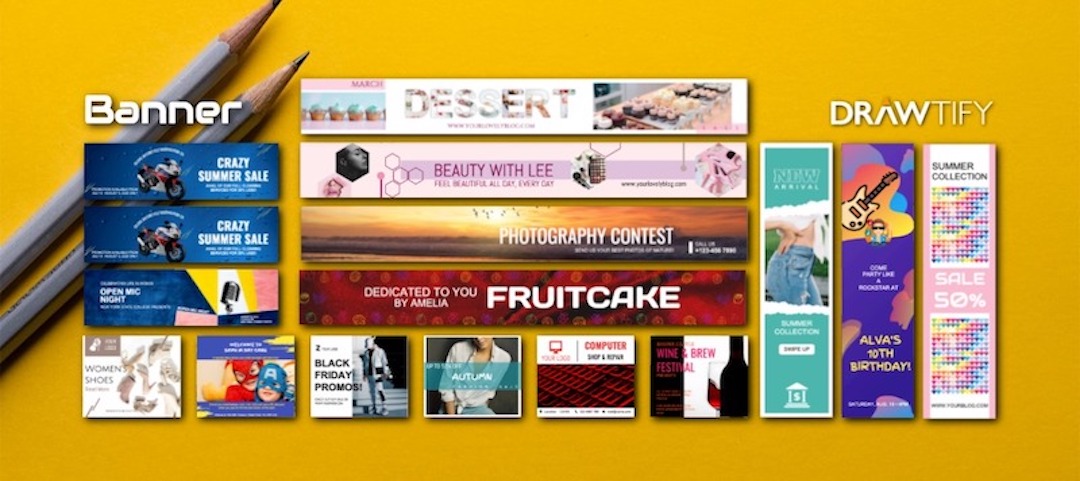 How do you design great banner ads?
Banner ads are advertising images embedded on web pages that are used to display products or brands and link to advertisers' websites. They are an affordable, measurable, and effective medium to increase brand awareness. So, how do you design and create web ads that bring these clicks? The following are tips and general guidelines for designing ads.
Whether you are a designer or not. Whether you use powerful local software or online graphic design software. The design of the banner always has rules or skills. Even if you are using Drawtify's free banner maker to create it.
Use the most effective standard banner size

According to Google, the most successful standard sizes are:

728×90px — Leaderboard, 300×600px — half a page, 300×250px —medium rectangle, 336×280px —large rectangle.

Maintain balance

The design of the ad depends on the proper balance between each ad, so please pay attention to your hierarchy. Effective banner ads are designed to increase brand awareness and attract website visits. They have three basic components:
Your company logo. Value proposition. Call to action (or call to action).

Keep it simple

Keep content and visuals simple. Viewers can only watch your web banner ad for one second.

Use buttons appropriately

Depending on the type of ad, buttons usually increase the click-through rate of the ad. If you want to use them, please be consistent throughout the ad set.

Clear framePeople's eyes will naturally be attracted by objects in the frame. Effective banner ads have a clearly defined frame with graphics extending to the edges of the frame. If your ad is white, the usual practice is to place a 1-pixel gray border around the ad.

Create your text immediately readable

Create the title and body copy different sizes. All copies must not exceed four lines.

Do not use cursive/script fonts, extremely thin font weights, all capital letters, or fonts less than 10 points (unless there is a disclaimer or copyright statement).

Use animationAnimated web ads are usually better than static ads and may be very effective in website banner design, but you must ensure that they do not distribute advertising information.

Choose the right color

Each color has a different association, so it is important to consider the emotions that arouse the audience. The color will be the first thing users notice in your ads.

Keep files small

According to Google, the smaller the file, the better the file below 150 kb.

Use the correct file format

JPG, PNG, GIF or HTML5 files will become your deliverables.
THE BEST SOLUTION "HOW TO MAKE A BANNER"
Your banner can not only enhance your brand image but also serve as an important marketing tool.
You should now start to create a banner immediately. No design experience? No problem.
So, Drawtify is suitable for everyone, powerful and easy to use.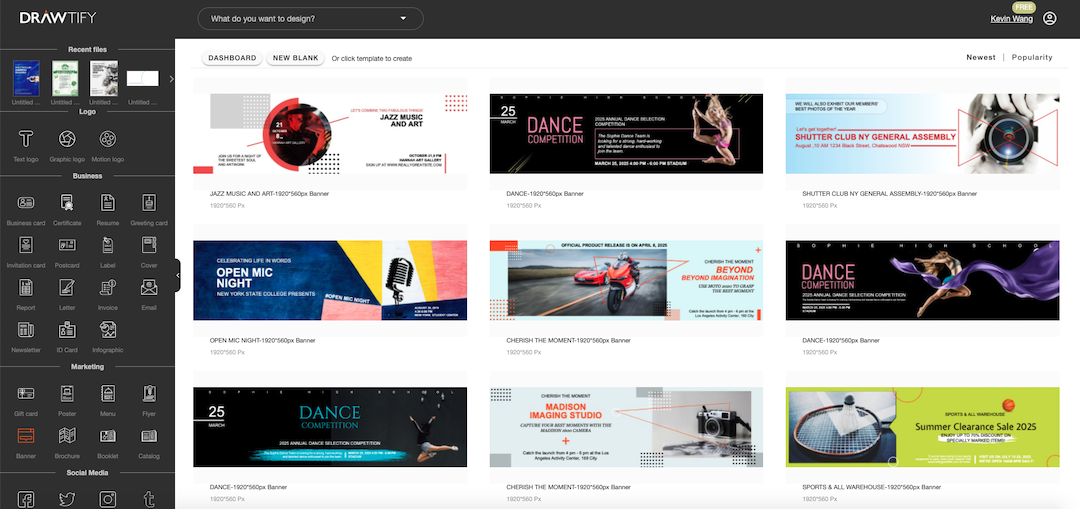 The fastest way to create a banner using Drawtify is:
First, enter the Drawtify Design Center, and then click the "Banner" on the left.
Then, select the desired banner template in the template gallery. And click the template to enter the design editing page.
Then, double-click the text in the template to modify the name, tagline, information, data, etc. Here, if you need to use your own logo or photo, you can upload and replace it. If there is no logo, you can use Drawtify to create one immediately.
Of course, you can redefine icons and colors.
Finally, after a few minutes, you will create it.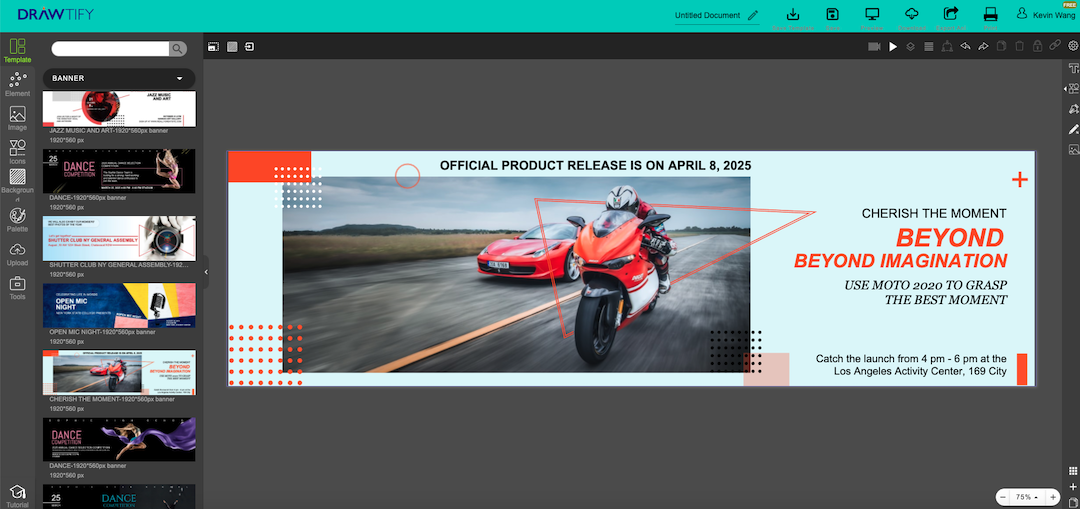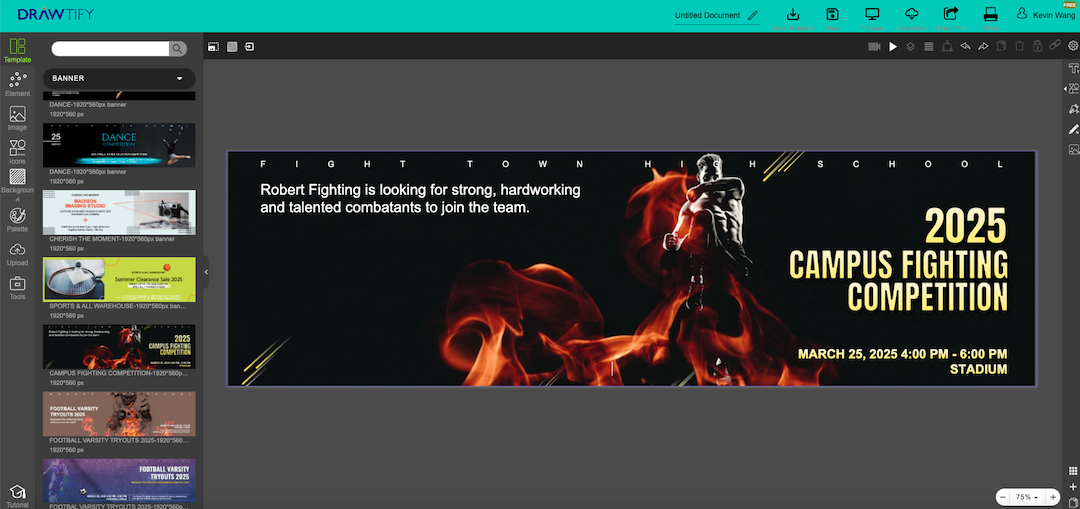 The recommended steps to create a banner using Drawtify are:
First, browse more banner templates to inspire your creativity.
Then, click the banner closest to your business brand, story, or event to enter the design editing page. Or create a blank file first.
Then, use Drawtify's rich toolbox and easy-to-use professional design features. To creatively modify or add special effects, please customize shapes, colors, etc.
For example: Use vector editing to create unique fonts or icon shapes. Use the color editor for richer color fills. Adding the "3D" function can design it more visually influential. You can even add barcodes and QR codes to create the banner more unique.
Finally, get eye-catching banners that are more suitable for your business.
Of course, if you are creating an electronic banner, you can even use the animation function.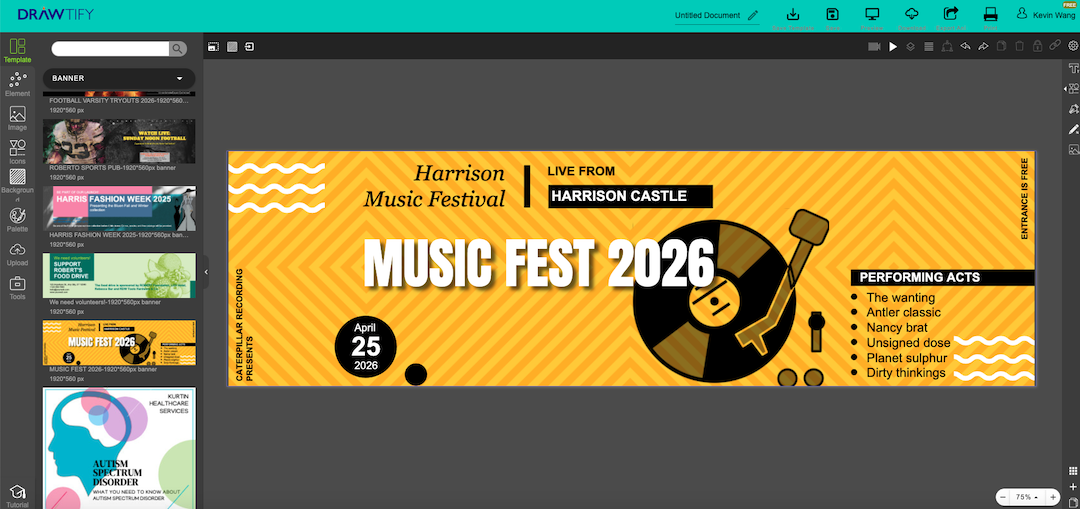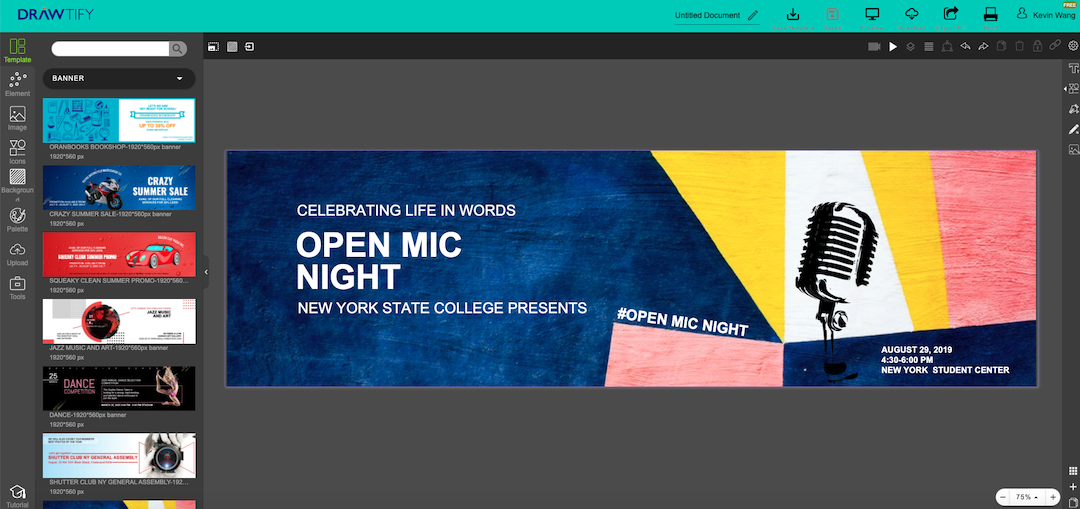 All you need is a Drawtify account.
No download, expensive design fees, learning difficulties. No need to find design materials across platforms and worry about any copyright issues.