We released an "Easy-to-use & Full-featured" logo design app. You can easily create business vector logos, animated logos, or banners. And save cost and time.
The logo design aims to build your most attractive brand story and business.
Drawtify LogoMaker & Animator will help you quickly create the most attractive brand vector logos and animation logos. You can display them anywhere, and your target audience and customers will immediately fall in love with them. Please release your imagination and use your creativity, do it yourself because no one knows your needs better than you.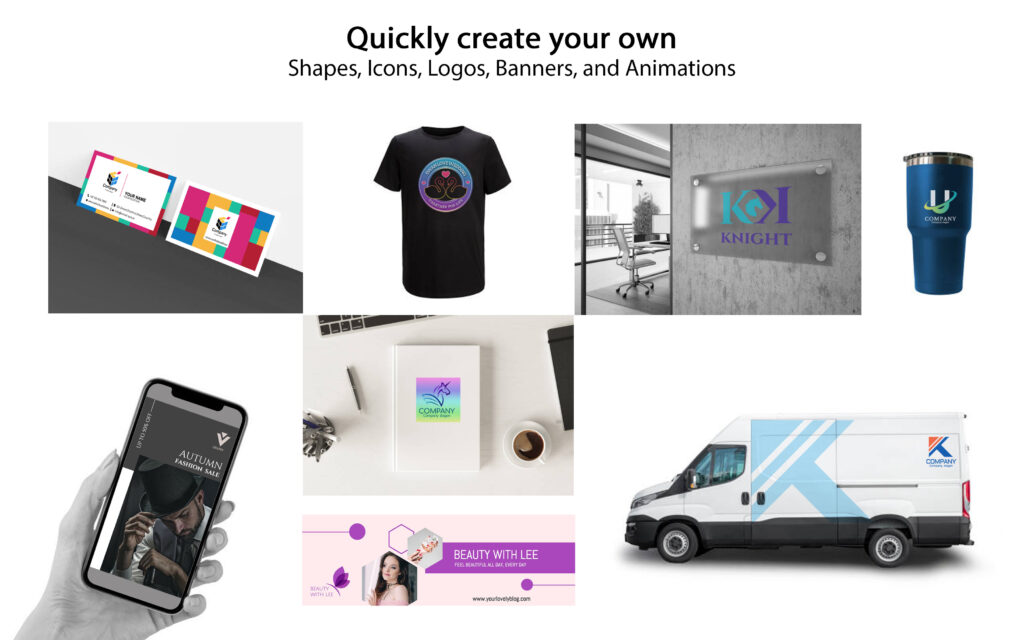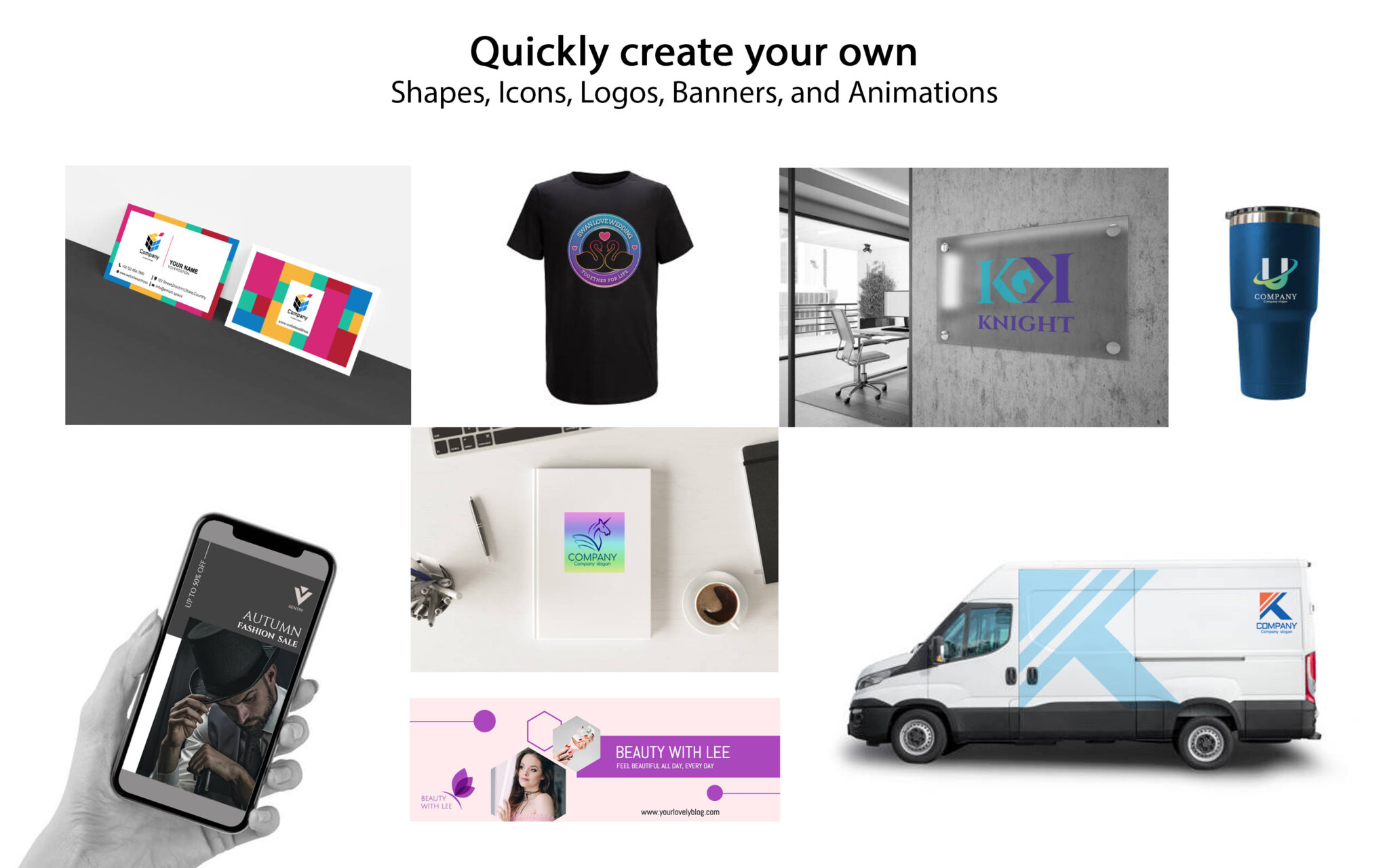 You don't need to worry about the difficulty and professionalism of logo design and animation design tasks.
It has almost no learning curve because Drawtify Logo Maker & Animator is an easy-to-use and full-featured logo maker and animation tool. And provide hundreds of built-in editable logo design templates.
Therefore, You may only need to go through a few steps. You will get the ideal vector logos and animation logos within minutes. Of course, you can also use your creativity. Easily create your vector logos, business icons, marketing icons, animation logos, animation icons, banners, etc. It can meet your business needs in any scenario.
Believe in yourself. You are the best one!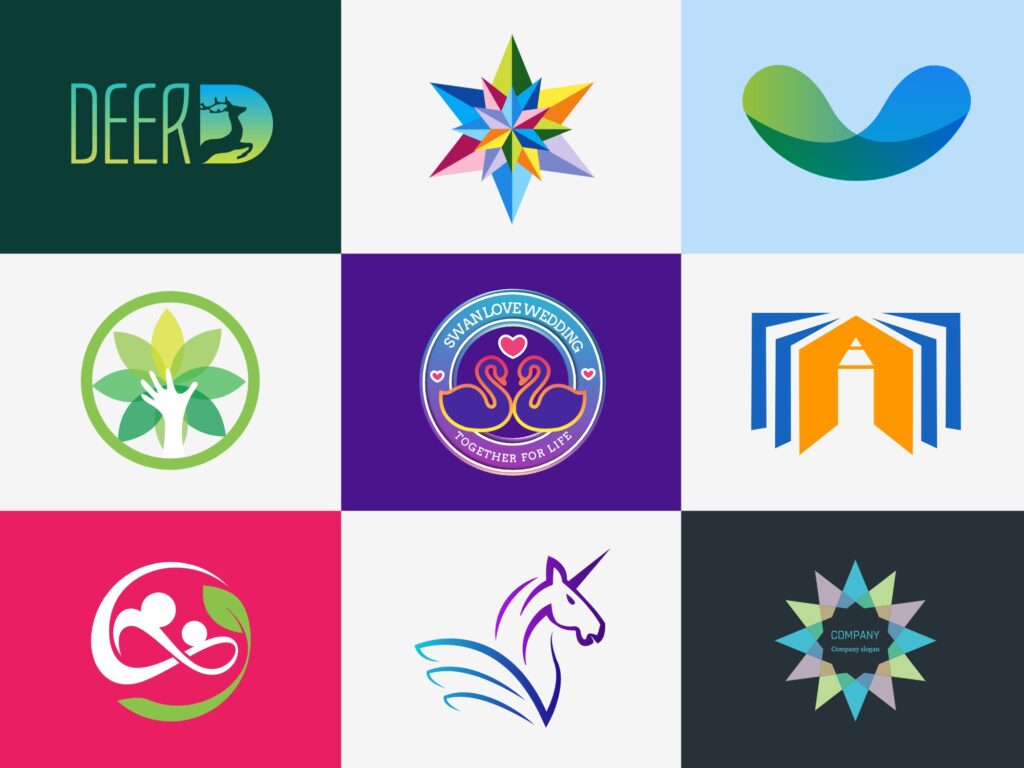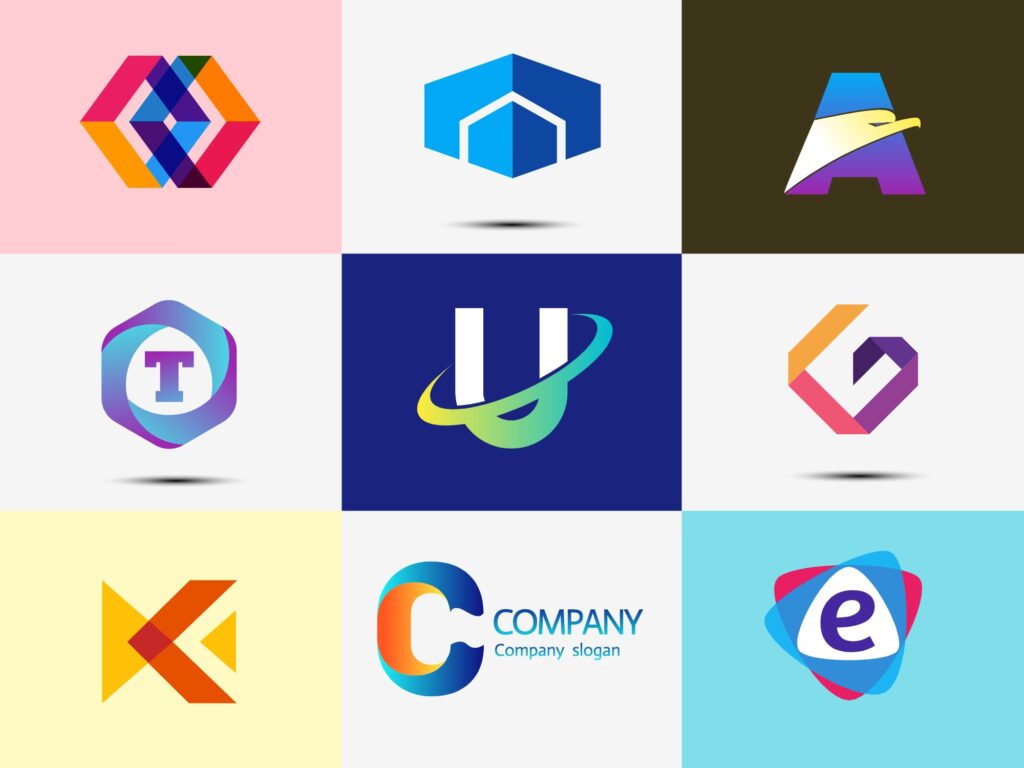 Competitive advantages of Drawtify Logo Maker & Animator
Drawtify Logo Maker & Animator is suitable for any industry, brand, interest, and scene.
Built-in hundreds of Editable Logo Design Templates. Including Text Logo, Graphic Logo, Animated logo (icons, banners).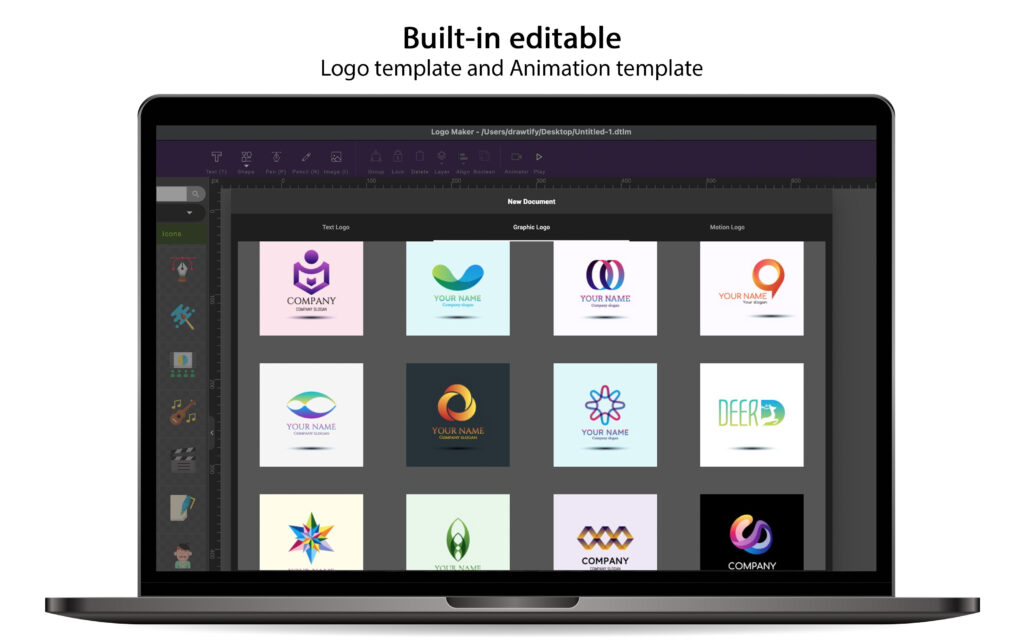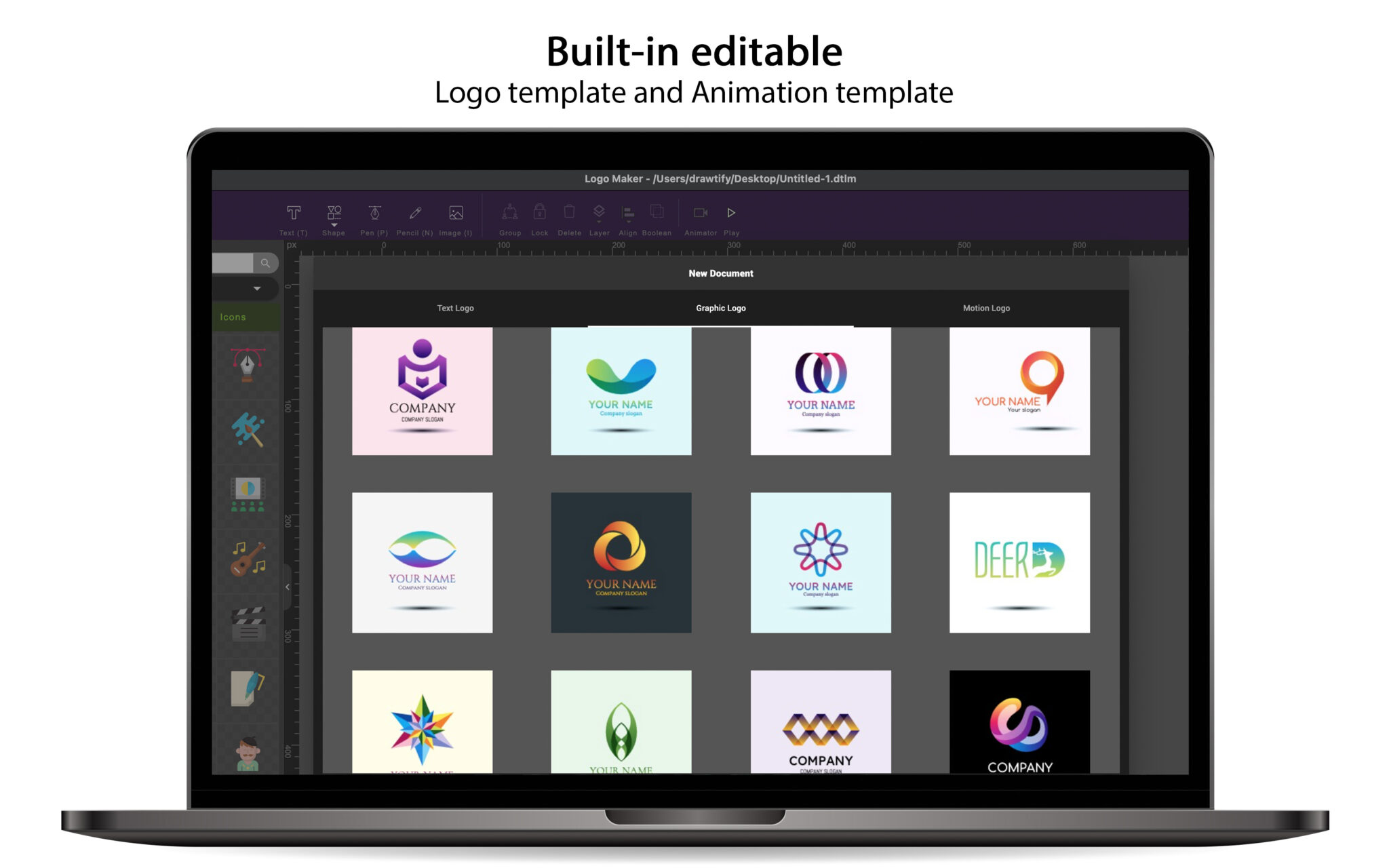 Built-in intuitive animation tools. Including 27 basic action presets, 14 text action presets, real-time preview animation.
Built-in easy-to-use 100% Vector Editor. Including Pen, Pencil, and Boolean Operation.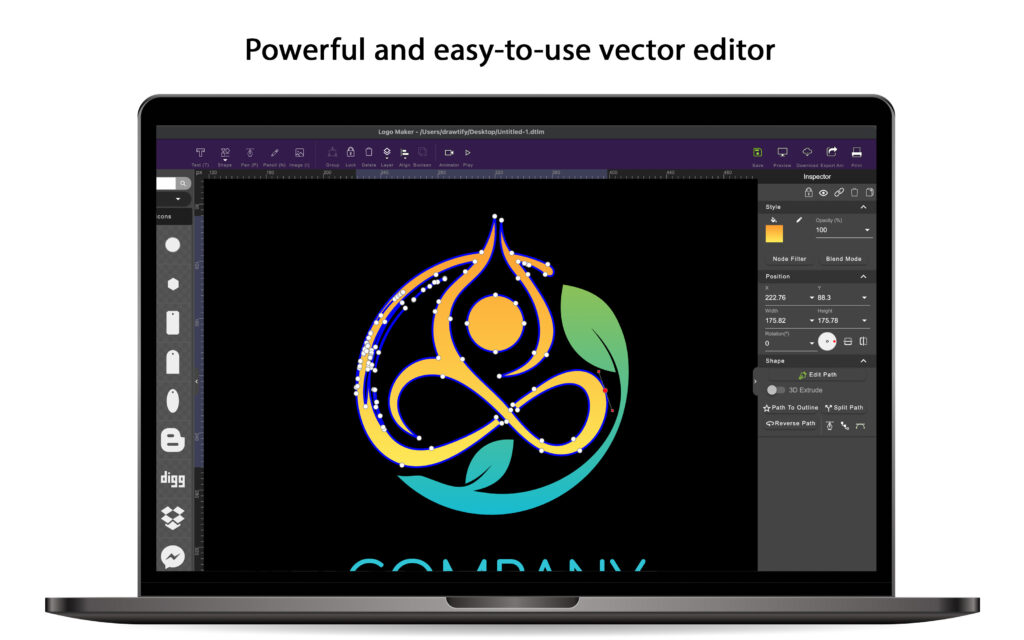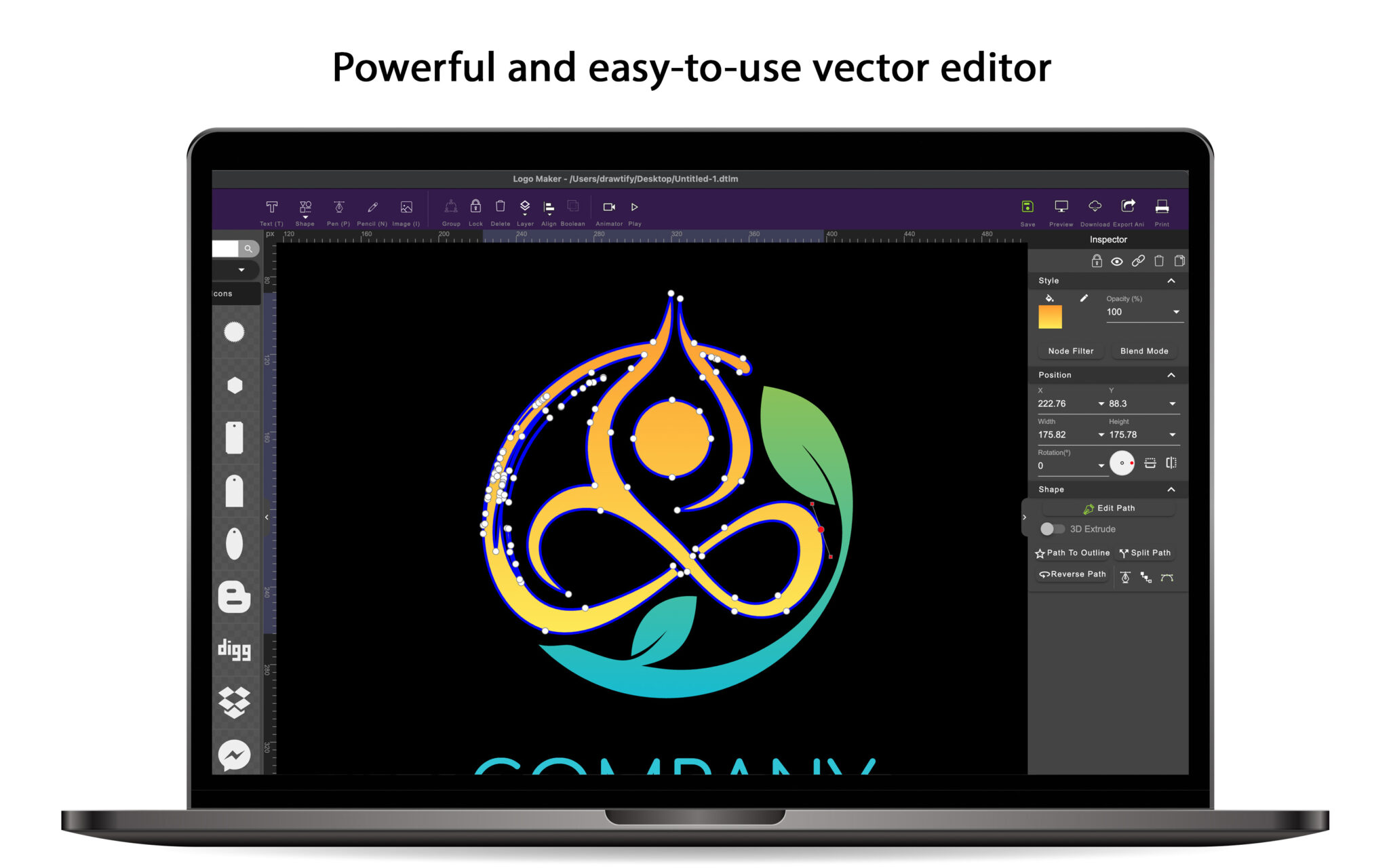 Built-in artistic printing tools. Including converting text into a path, typesetting along the path, text graphics, etc.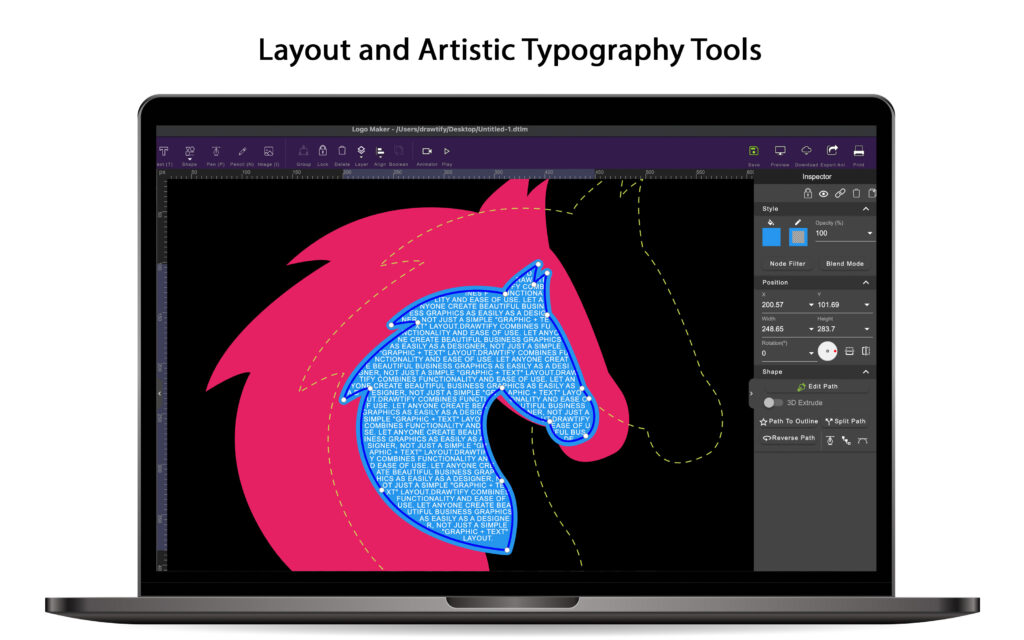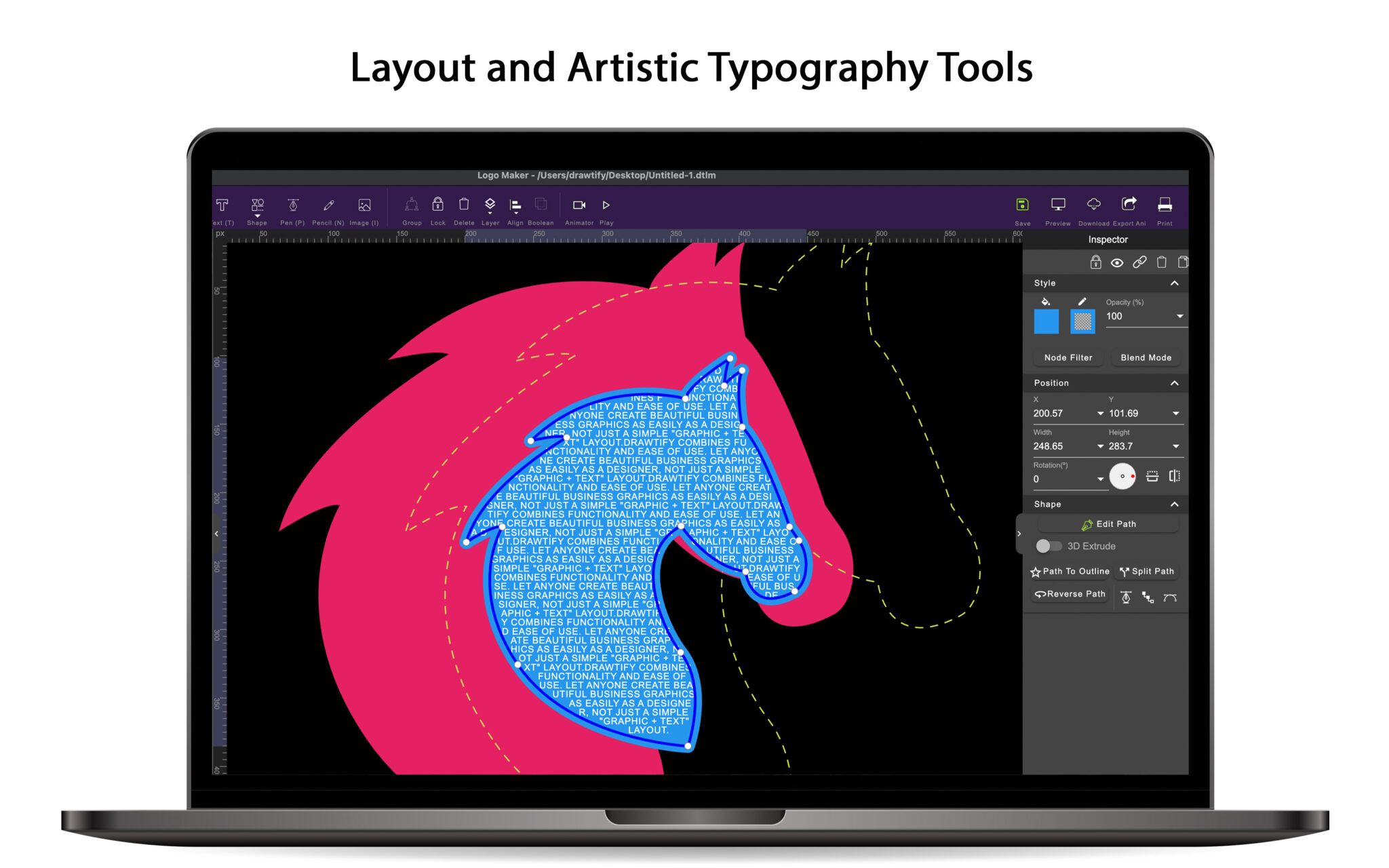 Built-in rich Special Effects Tools. Including Node Filter (Shadow, Inner shadow, Reflect, Glow, Inner Glow, Blur, Hue, Light, Torn, Emboss, Splash), Blending Mode, Image Filter, and powerful 3D effects.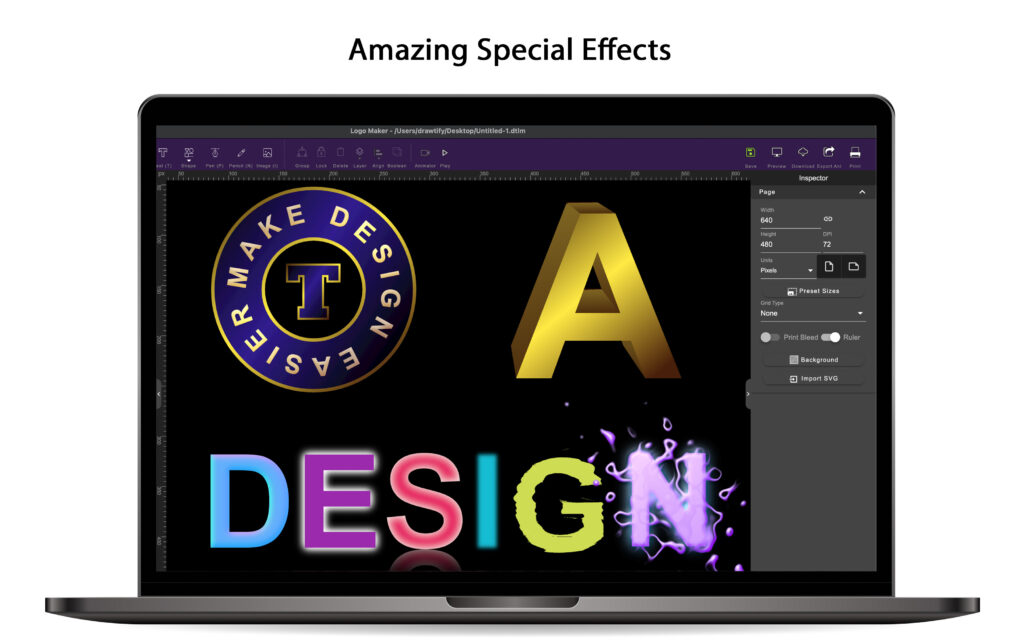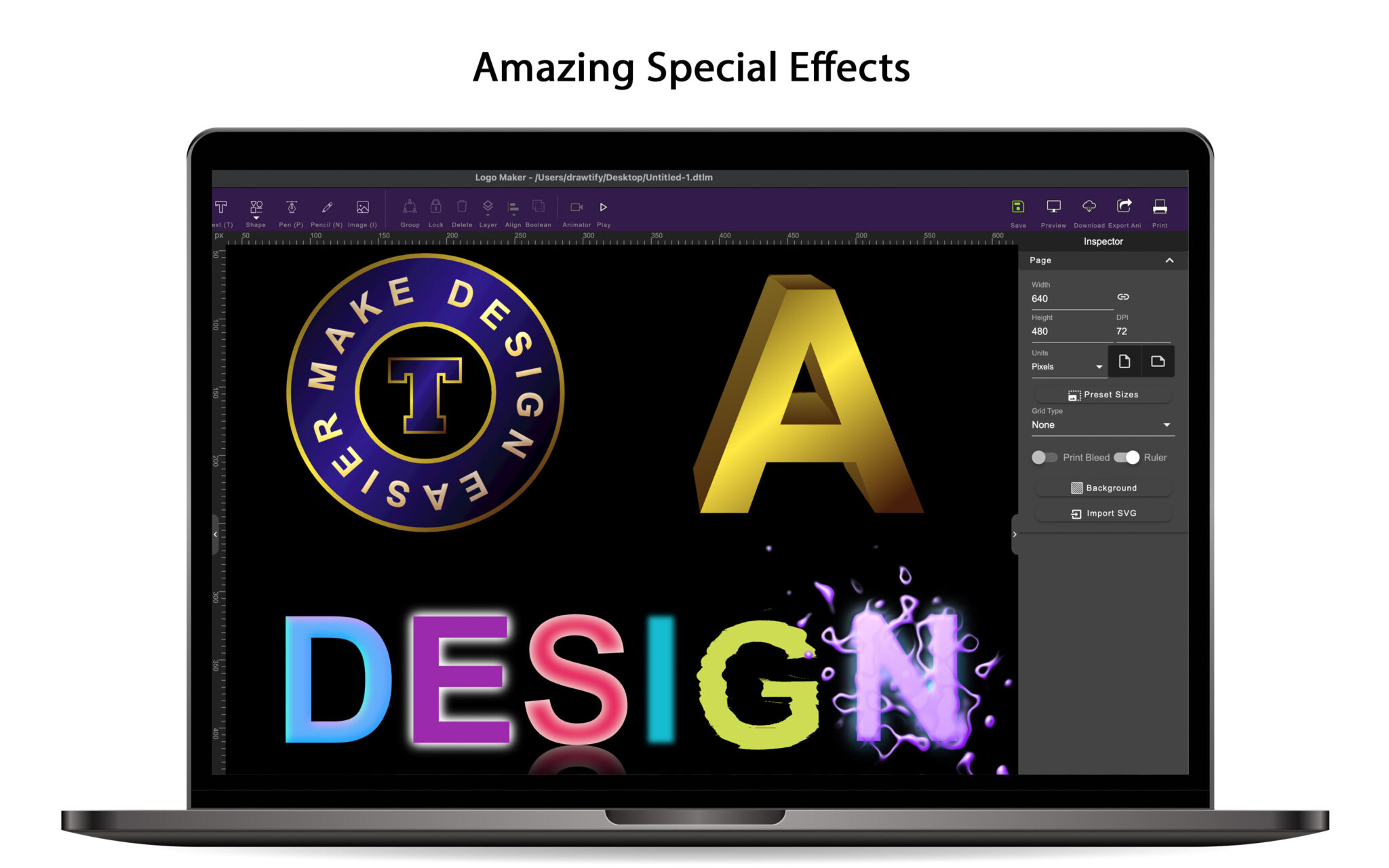 Built-in complete Color Filling Tool. Including color, gradient, texture, and image for Fill & Stroke, and 200+ color schemes.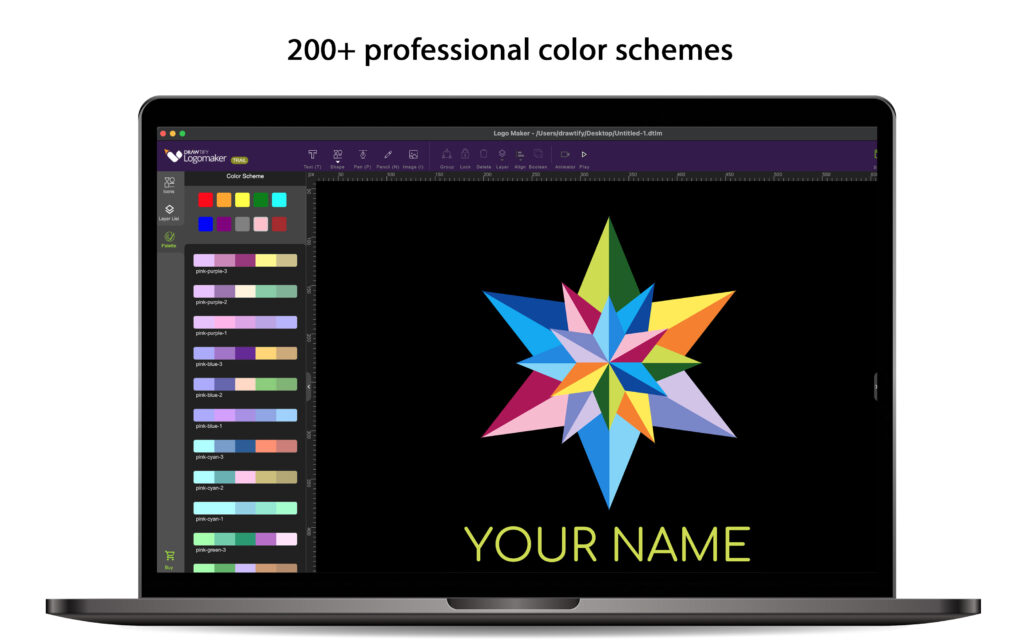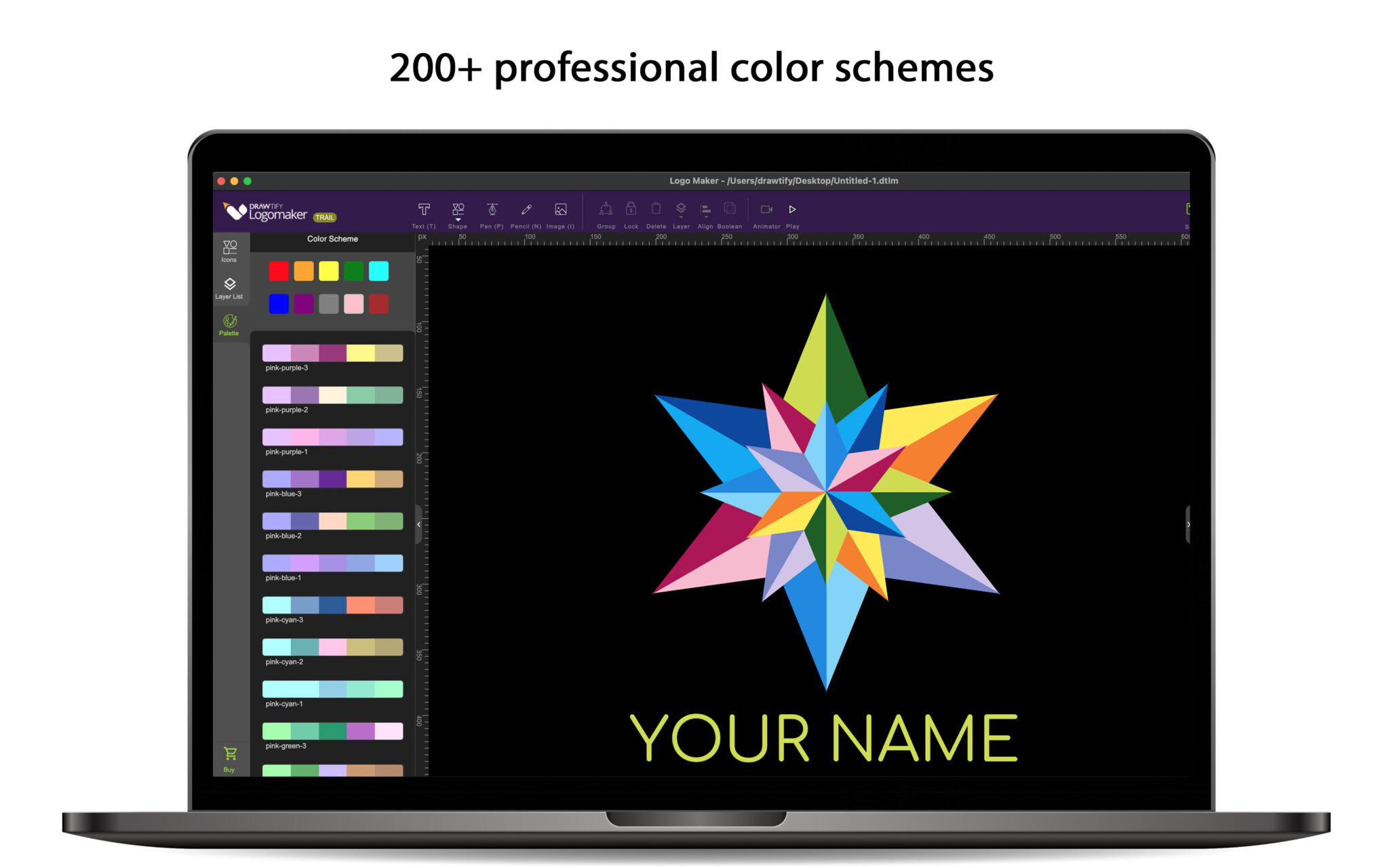 Built-in 9 basic shapes and 20K+ icon, shape libraries.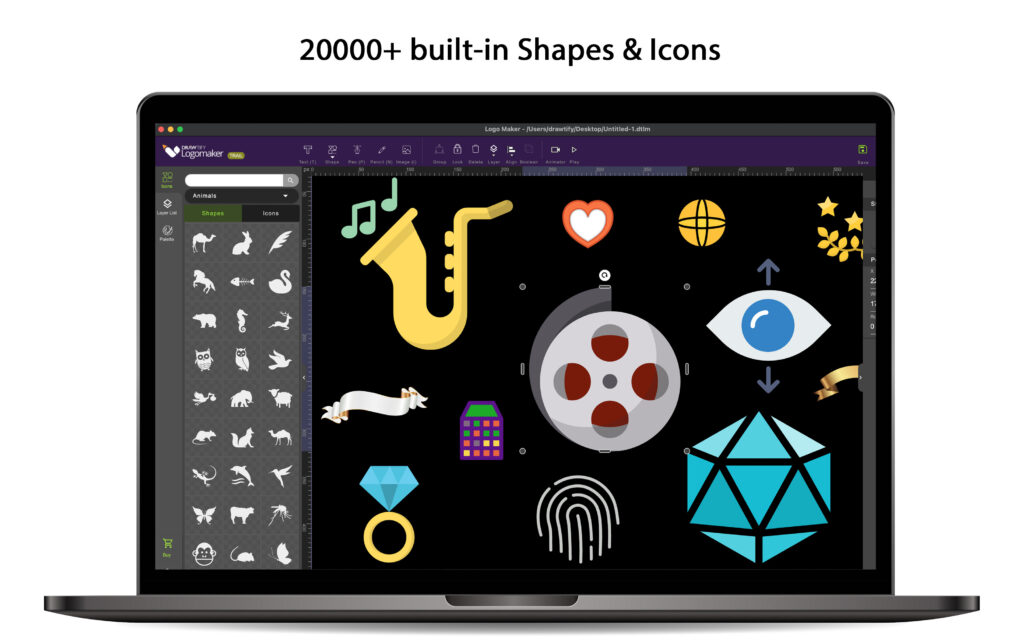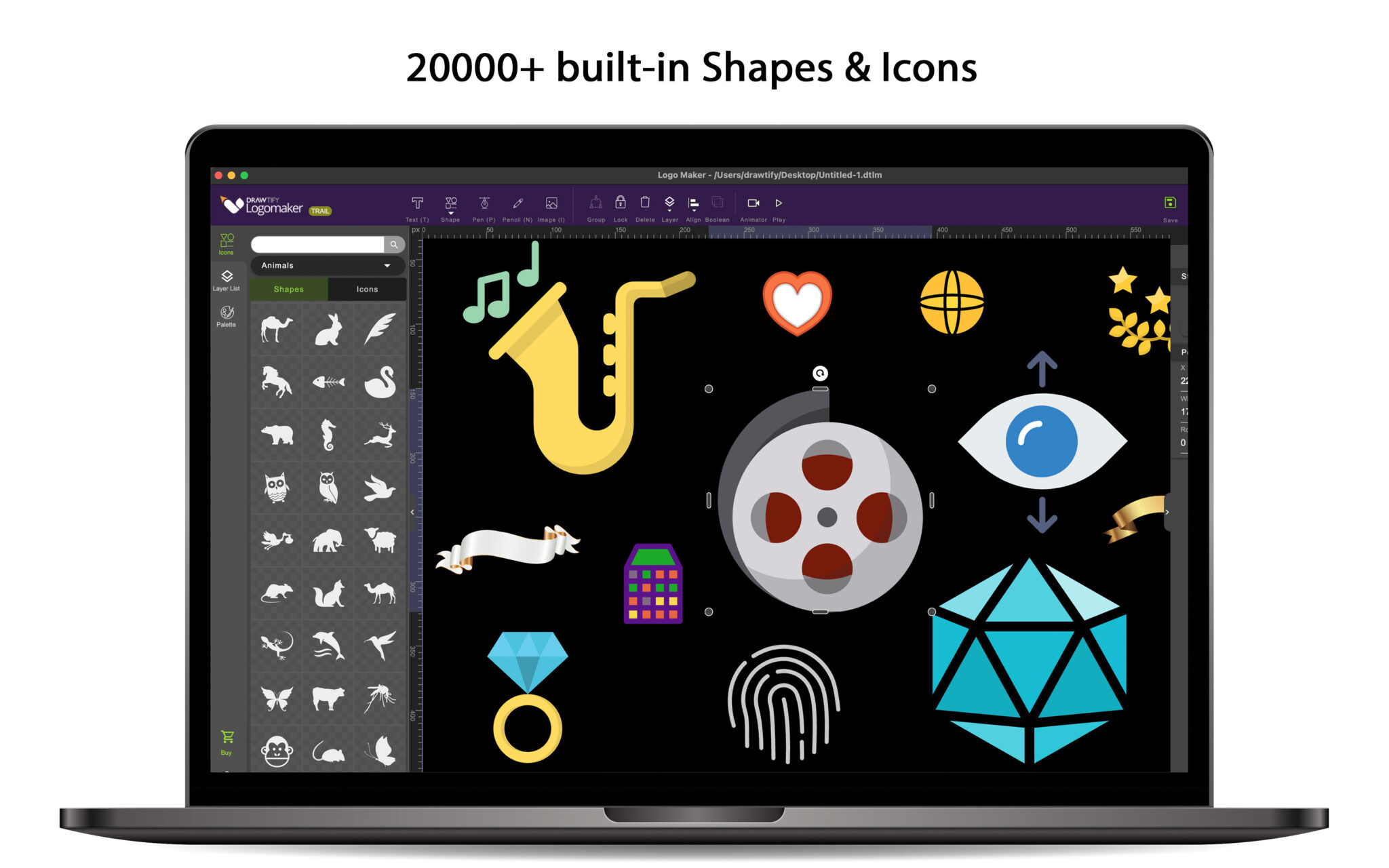 Unlimited Layer List.
Supports quick import of JPG, PNG, GIF, SVG format pictures.
Layer order adjustment and complete Layout function.
Support real-time Preview.
Real-time Save and editing again.
High-quality Output in JPG, PNG, PDF, and SVG formats.
SVG, GIF, APNG, Video format Output Animation.
Direct Printing.
Check out the animated logo design tutorial of Drawtify Logo Maker & Animator.
How Does Drawtify Logo Maker & Animation Stand Out From The Competition?
Affordable Purchasing. Reasonable price and good value for money.
It is only $29.99, which is equivalent to the price of a few cups of coffee. However, it is a fully functional logo design software and animation tool based on vector editing.
In addition, Drawtify Logo Maker & Animator also provides hundreds of editable logo design templates and animation design templates.
Professional, powerful, easy to use.
It has a professional vector editor and powerful animation tools, excellent layout functions and layout tools, and special effects tools. But you don't have to worry about the learning curve because intuitive and easy to use are its most excellent features.
Abundant design resources.
It has a lot of shape and icon elements. You can directly select, use, and modify them. And you don't need to work across platforms to complete graphic design tasks.
In addition, Drawtify Logo Maker & Animator provides permanent free update support.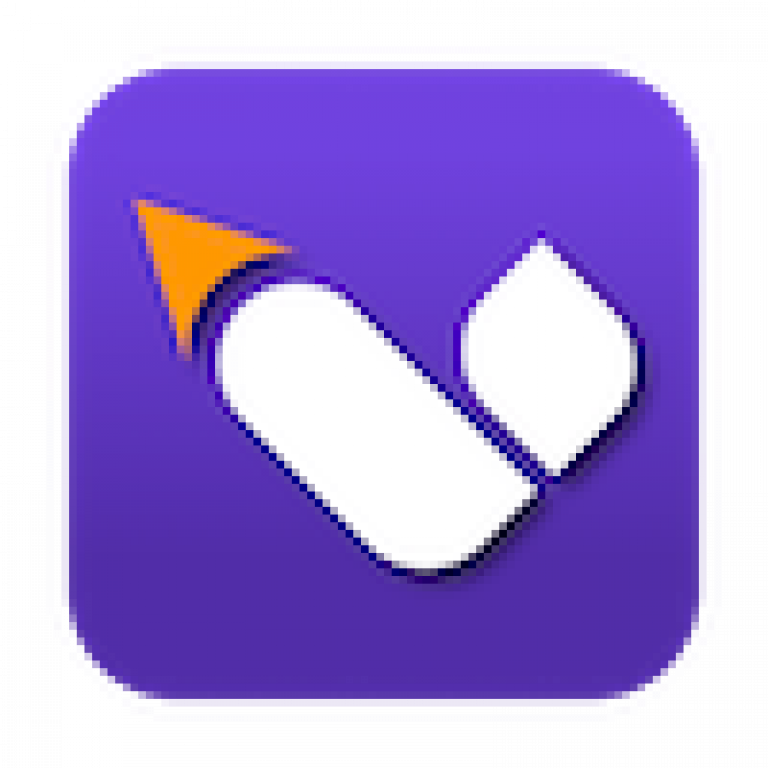 Please download Drawtify Logo Maker & Animator now.
Please start your creative journey. Let your creativity help you win faster.
You can save money and invalid negotiation time by becoming a logo creator for your own business.
Create charming animated logos, marketing icons, and animated banners to better attract target audiences and customers.
You have unlimited potential. A hundredfold or more can you increase your yesterday's accomplishments, and this you will do, beginning today.